Irish Soda Bread Recipe with Raisins to celebrate St. Patrick's Day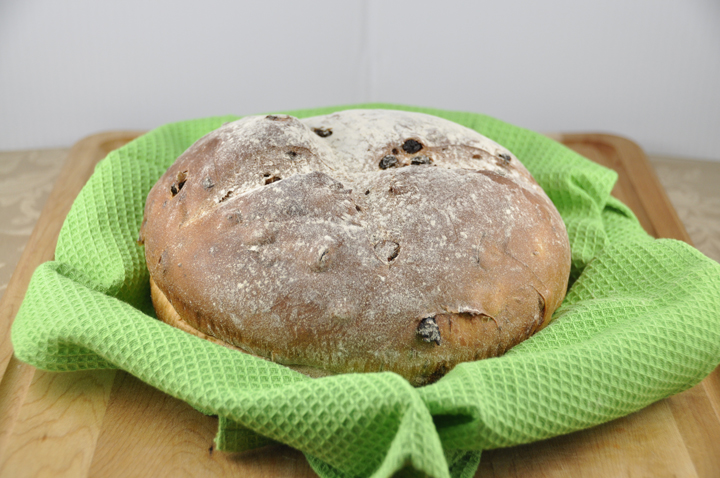 Did everyone recover from that lost hour of sleep?  This is the first year that it's really hit me losing that hour #signsimgettingOLD.   I did, however, enjoy that extra hour of sunshine more than ever so that made up for the lost sleep!  We had an pleasant surprise this weekend: Sunday was 65 degrees out and sunny!  Everybody, and I mean EVERYBODY, in Rochester was out taking advantage of the early spring-like weather.  Here in Rochester, we know we have to embrace these days around this time of year because they are gone in a flash and we can be back to winter weather in no time.  You will literally see every car window rolled down and people sporting their summer attire in any weather higher than 60 in the Spring
  That's how we roll…
So, for a couple years I've had this recipe for Irish soda bread sitting around and intended on trying it out but finally just got around to it Friday night.  Mr. Wishes was gone for the night snowboarding with a friend (yes, snowboarding weather Friday and shorts and T-shirt weather Sunday….welcome to Rochester, New York!)  I took full advantage of a night to experiment with some St. Patrick's day food.  I also made shamrock shakes that I will be sharing with you later this week!
Normally, I am not a huge fan of Irish soda bread as they always seem to be dry and bland to me.  I loved the taste and texture of this one, though.  My house smelled amazing while this bread was baking – so amazing that I only let it cool for a few minutes because I couldn't wait to taste it.  It's fabulous with the orange zest; I thought it really bumped up the flavor.  You can leave this out and still have good results.  The dough was definitely a little sticky and moist.  It might be a bit hard to shape, but it will come together and this recipe really is easy to make overall.
This bread would be great for breakfast, a snack, or dessert!  I liked it best the next day toasted with butter.  It's a great way to celebrate St. Patty's day!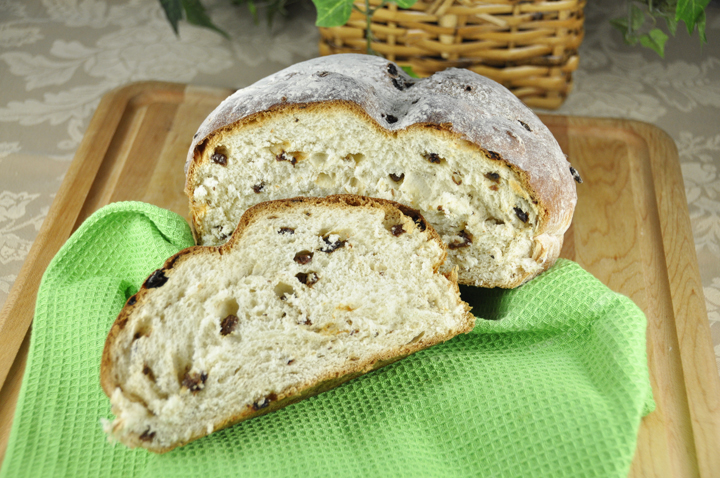 INGREDIENTS:
4 cups all-purpose flour, plus extra for currants
4 tablespoons sugar
1 teaspoon baking soda
1 1/2 teaspoons kosher salt
4 tablespoons (1/2 stick) cold unsalted butter, cut into 1/2-inch dice
1 3/4 cups cold buttermilk, shaken
1 extra-large egg, lightly beaten
1 teaspoon grated orange zest (can leave out)
1 cup raisins or currants
DIRECTIONS:
Preheat the oven to 375 degrees F. Line a sheet pan with parchment paper (can also use a round cake or pie pan, like I did).
Combine the flour, sugar, baking soda, and salt in the bowl of an electric mixer fitted with the paddle attachment. Add the butter and mix on low speed until the butter is mixed into the flour.  With a fork, lightly beat the buttermilk, egg, and orange zest together in a bowl.
With the mixer on low speed, slowly add the buttermilk mixture to the flour mixture.  Combine the raisins/currants with 1 tablespoon of flour and mix into the dough (this will keep them from sinking during baking).  It will be very wet.
Dump the dough onto a well-floured surface and knead it a few times into a round loaf.  Place the loaf on the prepared sheet pan and lightly cut an X into the top of the bread with a serrated knife.
Bake for 45 to 55 minutes, or until a cake tester comes out clean (mine took closer to 55).  When you tap the loaf, it should have a hollow sound.  Cool on a baking rack.  I dusted the top with Rye flour to make it look nicer (optional). Serve warm or at room temperature.
- Craving more?
Sign up for the Wishes & Dishes Newsletter
for a fresh serving of content delivered every week to your inbox! And stay in touch on
Facebook
,
Twitter
,
Pinterest
and
Instagram
for all of the latest updates!