These grilled Greek chicken pitas with a simple Tzatziki sauce are fun to make, easy and totally delicious!  Great weeknight dinner recipe idea for the summer.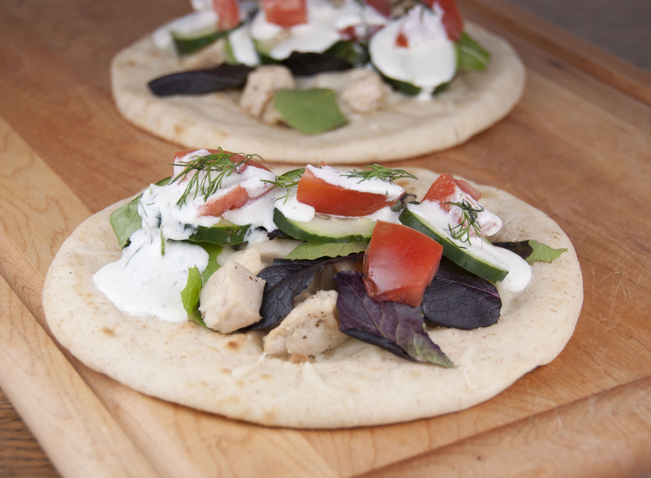 To start off the "official start of summer" the right way, Mr. Wishes and I have been grilling out all week long.  Everything tastes better on the grill, am I right?
I don't know about you, but when the sun is out and it gets warmer outside I start craving lighter, more refreshing food alternatives to my usual piping hot and sometimes heavy dinner time classics (pasta, pasta and more pasta).  But I loathe heating up my house with the oven and then sitting down to eat a hot meal when all I really want to do is jump in a pool!  That's where grilling recipes come in to play…and I have lots to share with you in the upcoming weeks.
These chicken pitas will make for a fun, light family dinner because everyone can build their own pita and top it with whatever they like.  Quick, easy and stress-free!  Make sure you grab a good quality pocketless pita bread to use for these – it will make all the difference.
What are your favorite healthy summer dishes?
Grilled Greek Chicken Pitas with Tzatziki Sauce
These grilled Greek chicken pitas with a simple Tzatziki sauce are fun to make, easy and totally delicious! Great weeknight dinner recipe idea for the summer.
Ingredients
4-6 pocketless pita breads
1 pound skinless, boneless chicken breasts or thighs
¼ cup olive oil
3-4 garlic cloves, diced
1 teaspoon kosher salt
½ teaspoon pepper
1 cup, plus 2 tablespoons plain Greek yogurt (divided)
2 tablespoons fresh lemon juice
2 tablespoons mayonnaise or sour cream (optional)
1 cucumber, peeled, seeded and diced
½ cup fresh dill, chopped fine
Salt and pepper to taste
2 cups lettuce, shredded
1 large tomato, seeds and pulp removed and roughly chopped
1 large onion, sliced into thin long strips
Jar of Tabasco or other hot sauce on the side
Instructions
Place chicken, olive oil, garlic, salt, pepper and 2 tablespoons of Greek yogurt in a large zip-closed bag. Move bag all around to coat the chicken well. Allow chicken to marinate at least one-half hour or up to overnight in the refrigerator. Place pita breads in stacks of 3 and then wrap them in aluminum foil.
Heat outdoor grill or grill pan (can use a skillet) over medium-high heat. Spray grill grate or pan with cooking spray and cook the chicken on both sides until lightly charred and fragrant, about 5 minutes per side depending on the thickness of the chicken. Remove chicken from the grill and allow it to rest.
At this point, if you're cooking on an outdoor grill, place your wrapped pita breads on the grill and allow them to heat up about 3-5 minutes per side. If you're cooking indoors, place your wrapped pitas in a preheated 375 degree F oven for about 10 minutes.
Place the remaining cup of yogurt, lemon juice, mayonnaise, cucumber and dill into a medium-sized bowl and mix well. Salt and pepper to taste.
Slice the chicken against the grain and then give it a rough chop and place it on a serving plate. Unwrap warmed pita breads and also place them on a serving plate.
Serve buffet style allowing people to place chicken in their own pita bread and then top with the tzatziki sauce, lettuce, tomato, cucumber slices (I had extra cucumber, this is optional), extra dill, onion and hot sauce if desired.
Recipe source:  adapted from sheknows.com
- Craving more?
Sign up for the Wishes & Dishes Newsletter
for a fresh serving of content delivered every week to your inbox! And stay in touch on
Facebook
,
Twitter
,
Pinterest
and
Instagram
for all of the latest updates!