This is an old family recipe passed on from Mr. Wishes' Italian grandmother that her and her Italian friend, Ruth, made for years and years.  I meant to share it at Christmas time and things got too busy and it slipped my mind!  This would be a great cookie for any holiday, but we have them every year at Christmas.  I hope I did this almond macaroon recipe justice because it is a legacy in the family

Because I was clueless, I had to do a little research on macaroons since I always see it being spelled two different ways and people seem to have different ideas of what macaroons are/should look like.  The word "macaron" is actually not an alternate spelling of macaroon.  In fact, the two terms refer to distinctly different things.  Both macarons and macaroons are confections, and both names are derived from ammaccare, which is Italian for "to crush" — but that is basically where the similarities end.  Who knew?!
A macaron specifically refers to a meringue-based cookie made with almond flour, egg whites, and granulated or powdered sugar, then filled with buttercream frosting or a fruit spread.  These are the kind you typically see at bakeries and are even sometimes dipped in chocolate  THIS type of macaroon treat that I'm sharing with you today has a crunchy exterior and a very soft interior that's almost nougat-like in that it's very chewy.  To add to the confusion, it's occasionally called a French macaroon.  The almond or coconut macaroon, or congolais, as it's called in France, is frequently served during Passover because it contains no flour.  I thought that was pretty interesting!
Well, there's your baking lesson for the day.  I definitely learned something and I hope you give these a try!  They go great with coffee…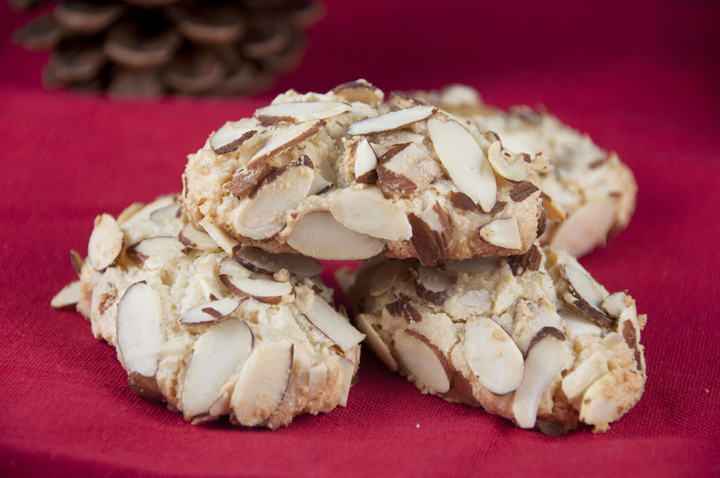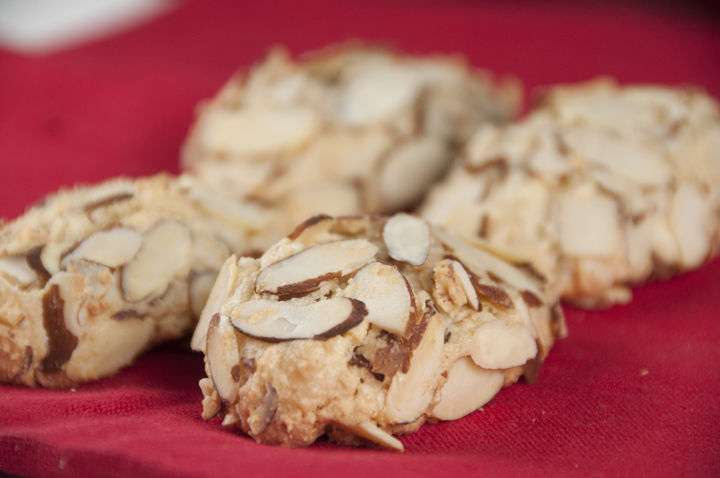 INGREDIENTS:
3 egg whites
1 lb. almond paste (this was 2 cans for me)
1 cup granulated sugar
sliced almonds
DIRECTIONS:
Whip egg whites in the bowl of a mixer for 5 minutes or until stiff peaks form.
Add sugar to bowl and whip together with the eggs.  Stir in almond paste (after you break it up/cut it into chunks to make it easier to blend).
Roll into ball and chill overnight or for several hours.
Take a tablespoon of dough and roll into 1.5 inch roll (oblong shape).  Roll in sliced almonds.  You may have to press the almonds a little bit into the cookie so the dough is covered with almonds on all sides.
Bake at 300 degrees for 30-35 minutes, one sheet on bottom rack one on middle rack (if using 2 sheets), switch positions halfway through.  You want to bake them long enough so the almonds are getting a little toasted and crunchy but not too dark.  You don't want these cookies to be super light in color because they won't have the right crunchiness and the almond flavor won't be as strong.  Mine took 35 minutes in my oven and I did them all on one large cookie sheet in the center of the oven.  Enjoy!
- Craving more?
Sign up for the Wishes & Dishes Newsletter
for a fresh serving of content delivered every week to your inbox! And stay in touch on
Facebook
,
Twitter
,
Pinterest
and
Instagram
for all of the latest updates!