Grandma's Italian Almond Macaroons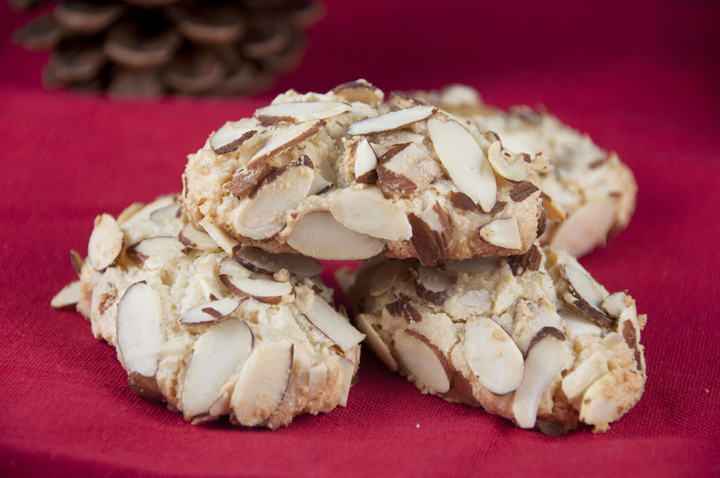 3 egg whites
1 lb. almond paste (this was 2 cans for me)
1 cup granulated sugar
sliced almonds (about 1.5 cups)
Whip egg whites in the bowl of a mixer for 5 minutes or until stiff peaks form.
Add sugar to bowl and whip together with the eggs.
Stir in almond paste (after you break it up/cut it into chunks to make it easier to blend).
Roll into ball and chill overnight or for several hours.
Take a tablespoon of dough and roll into 1.5 inch roll (oblong shape).
Roll in sliced almonds.You may have to press the almonds a little bit into the cookie so the dough is covered with almonds on all sides.
Bake at 300 degrees for 30-35 minutes, one sheet on bottom rack one on middle rack (if using 2 sheets), switch positions halfway through. You want to bake them long enough so the almonds are getting a little toasted and crunchy but not too dark. You don't want these cookies to be super light in color because they won't have the right crunchiness and the almond flavor won't be as strong.
Mine took 35 minutes in my oven and I did them all on one large cookie sheet in the center of the oven. Enjoy!
Recipe by
Wishes and Dishes
at https://wishesndishes.com/grandmas-italian-almond-macaroons/