Easy and delicious crock pot or slow cooker French Dip Sandwiches recipe with peppers, onions, and au jus sauce served on french rolls.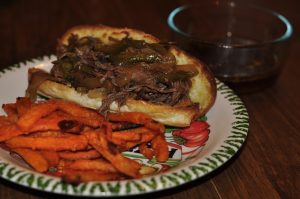 I have been wanting to make these sandwiches for months now and finally got my French Dip on.  This is a no-fail recipe, which is perfect for a novice like me!
I used a 2 pound chuck roast and we had enough to make six sandwiches!   It passed the "Nick" test, as well :)  In his words, it was "delicious".  I served this with sweet potato fries that I bought pre-sliced at Wegmans.  I seasoned then with a little olive oil, paprika, and sea salt before baking according to directions on the bag.  The seasoning for the fries came from the
"Carte de Jour, The Restaurants of Royal Caribbean International"
cookbook.  You can buy the book at the provided link, but why buy online when you can make your husband take you on an Oasis or Allure of the Seas cruise to buy one…where the book is $10 cheaper and you won't have to pay shipping? ;o)  Nick and I are enamored with sweet potato fries, maybe to the point of obsession.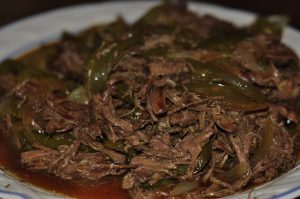 INGREDIENTS:
1 pot roast, anywhere from 2-4 pounds
1 green pepper
1 red bell pepper
1/2 onion<
mozzarella cheese
Au Jus sauce packet (found in the gravy mix aisle)
Rolls (french bread rolls or sub rolls are good)  Use whole grain for a healthier meal!
PREPARATION:
In crock pot, dissolve Au Jus packet in  3 cups of water then add the roast.
Cook on low for 6-8 hours or high for 4-5 hours (the longer it cooks the better it is).
About 1 or 2 hours  before it is finished, shred the beef then slice the peppers and onions  and add to crock pot.
When it is finished, remove meat and veggies with  a slotted spoon.
Place mozzarella slices on buns and put under low  broil until cheese is melted and lightly browned.
Fill the rolls with  the meat and veggies, then divide the Au Jus sauce into smaller bowls  for dipping.
- Craving more?
Sign up for the Wishes & Dishes Newsletter
for a fresh serving of content delivered every week to your inbox! And stay in touch on
Facebook
,
Twitter
,
Pinterest
and
Instagram
for all of the latest updates!