Cinnamon Sugar Fried Dough recipe that you can make at home and is similar to what you get at the fair or a carnival in the summer!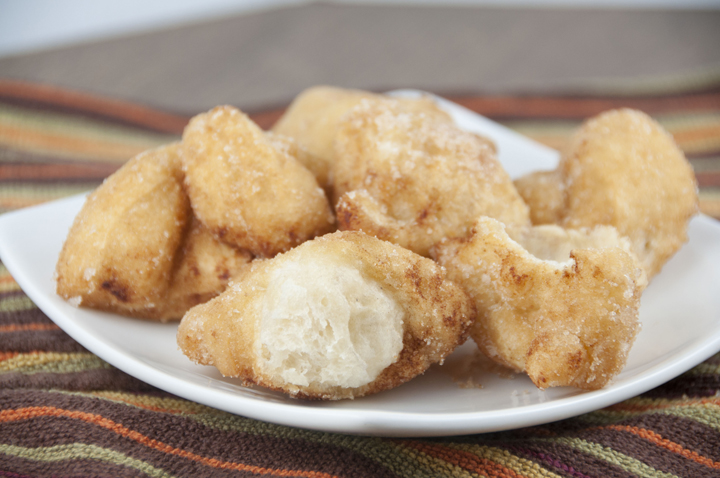 Carnival sweets constitute a valid reason to appreciate this time of the year!  I belong to a small group out of my church that meets every Tuesday night.  Each week we have a different theme as far as what snacks everyone brings and it's always fun to see what people come up with.  Last summer, we had the BEST themed night ever – carnival food night!  We had it all:  kettle corn, candied almonds, mini hot dogs, caramel apples, cinnamon sugar fried dough, and homemade cotton candy.  There's nothing like pulling up to your friends house for Bible study and he's out on his front porch with a huge cotton candy machine whipping up some homemade cotton candy and handing it out to people as they walk in the door.  Oh, what the neighbors must think sometimes! 😉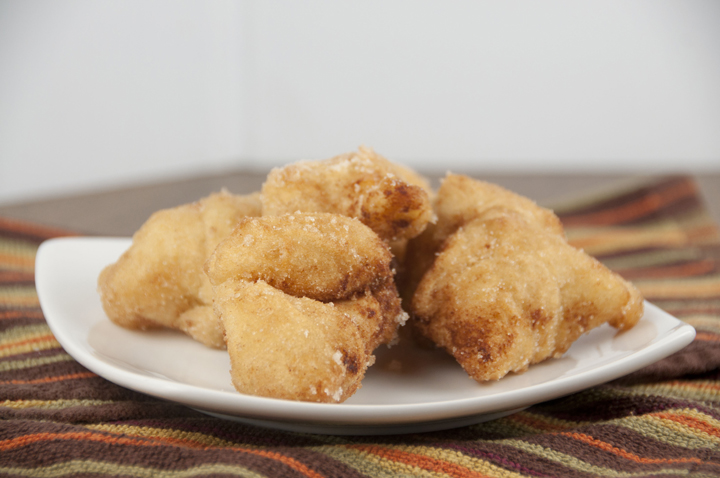 Using some store-bought pizza dough, you can easily make and enjoy a simple fried dough from the comfort of your home – carnival style!  It might not be exactly the same as you're used to getting at the fair, but this is a quick fix for your fried dough craving and takes no time at all to make.  My in-laws own a pizzeria and I had the convenience of making this fried dough right at the store and using their already made pizza dough and their deep fryer with my mother-in-law showing me how it's done.  It couldn't have been easier!  But you can also use a deep pan to fry, or whatever you normally use to deep fry food at home.
These are sinfully delicious!! Not the healthiest of recipes, but oh so good.
Cinnamon Sugar Fried Dough
Cinnamon Sugar Fried Dough recipe that you can make at home and is similar to what you get at the fair or a carnival in the summer!
Ingredients
1 lb. ready-made pizza dough
3 cups oil, canola, peanut or vegetable
White sugar
Cinnamon
Note: Peanut oil is my favorite deep-frying oil; it has a higher smoke point, and neutral flavor.
Instructions
Fill a deep pan with 4 inches of oil and heat to 375 F (or use a deep fryer if you have one and use it according to directions!).
Divide the pizza dough into even pieces, depending on the size you want each piece to be.
Lightly flour a clean kitchen surface and press each piece of pizza dough into a flat, round shape.
Drop the discs of dough into the hot oil. Allow it to rise to the surface and turn it occasionally until both sides are golden brown. Mine took about one minute to float.
Remove the pizza dough from the oil and drain on paper towels.
Put cinnamon and sugar in a gallon size ziplock bag (I like to use a 3:1 ratio - 3 parts sugar, 1 part cinnamon) and put fried dough in the bag along with the cinnamon/sugar.
Seal bag and shake until fried dough is completely coated.
You can also just use powdered sugar instead of the cinnamon/sugar mixture.
- Craving more?
Sign up for the Wishes & Dishes Newsletter
for a fresh serving of content delivered every week to your inbox! And stay in touch on
Facebook
,
Twitter
,
Pinterest
and
Instagram
for all of the latest updates!