Easy Tomato Soup and Grilled Cheese Croutons
Easy Tomato Soup and Grilled Cheese Croutons added on top is a creative lunch idea or quick dinner recipe that will warm you up on a cold day! It is also a great soup idea for kids' lunches during the summer!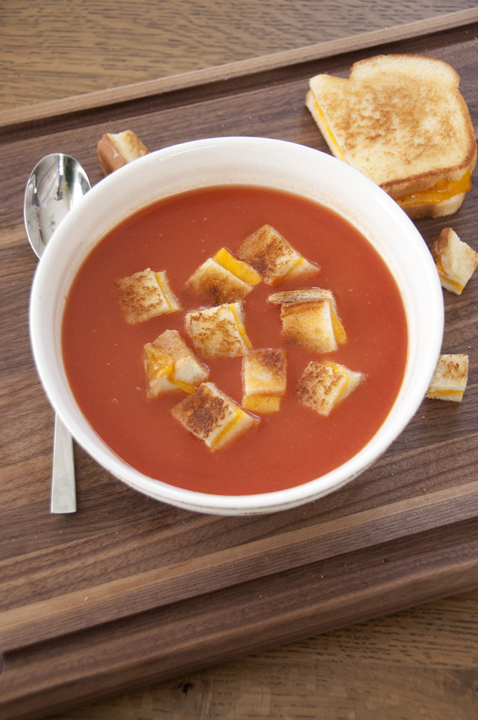 It's probably cold where you are right now…right?  I am out of town ONCE again on a very special trip that you will soon be hearing about (spoiler alert). If the weather is cold or hot where you are, this Easy Tomato Soup and Grilled Cheese Croutons will hit the spot. Kids will love it and so will adults!
I love love love soup weather and soup recipes.  I hate the cold but I love that it's perfectly acceptable to eat cold-weather soups all day, every day.  This was the best and easiest soup to make! My Broccoli Cheddar Soup might have some competition for my favorite soup!
I have a slight obsession with grilled cheese sandwiches and although dipping them in tomato soup NEVER gets old, I thought it would be a brilliant idea to just cut it up add it on top of the soup – you know, less of a mess that way.
Well, turns out like everything else I think is an original and brilliant idea, it has already been done.  No worries – that won't stop me.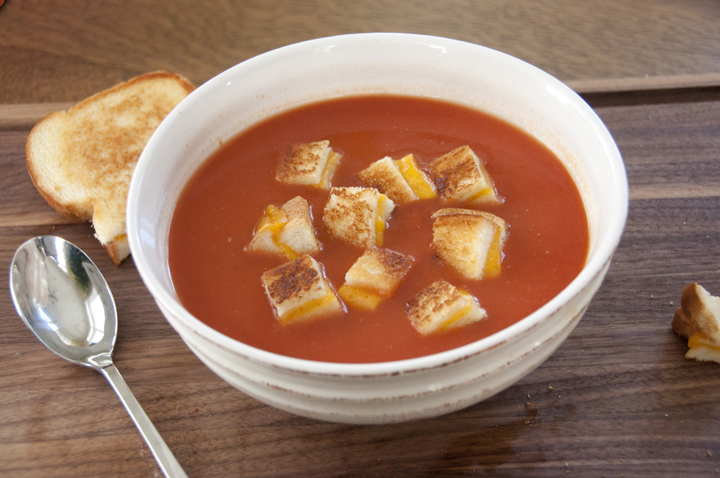 If you want a simple, delicious, excellent creamy tomato soup – please make this! You also really need to try my Creamy Broccoli Cheddar Soup that is a Panera copy-cat. I bet you probably already have the ingredients on hand to whip this up so it's great for those of us (meaning me) who always fail to plan ahead. My favorite soup on my blog to date has to be this Chicken & Wild Rice Soup.
It may seem like this soup would be salty, but the cream really cuts the salt.  Trust me.
Eat this immediately or the grilled cheese croutons get soggy (unless you're into that sort of thing).  If you make the soup ahead of time, just add the grilled cheese croutons later on.
You also need to try this Slow Cooker Minestrone Soup from my friend Kim. Slow Cooker recipes are my jam right now! I'm also looking forward to trying this Pizza Soup from my friend Mary. Double the Easy Tomato Soup and Grilled Cheese Croutons recipe to feed a large group!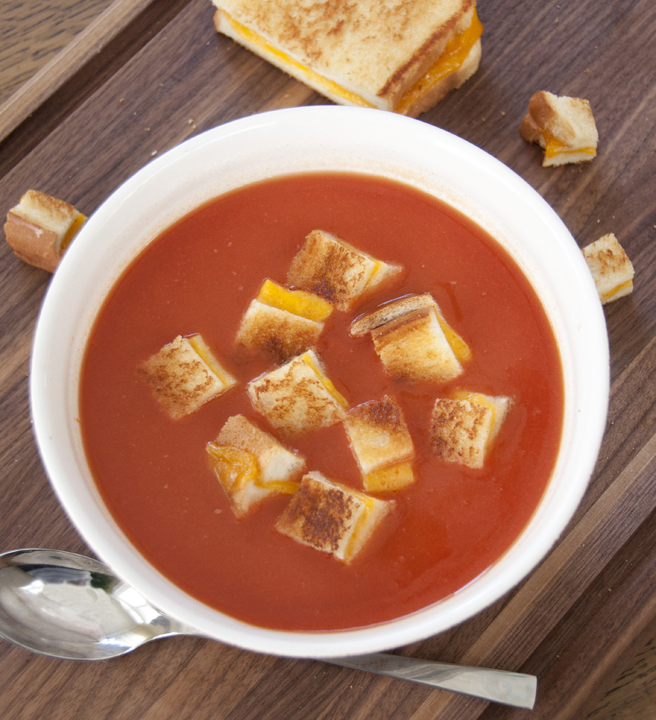 Easy Tomato Soup & Grilled Cheese Croutons
Prep time:
Cook time:
Total time:
Easy Tomato Soup and Grilled Cheese Croutons is a creative lunch or dinner recipe that will warm you up on a cold day!
Ingredients
3 tablespoons good-quality olive oil
2 cups finely chopped yellow onions
1 tablespoon minced garlic (3 cloves)
4 cups chicken stock, preferably homemade
1 (28-ounce) can crushed tomatoes
¼ teaspoon smoked paprika
Kosher salt and freshly ground black pepper, to taste
½ cup orzo
½ cup heavy cream
Grilled Cheese Croutons (see below)
Instructions
In a large pot or Dutch oven such as Le Creuset, heat the olive oil over medium heat.
Add the onions and cook over medium-low heat for 15 minutes, stirring occasionally, until golden brown.
Add the garlic and cook for 1 more minute.
Stir in the chicken stock, tomatoes, paprika, 1 tablespoon salt and 1 teaspoon pepper.
Bring the soup to a boil, then lower the heat and simmer for 15 minutes.Meanwhile, fill a medium pot with water, add 2 teaspoons salt and bring to a boil.
Add the orzo and cook for 7 minutes. (It will finish cooking in the soup.)
Drain the orzo and add it to the soup.
Stir in the cream, return the soup to a simmer and cook for 10 more minutes, stirring frequently.
Serve hot with Grilled Cheese Croutons dropped on top. Serve immediately so the croutons don't get soggy.
Grilled Cheese Croutons:
(1/2-inch-thick) slices country white bread
tablespoons unsalted butter, melted
ounces Gruyere cheese, grated
Heat a panini grill or skillet. Place the four slices of bread on a cutting board and brush lightly with the melted butter, being sure to butter the corners.
Turn the slices over and pile Gruyere on two of the slices.
Place the remaining two slices of bread on top of the Gruyere, buttered sides up.
Grill the sandwiches on the panini grill (or do in a skillet) for about 5 minutes, until nicely browned. Place on a cutting board, allow to rest for 1 minute so the cheesy isn't too gooey and cut into 1-inch cubes.
 Recipe source:  adapted from foodnetwork.com