Pumpkin Carrot Cake Oatmeal Bake
 It tastes like dessert, but is healthy enough for breakfast! Baked Pumpkin Carrot Oatmeal recipe is a great "fix ahead" breakfast or snack option.
OK so I have a really great guest post for you today while I'm away on vacation and catching some rays!  I'm sure most of you know of her already (she's kind of awesome), but Hannah from Clean Eating Veggie Girl is sharing a super delicious Pumpkin Carrot Cake Oatmeal Bake recipe and she just so happens to be a really good "bloggie" friend of mine!
Not only will you find amazing recipes on her blog, but they are all good for you!  This one, in particular, would make for a great Thanksgiving breakfast.  Although I'm not a vegetarian or vegan, Hannah's creative recipes inspire me to make more healthy, plant-based and meatless meals.  Enjoy!
Hi Ashley's readers! My name is Hannah and I blog over at Clean Eating Veggie Girl. My blog focuses on healthy living, and features mostly plant-based recipes. I am on a mission to prove that plant-based food is nutritious
and
delicious, and that vegetarians and vegans eat some darn good food! I hope you will stop on by and follow me on my journey toward living a healthy and "clean" lifestyle while indulging from time to time – because let's face it, we all need to!
Ashley wrote a guest post for me when I went on a "blogcation" back in August, so when she asked me to guest post for her I was super eager to do so! I have been following along with Ashley's blog posts for quite some time now, and while I must say that all of her recipes look and sound delicious, her dessert recipes are what always blow me away. I am not much of a "baker," so finding a fellow blogger who really shines in this area is exciting for me. I only wish I had the creativity in that area that Ashley has.
Since I am not much of a "baker," but wanted to cater to what Ashley's readers really love, I decided to combine one of my favorite types of recipes – breakfast recipes – with the whole baking theme. Apparently, when it comes to breakfast, I do in fact actually like to bake! 😉 If you are looking for a sweet and almost dessert-like recipe that you can eat in the morning (or really anytime, for that matter), then you are definitely going to want to check this one out. In all honesty, though, who doesn't want to eat "cake" for breakfast, especially when it is combined with my current seasonal favorite: pumpkin!?
Pumpkin Carrot Cake Oatmeal Bake
Prep time:
Cook time:
Total time:
Serves:
3 as a breakfast serving, or 6 as a snack
It tastes like dessert, but is healthy enough for breakfast! Baked Pumpkin Carrot Oatmeal recipe is a great "fix ahead" breakfast or snack option.
Ingredients
olive oil cooking spray
2 cups whole rolled oats (not quick oats)
1 tsp baking powder
¼ tsp sea salt
½ TB pumpkin pie spice
½ TB cinnamon
¼ tsp nutmeg
¼ tsp ginger
3 packets natural sweetener (I used Stevia)
1 medium carrot, finely shredded
¼ cup raisins
1 flax egg (or 1 large egg, beaten)
1 tsp vanilla
⅔ cup pumpkin puree (not pumpkin pie mix)
1 and ¼ cup unsweetened vanilla almond milk
Instructions
Preheat oven to 350 degree F. Spray an 8 x 8" baking pan with cooking spray. Set aside.
Combine oats, baking powder, salt, pumpkin pie spice, cinnamon, nutmeg, ginger, and sweetener in a large mixing bowl. Stir until well-combined.
Stir in carrots and raisins.
Mix in the flax egg or egg, vanilla, pumpkin, and almond milk.
Pour the oatmeal mixture into the baking pan and bake uncovered for approximately 35 to 40 minutes, or until a toothpick comes out clean.
I cut my Pumpkin Carrot Cake Oatmeal Bake into six pieces. I ate two pieces for breakfast three days during the work week. However, you could also make this bake into six snacks.
Or
, one breakfast and four snacks…
or
two breakfasts and two snacks…you get the idea! 😉 Basically, just eat this bake whenever your heart desires.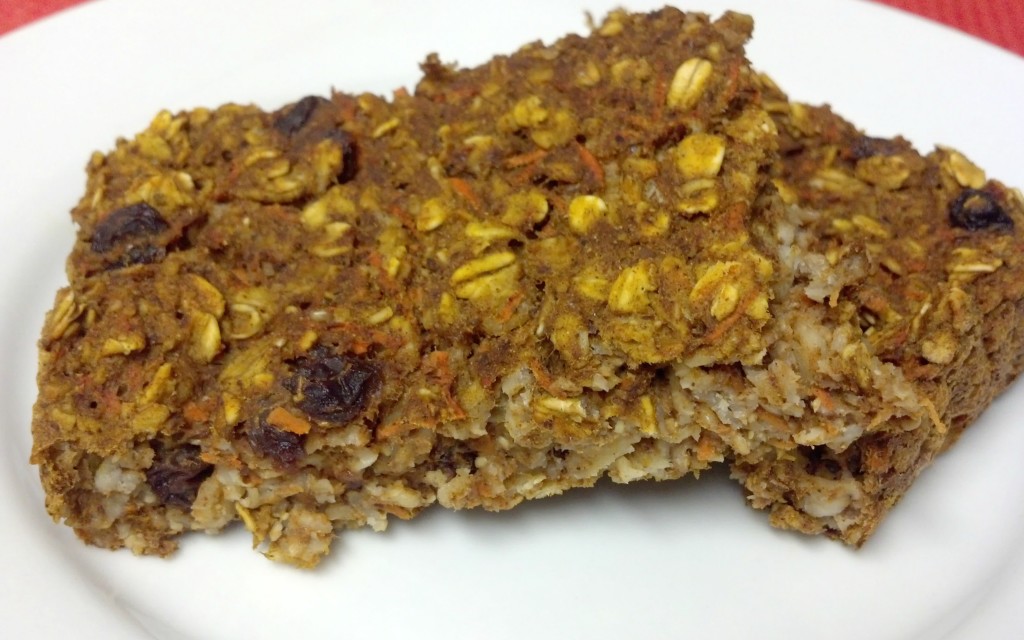 You can eat this oatmeal bake wherever your heart desires, too. I made mine over the weekend and put it into three plastic containers that I took with me on the go to work. Breakfast has never been so easy with just a little bit of meal prep on a Sunday afternoon.
Oh, and as always, I recommend that you top your Pumpkin Carrot Cake Oatmeal Bake with lots of nut butter and your favorite fruit. I went with peanut butter frosting (made from PB2 peanut flour) and banana slices. You can never go wrong with peach slices, too! Everything tastes better with some nut butter and fruit, right?  Now go prep this baby up this coming weekend and let's all eat cake for breakfast for the week! 😉
A big thanks to Ashley for allowing me to guest post, and a big thanks to you for reading!
::::::::::::::::::::::::
Thank you SO much, Hannah, for guest posting today. This oatmeal bake looks absolutely delicious and is the perfect excuse to make a healthy breakfast in the near future! Make sure to stop by her fabulous blog and say hello!
Inspired by Robyn's recipe for her Pumpkin Oatmeal Bake