Peach Crumb Bars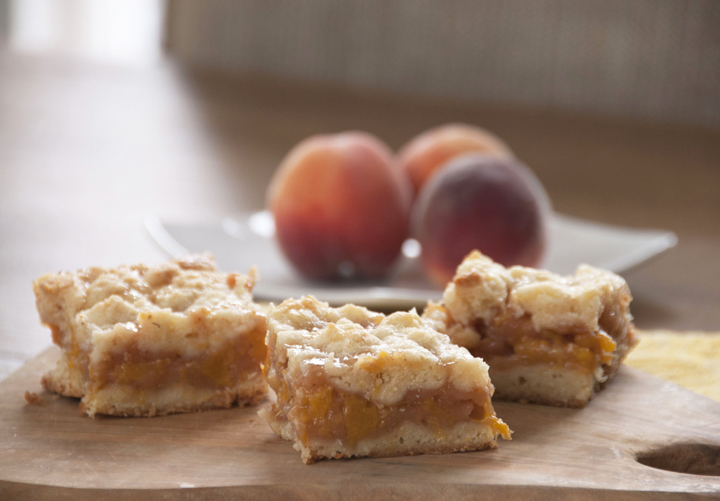 3 cups all-purpose flour
1 cup granulated sugar
1 teaspoon baking powder
¼ teaspoon salt
1 cup (2 sticks) unsalted butter, cold
1 egg, lightly beaten
5 cups diced peaches (about 7 regular size peaches, peeled)
2 tablespoons lemon juice
½ cup all-purpose flour
1 cup granulated sugar
¼ teaspoon salt
½ teaspoon ground cinnamon
¼ teaspoon ground nutmeg
Preheat the oven to 375 degrees F. Grease a 9x13-inch baking pan.
For the Dough: In a medium bowl whisk together the flour, sugar, baking powder and salt. Use a pastry blender to cut in the butter, and then the egg. The dough will be crumbly. Pat half of the dough into the prepared pan. Place the pan and the remainder of the dough in the refrigerator while you prepare the filling.
For the Filling: Place the diced (or sliced) peaches in a large bowl and sprinkle with lemon juice. Mix gently. In a separate bowl whisk together the flour, sugar, salt, cinnamon and nutmeg. Pour over the peaches and mix gently.
Spread the peach mixture evenly over the crust. Crumble the remaining dough over the peach layer.
Bake in the preheated oven for 45 minutes, or until the top is slightly brown. Cool completely before cutting into squares.