Over 25 Healthy Recipes for the New Year
Over 25 Healthy Recipes for the New Year  – food ideas to get you back on track after all of the holiday eating!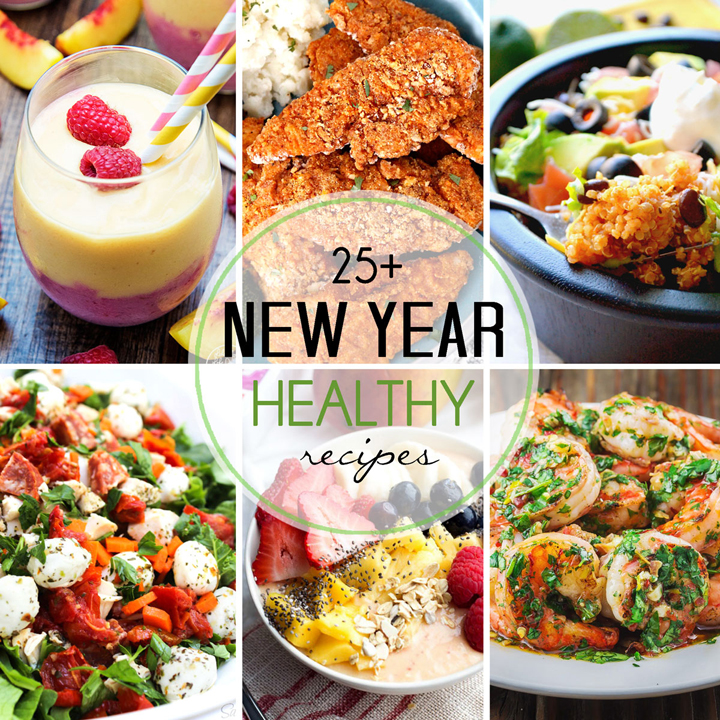 I have a whole bunch of fantastic healthy recipes for you today to start off your new year on a good note. When it comes to healthy eating sometimes I'm not sure where to start, so this post is going to also help me.  I don't think I can look at another Christmas cookie for a long, long time.  I teamed up with a group of awesome food bloggers to help motivate you to plan your healthy breakfast and dinner menus as we go forward into 2016.
Speaking of which, how is it 2016 already?!  This year really got away from me (I wonder if there will ever be a year that I don't say that).  What are your plans for New Year's Eve?  I got so caught up in Christmas that I never thought about New Year's Eve and still have no plans.  The week between Christmas and the New Year is always a blur..anyone else?  That is so fitting for my life that I have no plans for New Year's Eve since I seem to always just roll with the punches…wherever the wind may take me.
I hope everyone has a safe and happy holiday with your friends and family and I will see you "next year"!
Jacked Up Monterey Chicken Salad

3-Ingredient No-Bake Energy Bars

Mini Salmon Asparagus Frittatas

Cinnamon Raisin Energy Bites


Tabbouleh

Skinny Bruschetta Chicken


Hearts of Palm Artichoke Avocado Butter Lettuce Salad

Red Potato, Kale, Mushroom and Feta Frittata


Quinoa Corn Chowder

Charred Kale Caesar Salad with Honey Chipotle Chicken


Butternut Spinach Multi-Grain Medley
Spaghetti Squash Bolognese


Vegan Sloppy Black Eye Peas

Cauliflower and Quinoa White Chili


Cleansing Tri-Color Quinoa Salad

Lightened Up Chicken Fingers and Dipping Sauce


Avocado Chicken Salad

Shrimp & Garlic Rice Stuffed Peppers


One Pan Tuscan Pork Chops


Grilled Shrimp Recipe with Roasted Garlic Cilantro Sauce

Turkey Stuffed Peppers


Mexican Chicken Soup


Tropical Smoothie Bowl


Quinoa Taco Bowls

Enjoy these 25 Healthy Recipes for the New Year and Happy New Year, everyone!