One Bowl Butterscotch Chocolate Chunk Cookies
How was your Valentine's day?  I think I'm still in a sugar coma….not that that's a bad thing.  Mr. Wishes and I had plans to stay in and cook dinner together.  We have made this a tradition the past few years and I think it's really nice.  I don't mind avoiding super crowded restaurants and long waits on Valentine's day.  I said that to my mom the other day and she told me I sounded old.  Do I really sound old?  Thirty is hitting me like a ton of bricks, I guess!
Anywayyyy…we planned on making just Chicken French served over pasta, but while I was at the store I came up with a few new ideas to make as a surprise to go along with the main course.  I made a Fontina cheese fondue in my cast iron skillet and we dipped baguette slices in it.  So so good!  I will have to share the recipe really soon with you since it's now one of my favorite appetizers to date and I'm really excited for how well it turned out.  I also made use of my new giant Wilton cupcake pan I got as a gift for Christmas.  I did a little research the night before Valentine's day (til 2:30 a.m. to be exact) to try to find a recipe that would work with it and how much batter I would need, etc.  It turned out so cute!  Honestly, I was expecting to have another disaster to add to my "Kitchen Disasters 2013" that I will be writing at the end of this year (things you have to look forward to).  But, don't lie, I know you loved my kitchen disasters of 2012.  I'll also share that giant cupcake with you very soon via my blog 🙂
When I saw a recipe for these cookies, I immediately had to make them.  No dirtying up more than one bowl?  No dragging out the thousand pound Kitchenaid mixer?  Yes and yes! These aren't the puffiest cookies in the world, but they sure do taste great and I think this recipe is a definite keeper.  The edges come out nice and crisp with the centers still chewy.  If you are ever in a pinch and need to quickly whip up some cookies for company or to take somewhere, this one is for you.  Plus, any cookie with butterscotch chips is a winner in my book…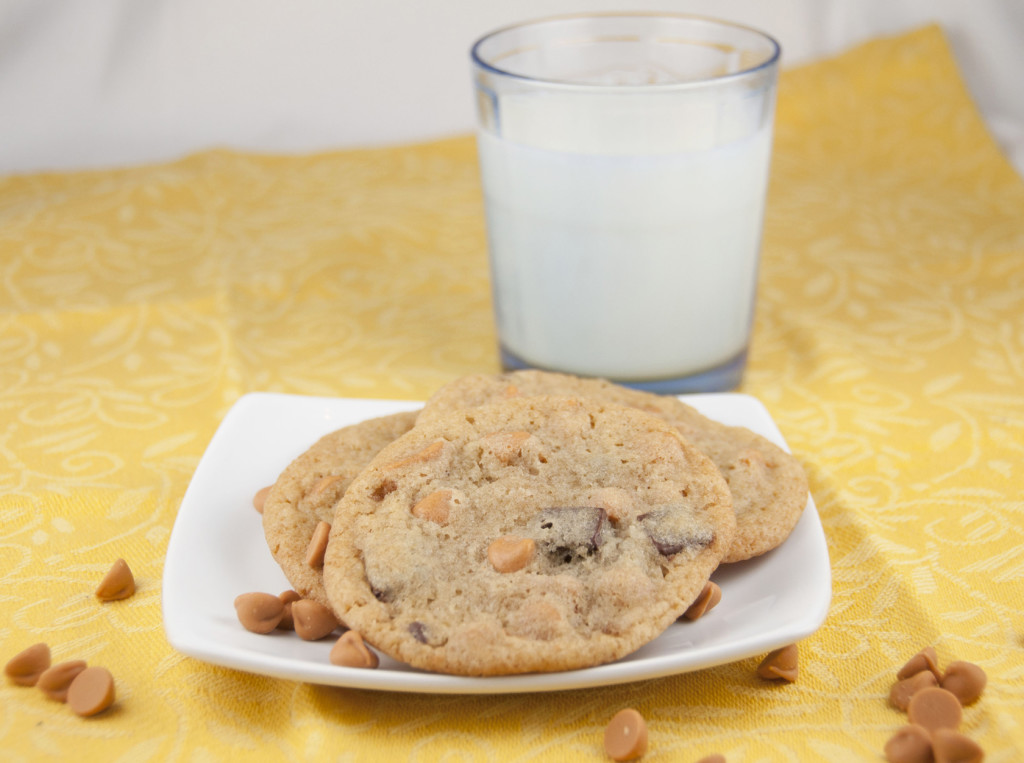 INGREDIENTS:
*Makes about 2 1/2 dozen cookies
1 stick (8 tablespoons) unsalted softened butter
1/2 cup granulated sugar
1/2 cup packed light brown sugar
1 large egg
1 teaspoon pure vanilla extract
1 cup plus 2 tablespoons all purpose flour
1/2 teaspoon baking soda
1/2 teaspoon salt
1 cup butterscotch chips
3/4 cup chocolate chunks
DIRECTIONS:
Preheat oven to 350 degrees F.  Line a baking sheet with a silpat liner or parchment paper.
Place butter and sugars into a large bowl, mix until well combined, about 2 minutes. Add egg and vanilla, mixing until well combined.
Add flour, baking soda and salt to bowl, mix 3 or 4 times then add butterscotch and chocolate chunks, mixing until just combined. With a medium cookie scoop, scoop dough onto prepared cookie sheet, placing 1 inch apart.
Bake for 13-15 minutes or until nice and golden brown but still semi-soft in center. Remove and let cool on baking sheet for 5 minutes before transferring to cooling rack.
Recipe source:  adapted from pickypalate.com