Bloomin' Herb Bread and a Sunday Night Getaway
Mr. Wishes surprised me this past weekend with a belated Valentine's day gift.  He had Monday off of work and took me to stay at the downtown Hyatt hotel here in Rochester for a night on Sunday.  It was so fun!  He had packed a few things for me without me knowing and told me he had to stop by the hotel for something work-related and that it wouldn't take long and asked me to go along for the ride.  I still didn't catch on until we were checking in to the hotel.  I'm a little gullible sometimes.
We received a free upgrade to the vice presidential suite and had an awesome view of the city, especially at night when the buildings were all lit up.  We got to use the pool and hot tub and had an awesome dinner at the restaurant in the hotel, Scene on Main.  It had a pretty limited menu, but the food was great and so was the service.  It is newly renovated and located on the lobby level of the hotel with cool downtown views all around.  I had the New England Lobster Mac & Cheese as recommended to me by our server.  It was amazing!  Later on, we got to enjoy our "welcome gift" for checking in to the hotel ….some chocolate-covered strawberries in our room.  The next morning we had the most amazing buffet breakfast and used the pool and hot tub one last time.  It was a great getaway!
This recipe is my favorite bread to make.  The moment I saw this on The Pioneer Woman's site, I just HAD to make it.  It looked so gorgeous with it's perfect golden bloom – I couldn't resist!  I have made it a few times and each time it exceeds my expectations!  It has a great flavor from the herbs used and I love how it looks coming out of the oven.  It's not just your plain ol' round loaf of bread.   It has a crunchy, buttery-like crust with a soft, but structured interior.  You can use any herb I listed below or even a combination.  It's best served warm with butter or oil.  You can use up the leftovers the next day by grilling/toasting it and making sandwiches!  Ain't nothin' better than warm homemade bread right out of the oven 🙂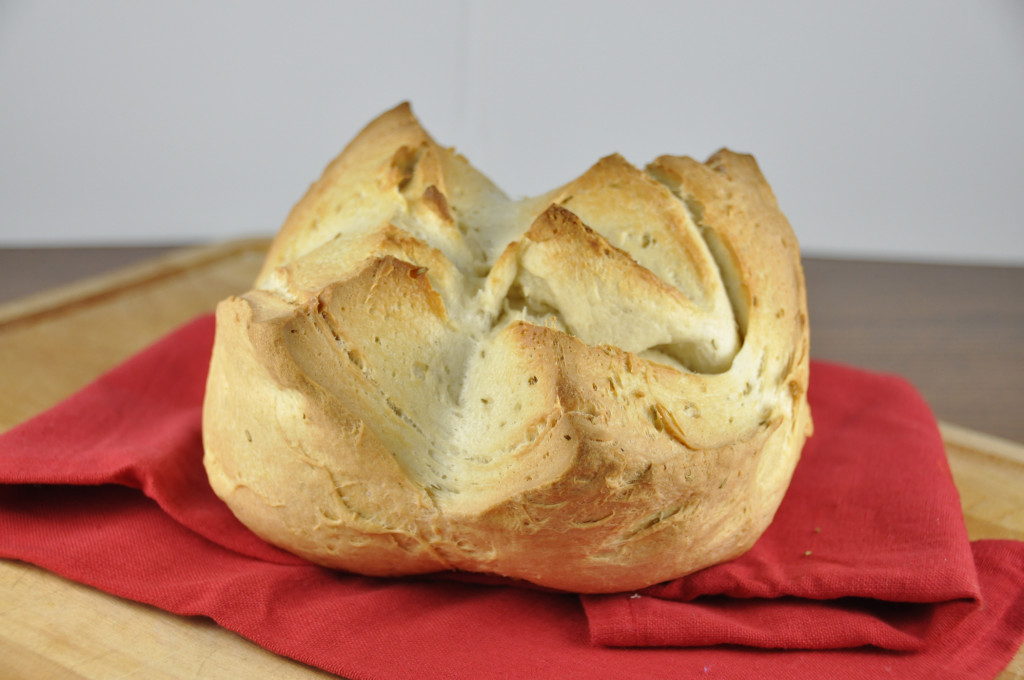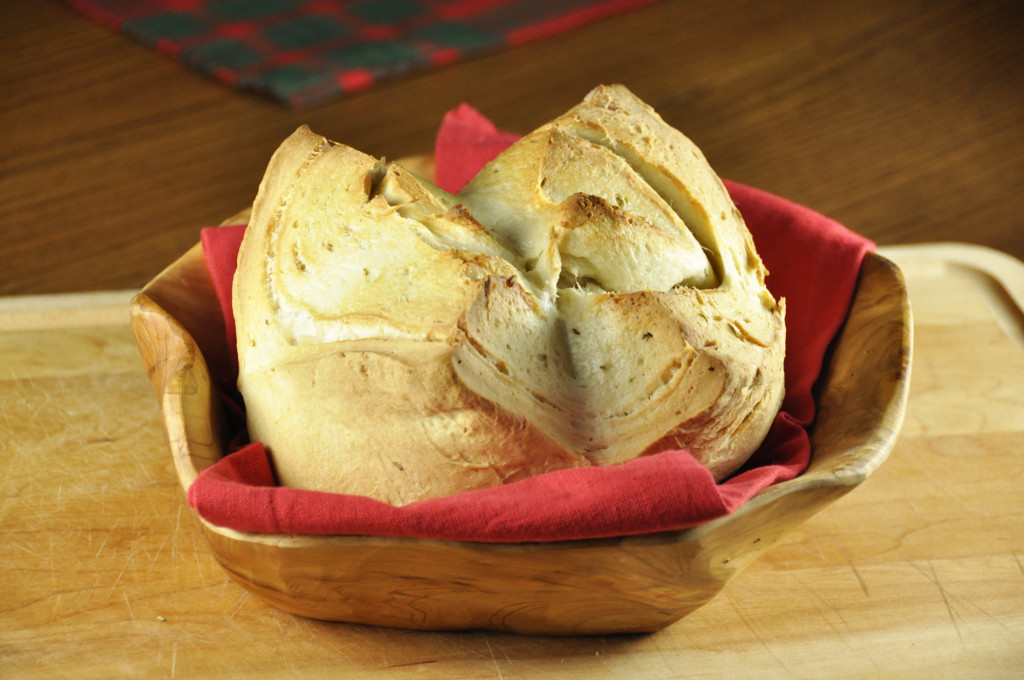 INGREDIENTS:
20 ounces, weight Bread Flour – About 4 Cups
8 ounces, fluid Water
4 ounces, fluid Melted Butter With Chopped Herbs Of Choice. (Chives, Rosemary Or Thyme would all work well – just eyeball it, I like to use a lot)
2 teaspoons Salt
1 teaspoon Active Or Instant Yeast (if Active, It Would Be Best To Sprinkle Yeast Over The Water To Let It Start To Work Before Mixing It In)
DIRECTIONS:
Combine all ingredients together in the KitchenAid stand mixer with the dough hook (it can also be done by hand…it just takes longer).
I mixed them together for about 10 minutes or so until I could successfully achieve a windowpane with the dough.  This is where you can pull off a small chunk of the dough you're kneading and stretch it gently to see if it is somewhat translucent. If you can do this without it tearing, it's ready to go.
Once this elasticity has been achieved, the dough can sit out with plastic wrap over it for 1-4 hours to double in size. After it's gotten bigger, it should be kneaded for a minute or two so that the yeast can redistribute.
Preheat oven to 450 degrees.
Form it into a dome and place in a covered cast iron pan after coating it with olive oil and a sprinkling of kosher salt. Cut a large 'X' into the surface of the bread dough so it can "bloom"!  I normally cut a couple inches deep.
Bake on the center rack of your over for 30 minutes with the lid on, them remove the lid to finish it off for another 15 to 30 minutes.  *If you like to use a thermometers, we're looking for an internal temp. of around 200-210 degrees. (The bread can get brown on the bottom if it's too close to the heating element; if that happens, just slice it off with a sharp knife.*
(You can make this without a dutch oven…just place it on a regular baking sheet. As always, watch the color and make sure it doesn't get overly brown…and the thermometer trick is helpful.)