Creamy Pasta and Bacon Carbonara
Classic Italian Creamy Pasta and Bacon Carbonara recipe is creamy, cheesy, and tastes like it's straight out of a restaurant!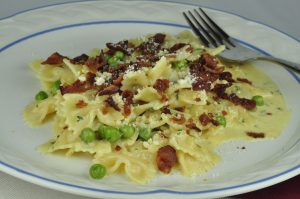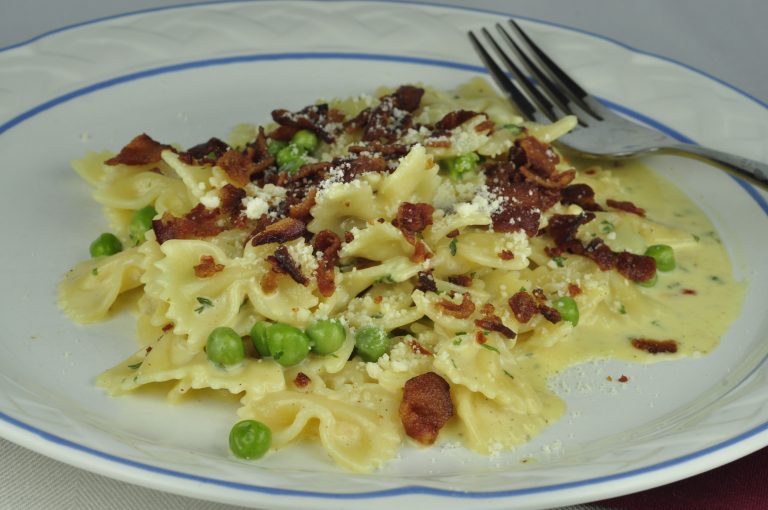 One of my all-time favorite classic Italian dishes, Creamy Pasta and Bacon Carbonara, is possibly the easiest to make.  I decided to come up with my own variation of this dish and wanted to share the recipe with you all because it turned out wonderful (if I do say so myself).  I have been eating this every chance I get lately and have had a lot of fun trying all different versions at different restaurants.  No two are ever the same!  It is most definitely a newly discovered love of mine.  Every bite is a creamy, salty, cheesy, bacon-y explosion in your mouth!  Yes, I am allowed to make up words in this blog.
I'm so glad you're here! Follow along on Pinterest for more inspiration!
It is thought that Pasta Carbonara was created on the outskirts of Rome, Italy as a result of the American influence from World War II.  American soldiers would make bacon and eggs for breakfast and the Italians ran with it and added it to pasta (surprising?).  Pasta Carbonara became a classic Roman pasta dish, that has become a standard on menus in Italian restaurants around the world.  As with any dish that becomes this ever-present, many variations tend to crop up, with people adding different ingredients along the way.
I could not have been more happy with the results of my own adaptation to this wonderful dish!  Some of the ingredients I included may not be considered "traditional" for a carbonara sauce, but they really do work well because they enhance the dish by subtly complementing, rather than taking away from the main ingredients.
The beauty of the carbonara sauce is it's simplicity, and you don't need a cooking class in Italy to handle the basics.  The recipe calls for very few ingredients:  eggs, bacon, cheese and any kind of pasta – such as spaghetti, linguini or bucatini.  I used Farfalle because it's one of my favorite pastas!  I also added peas, not only to sneak in a veggie, but for color.  I had seen this idea before at a restaurant and loved it.
Who would have thought that eggs and bacon could be so refined?  Try this dish and your taste buds will thank you. If you're loving creamy pasta dishes with bacon, you will love this Shells and Cheese with Bacon from my friend Angie or this Penne Rustica from my friend Leigh Anne!
Buon Appetito!
Creamy Pasta and Bacon Carbonara
Prep time:
Cook time:
Total time:
Classic Italian Creamy Pasta and Bacon Carbonara recipe is creamy, cheesy, and tastes like it's straight out of a restaurant!
Ingredients
4 eggs
½ cup heavy cream
⅔ cup Parmesan or Pecorino Romano cheese, grated
Freshly diced parsley or dried flakes
½ teaspoon salt
½ teaspoon red pepper flakes
½ pound bacon
1 small onion, chopped
2 cloves garlic, chopped
1 pound pasta (I used Farfalle)
1 cup peas (optional)
Instructions
Beat the eggs, cream, Parmesan, parsley, salt and the red pepper together in a bowl.
Fry the bacon in a skillet until crisp; crumble and set aside.
With 2 tablespoons bacon grease, saute the onion and garlic until the onions are translucent and golden.
Drain the pasta and while still warm, add to the onions.
Pour cream mixture into the pasta, and stir over low heat for one to two minutes. (Save a bit of the pasta water, just in case your sauce gets thicker than you want it – simply add a bit if you need it) Don't do this on high heat, or you will make scrambled eggs.
Serve with additional Parmesan, a loaf of crusty bread and a salad.