Orange Cinnamon Poached Pears with Walnuts
A simple recipe for making gently simmered poached pears cooked in orange juice and topped with a rich cinnamon syrup and crunchy walnuts.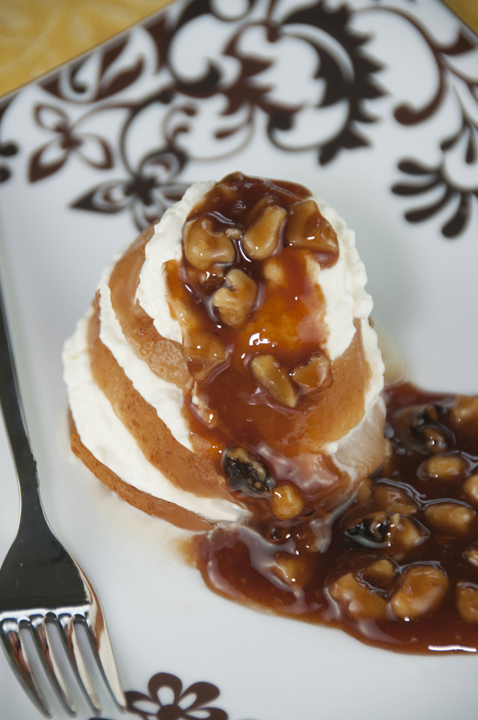 Can you believe I've never poached pears before?  That's just sad!  I didn't even know how to go about poaching a pear or how easy it is until recently when I decided to try it out for dessert when I was having company at my house for dinner over the weekend.  Like I've said in a recent post, I've been trying to be more adventurous in the kitchen and try something new and different every so often.  Little did I know that poached pears are actually perfect for fall and winter cooking/baking and that it is super simple to make this elegant looking dessert.  They would also be perfect for a "fancy" brunch dish.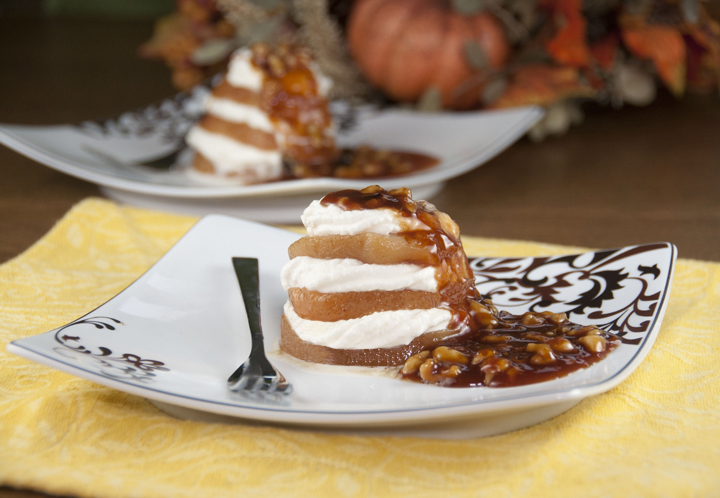 Traditionally, pears are poached in a wine and sugar mixture.  Orange juice became my poaching liquid of choice because I'm really into orange flavors lately and I figured it would be perfect with the pears.  It was!  The pears came out so juicy and tender and, bonus points, my house smelled like cinnamon, pears and citrus.  In other words: my house smelled delicious! The syrup thickened up nicely and gave the perfect amount of sweetness with the walnuts adding a little bit of crunch.  I was in texture heaven.
The best part about poached pear recipes is that the ingredients are usually already items you have in your pantry, so nothing special to go out and buy.  You all know how much I love recipes where I don't have to go out and get a bunch of random ingredients that are just going to sit in my pantry indefinitely.  I'm guessing I'm not alone here!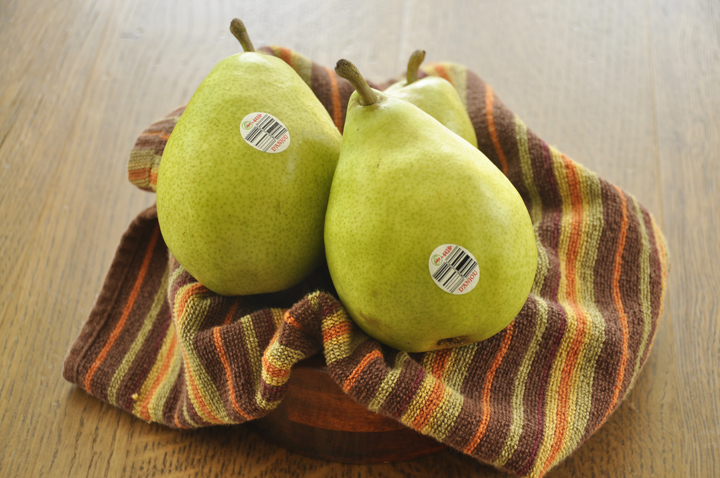 Does everyone else on the planet know how to pick out a pear besides me?  After some research, I realized that underripe pears are perfect when it comes to poaching, but if a nice and ripe pear is what you're looking for then all you have to do is apply gentle pressure to the narrow "neck" of the pear with your thumb.  If it yields to pressure, it's ripe, sweet and ready for devouring.  Simple as that!
So, moral of the story is:  impress your guests with this delicious poached pear recipe!  They will love you for it.
Notes: 
First, peel the skin from the pear. Cut a little bit off the bottom so that the pear can stand on its own. Use a small spoon, a melon scooper or an apple corer to remove the core of the pear.  I used an apple peel and this made it much easier, in my opinion.

If your pears are overripe, they won't poach well and they will turn out soggy.  I promise.  Poaching is the perfect pear-cooking method for underripe pears.

You can get more tips, read about the different varieties of pears and see which ones are being harvested now at the USA Pears.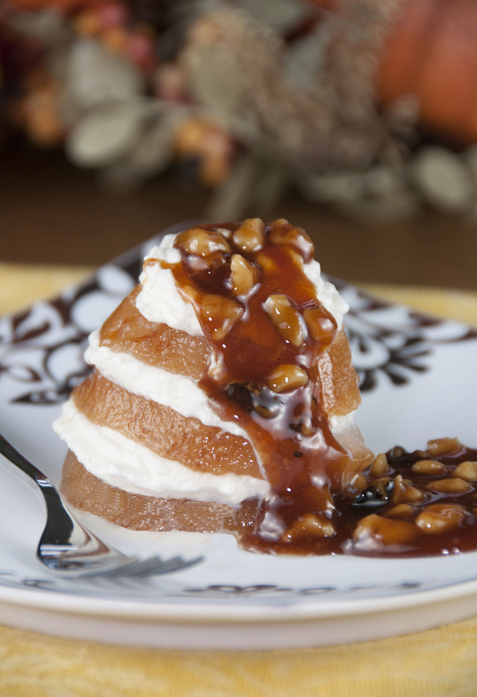 Orange Cinnamon Poached Pears with Walnuts
Prep time:
Cook time:
Total time:
A simple recipe for making gently simmered poached pears cooked in orange juice and topped with a rich syrup and walnuts.
Ingredients
1½ cups orange juice, no pulp
½ cup packed light brown sugar
¼ cup white granulated sugar
1 tablespoon vanilla extract
1 teaspoon ground cinnamon
3 whole pears, peeled and cored (I used Green Anjou)
½ cup chopped walnuts
Whipped Cream:
1 cup heavy whipping cream
1 teaspoon vanilla extract
1 tablespoon confectioners' sugar
Instructions
In a large saucepan over medium heat, mix together the orange juice, brown and white sugar, vanilla extract, and cinnamon. Bring the mixture to a boil, stirring to dissolve the sugar.
Place pears into the syrup, and cover; simmer pears for 1 hour, spooning sauce over pears every 10 minutes, and carefully turning pears over twice during cooking time.
Transfer pears to a plate and slice into thick slices.
Continue cooking the syrup, stirring often, until thickened (about 10 more minutes) then mix in the walnuts. Take it off the heat.
Whipped Cream:
In a large bowl (preferably a cold bowl), whip cream until stiff peaks are just about to form.
Beat in vanilla and sugar until stiff peaks form. Make sure not to over-beat or cream will become lumpy and resemble the texture of butter.
Stack slices of pears on individual serving plates and using a spoon or piping bag, pipe whipped cream in between layers of pears, ending with a scoop of whipped cream on the top.
Pour the sauce over the pear stack to serve.
I was selected for this opportunity as a member of Clever Girls and the content and opinions expressed here are all my own.