No-Bake Cinnamon French Silk Pie
No-Bake Cinnamon French Silk Pie (or chocolate pie) recipe uses a homemade graham cracker crust OR ready-made pie crust, rich chocolate filling, sturdy, homemade whipped cream, and fancy chocolate curls for a beautiful presentation.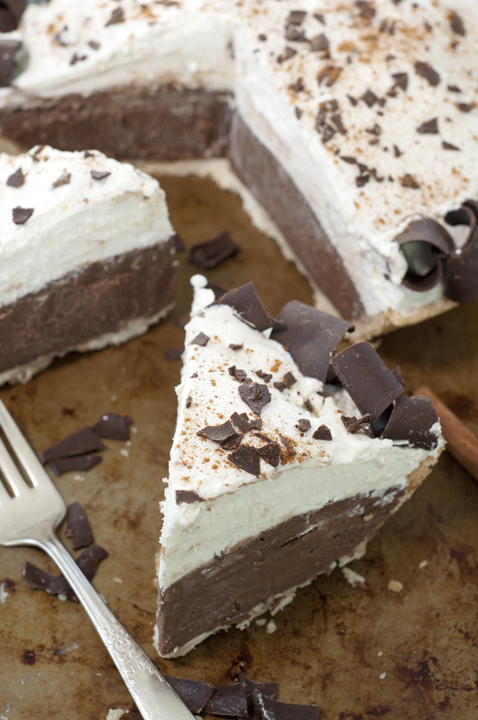 'Tis the season for no-bake dessert recipes and keeping that kitchen nice and cool!  Can we all agree that using the oven in the warmer months is just an all-around bad idea?  I am sitting here in 95 degree Orlando, Florida heat as I write this and it is reminding me of how my kitchen feels in the summer when I am constantly baking.  I do not tend to "go green" in the summer and make my air conditioner work extra hard. Enter this No-Bake Cinnamon French Silk Pie made with Tate+Lyle® Organic Pure Cane Sugar!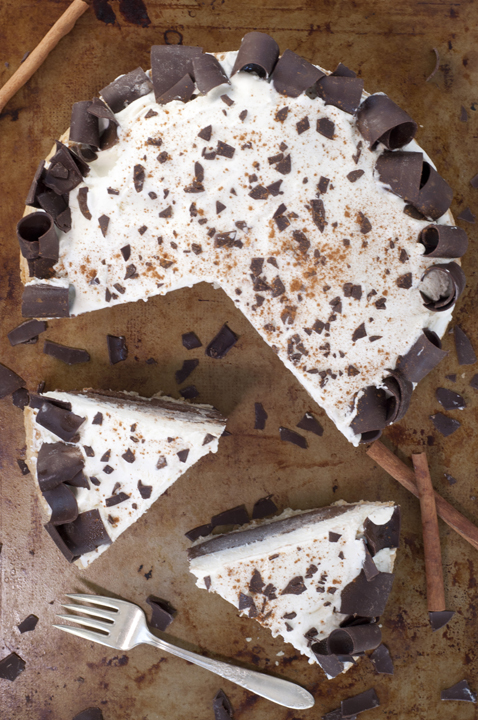 This is my new favorite sugar to bake with and also to use as a sweetener for many other things, such as coffee and tea.  Their sugar cane is grown in sun-kissed organic fields, and then the sugar is lightly refined, creating a great tasting sweetener that really stands out above the rest.  There is a subtle molasses flavor in these sugar crystals which I think went perfectly with the flavors of my No-Bake Cinnamon French Silk Pie.  My organic-eating friends will especially enjoy this sugar because they are certified organic AND Fairtrade certified which means fair prices and opportunities for small-scale sugarcane farmers to invest in their communities.

I'm so glad you're here! Follow along on Pinterest for more inspiration!
The entire pie is no-bake if you use a ready-made crust or even make your own graham cracker crust. I provide you with both options in the recipe directions because options are nice, right?  A homemade graham cracker crust is really a no-brainer and super simple, but feel free to buy a pre-made pie crust if you are really short on time. I know there are some good and tasty ones out there!  I'm just getting you primed for a no-bake summer.
This No-Bake Cinnamon French Silk Pie will surely win the affections of your friends and family with it's rich, creamy flavor. It is perfect for serving at any summer party, but I make this for many occasions throughout the year. Chocolate is always in season, right?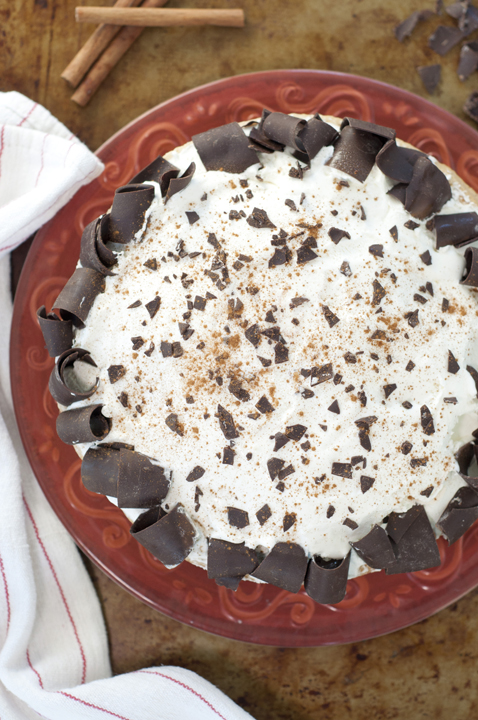 Top this pie with homemade whipped cream (you can buy the frozen whipped topping if you need to save time) to take this over the top.  If you're feeling sassy, add some super fancy chocolate curls and a sprinkling of cinnamon to the top.  I used dark chocolate for the curls to give a balance to the sweet chocolate in the pie. I learned in my Flavor Bible I got for Christmas last year how you can use one chocolate to mellow out the flavor or another chocolate – and it works beautifully.  Your pie will definitely be looking it's best with the extra adornments!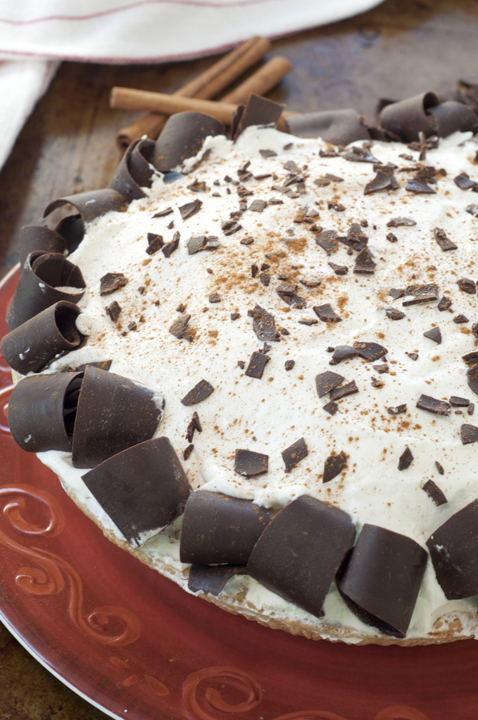 You can grab a bag of Tate+Lyle® Sugars  in the sweetener aisle at your local Walmart.  They also have a great Tate+Lyle® Organic Turbinado Raw Cane Sugar that adds a nice crunch to baked goods!  Make sure you check out the product locator page to find it in a store near you.  I also have more chocolate recipes you can find at the link in this sentence.  Enjoy!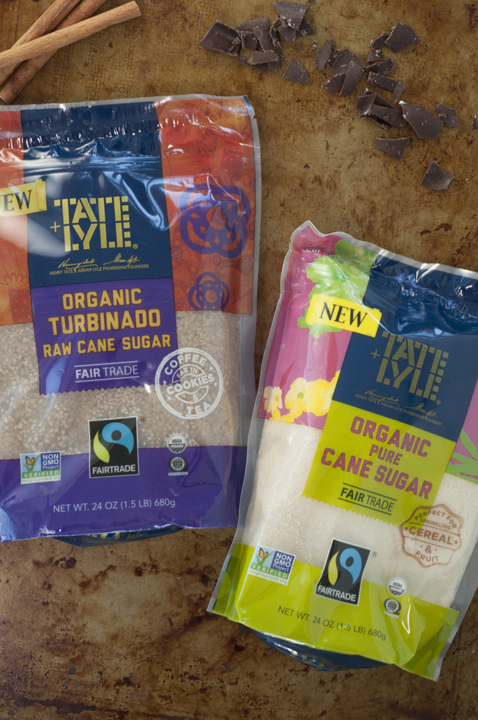 No-Bake Cinnamon French Silk Pie
No-Bake Cinnamon French Silk Pie recipes uses a ready-made pie crust OR homemade graham cracker crust, rich chocolate filling, sturdy, homemade whipped cream, and fancy chocolate curls for a beautiful presentation.
Ingredients
Crust (if making homemade, can use pre-baked pie crust):
1½ cups graham cracker crumbs
5 tbsp butter, melted
2 tbsp granulated sugar
½ tsp cinnamon
Filling:
⅔ cup granulated sugar
2 eggs
2 oz unsweetened baking chocolate
⅓ cup butter, softened
1 tbsp cinnamon
1½ cups heavy whipping cream
¼ cup powdered sugar
Chocolate curls and/or chocolate shavings, for garnish (optional)
Instructions
Crust:
Blend together graham cracker crumbs, melted butter, cinnamon and granulated sugar until it starts to clump together.
Press the graham cracker crust into a 9 inch pie pan.
Filling:
In a small saucepan, beat granulated sugar and eggs with whisk until blended. Cook over medium heat until instant-read thermometer reads 160°F. Mixture should thicken a bit and coat back of metal spoon - you don't want it to be too runny.
Remove from heat; stir in chocolate until fully melted and smooth. Cool slightly; mix in softened butter until well incorporated.
Add cinnamon and mix thoroughly. Let cool until just warm; stir occasionally as it cools.
In large bowl, beat whipping cream until it begins to thicken. Add powdered sugar; beat until stiff peaks begin to form.
Fold half of the whipped cream into the chocolate mixture; pour into your pie crust. Top pie with remaining whipped cream (I made extra whipped cream because I like a LOT of whipped topping on my pie. Feel free to do so, also, but it's not necessary).
Garnish with chocolate curls or chocolate shavings and a dusting of cinnamon (optional). You can make chocolate curls by using a vegetable peeler to peel off chocolate length-wise from a 6 ounce bar of semi-sweet or dark chocolate.
Refrigerate until ready to serve or for at least 1 hour. Cover and refrigerate leftovers.
A Wishes and Dishes original recipe
I was selected for this opportunity as a member of Clever Girls and the content and opinions expressed here are all my own.