Firecracker Chicken Meatballs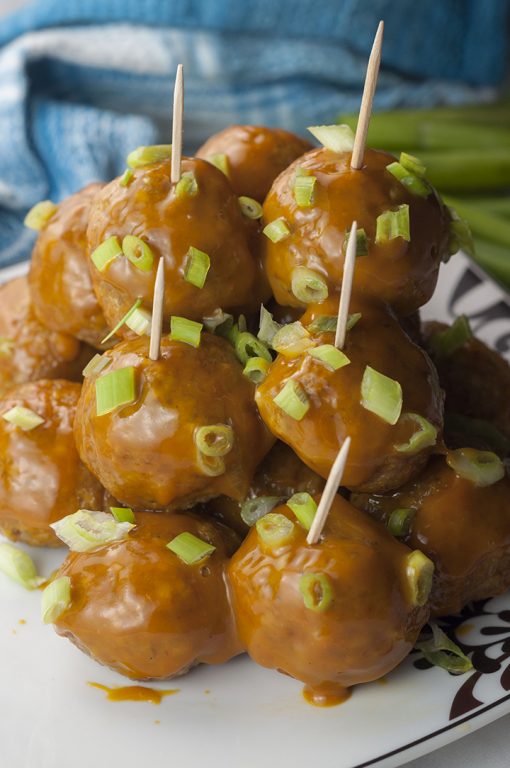 Recipe type:
Appetizer, Dinner
Serves:
about 20 meatballs
1 ¾ – 2 pounds ground chicken
4 teaspoons minced garlic
1 ½ teaspoon salt
1 teaspoon pepper
2 large eggs
1 cup Panko breadcrumbs
½ teaspoon paprika
1 teaspoon onion powder
1 cup hot sauce
2 cup light brown sugar
4 tablespoons apple cider vinegar
½ teaspoon salt
½ - ¾ teaspoon red pepper flakes (more or less, to your liking)
Preheat oven to 475ºF. Line 2 baking sheets (or one large baking sheet) with parchment paper, set aside.
Combine the ingredients for the sauce in a saucepan over medium high heat; bring to a boil and reduce heat to simmer for about 10 minutes.
Remove from heat and allow the sauce to cool and thicken.
In a large mixing bowl, combine the ground chicken, garlic, salt pepper, eggs, panko, paprika, and onion powder. Mix ingredients together with your hands, being careful not to overmix or your meatballs will be tough.
Roll the meatballs, about 3 tablespoons of meat each; place on prepared baking sheet and bake for 11-13 minutes or until the meatballs are cooked through.
Using a pastry brush, brush each meatball with the sauce (you can dip them if you don't have a brush). Place back on the baking sheet and bake for an additional minute. Drizzle or brush with additional sauce before serving. Enjoy!
Recipe by
Wishes and Dishes
at https://wishesndishes.com/firecracker-chicken-meatballs/