Fancy Sloppy Joe
I'd love to cook just about every recipe on Ree Drummond's, AKA the Pioneer Woman, website but it's only once in a while I get around to trying out one of her recipes.  One recipe I did try of hers was the Chicken Spaghetti that I posted about a while back – it was amazing and a great recipe to feed a big group!  She makes her recipes seem very easy and fail-proof.  That is not to say I have not screwed up her most simple of recipes on occasion 🙂
The Pioneer Woman also has her own show on Saturday mornings on the Food Network that I recommend – new episodes actually begin this weekend!  Minus the pounds and pounds of butter being the key ingredient in a lot of her recipes, I just love reading her blog and watching her show whenever I can – it's sheer entertainment and fun to watch.  I only try her recipes sporadically, and when I do, I try to cut way back on the butter, depending on the recipe.  They always turn out great (but, full disclosure: not even remotely as pretty as her stuff looks).  Gotta work on that presentation!
Ree simply calls this sandwich "Marlboro Man's (that's what she calls her husband) Favorite Sandwich" on her website.  It was very tasty and I renamed it "Fancy Sloppy Joe".  The smells coming from my cast iron skillet while this was cooking were unbelievable so I knew it was going to be delish before I even took a bite.  It will have you drooling.  You can also play around with this sandwich according to your tastes: different veggies, different seasonings (thyme, fresh garlic, etc.), or even add mozzarella cheese.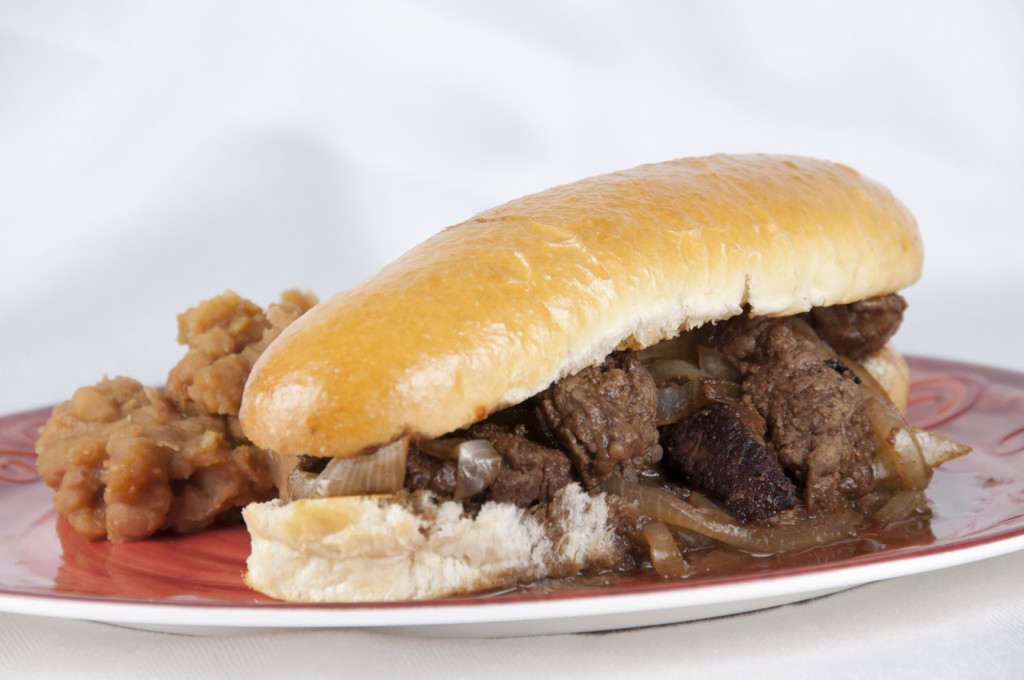 INGREDIENTS:
1 whole Large (or 2 Small) Onion
2 sticks Butter
2 pounds (to 3 Pounds) Cube Steak (tenderized Round Steak That's Been Extra Tenderized)
Seasoned Salt (I used Lawry's)
1/2 cup (approximately) Worcestershire Sauce
Tabasco Sauce, To Taste
4 whole French/deli Rolls
DIRECTIONS:
Slice onions and cook in 1/4 stick butter until soft and light brown. Remove and set aside.
Slice cube steak against the grain. Season with Lawry's.
Heat 2 tablespoons butter over high heat (in same skillet) until melted and beginning to brown. Add meat in single layer. Cook one side until brown, then flip and cook until brown, about a minute on both sides.
Add 1/2 cup (at least) Worcestershire sauce, 5 to 6 shakes Tabasco (depending on taste), and 2 tablespoons butter. Add cooked onions. Stir to combine.
Butter halved French rolls and brown in skillet or griddle.
To assemble, lay bottom half of French roll on plate. Place meat mixture, followed by a spoonful of juice from the pan. Top with other half of roll.  Serve immediately.