Eggnog Crumble Crunch Cake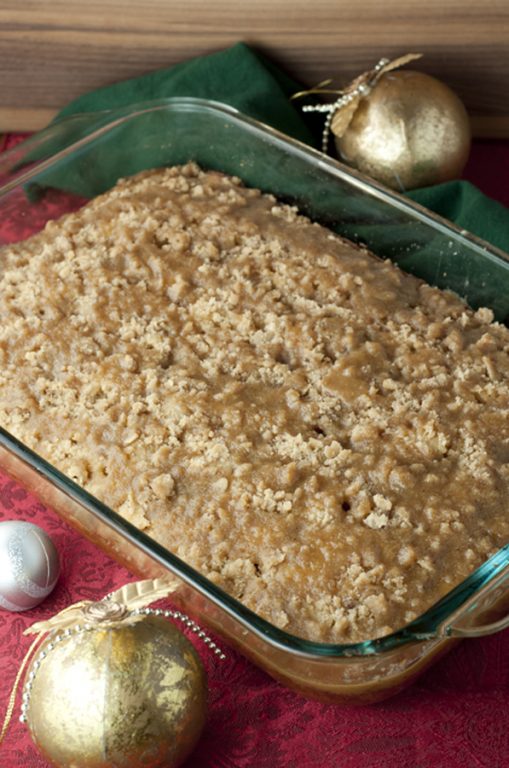 Cake:
2 cups pastry flour
1 tablespoon baking powder
¼ teaspoon salt
½ teaspoon nutmeg
½ teaspoon cinnamon + an extra ¼ teaspoon
½ cup loosely packed brown sugar + and extra ⅓ cup
⅓ cup SPLENDA No Calorie Sweetener, granulated (or the same amount of regular sugar)
2 large eggs
2 teaspoons vanilla extract
6 tablespoons unsalted butter, melted and cooled
1 cup eggnog
Crumble topping:
⅓ cup pastry flour
⅓ cup brown sugar
½ teaspoon cinnamon
2 tablespoons unsalted butter, melted
Eggnog glaze:
⅓ cup eggnog
½ cup brown sugar
¼ cup SPLENDA No Calorie Sweetener, granulated (or the same amount of regular sugar)
1 teaspoon vanilla extract
⅛ teaspoon of nutmeg
Cake:
Preheat oven to 350 degrees F.
Spray a 9×13 baking dish with nonstick spray. In a small mixing bowl, combine ⅓ cup brown sugar and ¼ teaspoon cinnamon. In another small mixing bowl, combine flour, baking powder, salt, nutmeg and cinnamon and whisk together to combine.
Add butter and sugars to a separate bowl and whisk until smooth.
Add eggs one a time, mixing until completely combined, then stir in vanilla extract.
Stir in dry ingredients (the flour mixture), mixing until a batter forms (it will be a cookie dough consistency), then mix in eggnog until smooth and no lumps remain.
Pour half of the batter in the greased baking dish, then sprinkle the brown sugar/cinnamon mixture over top.
Cover with remaining batter and use a spatula to very gently spread over sugar. It's OK if some of the sugar shows through in spots.
Top with the crumble topping (directions below).
Crumble: Combine all ingredients in a mixing bowl and mix until crumbly.
Sprinkle evenly over cake, then bake the cake for 28-32 minutes or until cake is set in the middle. use a knife to test and when it comes out clean, the cake is done.
While cake is baking, make glaze following directions below.
After removing cake from oven, immediately poke holes all throughout the cake using a toothpick, then drizzle glaze over top, making sure it gets into the holes.
Glaze: Whisk all ingredients together in a small saucepan over medium heat, and allow to come to a boil. Immediately reduce to a simmer and cook for about 2 minutes, then remove from heat and let sit until cake is finished. Drizzle glaze over cake once it is cooled. Enjoy!
Recipe by
Wishes and Dishes
at https://wishesndishes.com/eggnog-crumble-coffee-cake/