Baked Buttermilk Chicken
Baked Buttermilk Chicken recipe is southern food at it's best.  This creamy chicken dish will "wow" your taste buds as well as your dinner guests!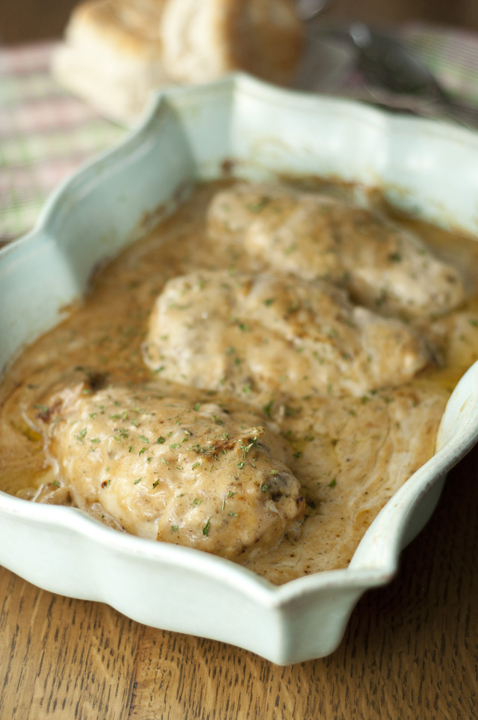 I spent some time down in Savannah, Georgia a few years ago while down south for a friend's wedding.  I ate better food than I have ever eaten in my life while down there.  By better food, I mean the greasiest, fattiest food in the world that caused me to have to go to the doctor's and get temporary medication for IBS.  No joke.  Was that TMI?  I'm just saying that it was totally worth every bite.  I mean, basically everything is fried down in Georgia.  I want to go back just for the food…but maybe just play it a little safer this time.  I definitely paid for it afterward, but I would do it all over again in a heartbeat.
Since I won't be doing that anytime soon, I have to bring Savannah food to my own kitchen.  One of the famous Southern home cooking restaurants down there is called Mrs. Wilkes' Dining Room.  It's a family-style small and cozy restaurant.  Unfortunately, when Mr. Wishes and I went to hit it up the line was down the street and we didn't have time to wait.  Lucky for me, I found the recipe for their Baked Buttermilk Chicken online.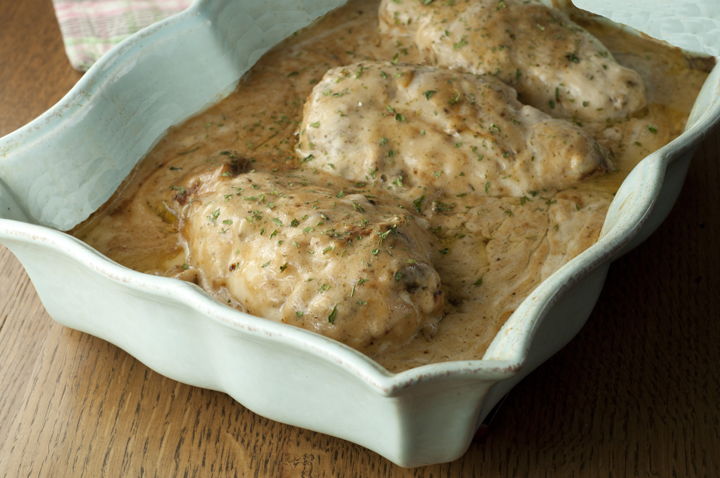 I'm sure nothing beats the taste of it straight out of the restaurant, but this simple and delicious chicken dish will knock your socks off.  It's super easy to make and has tons of flavor.  The tangy buttermilk gravy is the star of the show here and everyone you serve this to will want to just eat it with a spoon.  I did this.  I definitely did this.  This meal is totally "serve to dinner guests" worthy!
I actually doubled the gravy so I had enough to serve it over mashed potatoes and biscuits. You might want to do the same!  Serve with mashed potatoes, rice, egg noodles, etc.  Comfort food in the fall and winter doesn't get much better than this.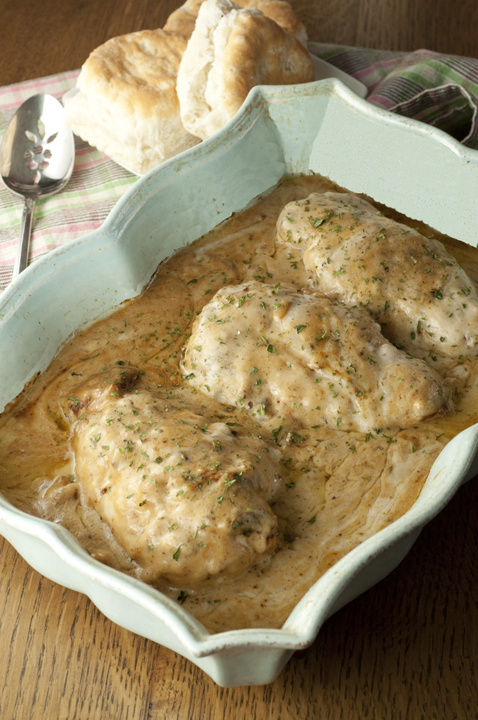 Baked Buttermilk Chicken
Prep time:
Cook time:
Total time:
Baked Buttermilk Chicken recipe is southern food at it's best. This creamy chicken dish will "wow" your taste buds as well as your dinner guests!
Ingredients
4-5 boneless, skinless chicken breasts
1½ cups buttermilk
¼ cup all-purpose flour
¼ cup unsalted butter
½ teaspoon salt
¼ teaspoon black pepper
½ teaspoon cayenne pepper
1 (10 ounce) can cream of mushroom soup
1 tablespoon dried parsley, for garnish (or use fresh)
Instructions
Preheat oven to 425F.
Melt butter in a 9x13 inch pan.
Place ½ cup of the buttermilk onto a shallow dish, set aside the rest.
In another shallow dish, mix together the flour, salt and two kinds of pepper.
Dip chicken in the buttermilk and then dredge the chicken into the flour mixture.
Place the dredged chicken in the prepared pan.
Bake uncovered for 30 minutes.
Turn the chicken over and bake for 15 minutes more.
Combine the remaining 1 cup of buttermilk and the cream of mushroom soup.
Pour over chicken and bake for an additional 15 minutes.
Transfer the chicken onto a serving platter and garnish with parsley.
Stir the gravy up real well and then transfer to a gravy boat or other serving dish.
Serve topped with the pan gravy and a side of mashed potatoes or rice.
 Recipe source:  adapted from Mrs. Wilkes Boardinghouse Cookbook