Date Night at Carrabba's Italian Grill!
All about our fun double Date Night at Carrabba's Italian Grill!  We enjoyed the new small plates, delicious main courses, a variety of desserts, and great company!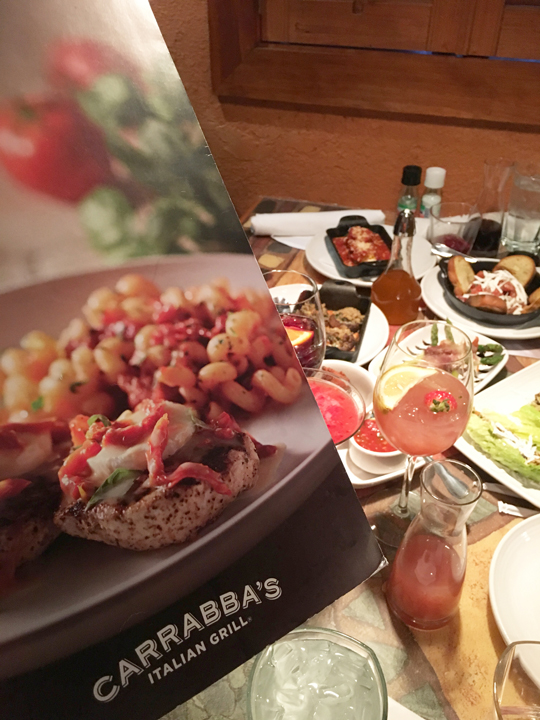 With my husband's crazy work schedule and long hours, date nights can be few and far between.  It's rare we get a special date night out on a weekday and it was so much fun to make it happen at Carrabba's!  We made this one a DOUBLE date night and invited two of our best friends out to enjoy the experience with us.  We were surprised at how busy it was on a Thursday night!  I guess that's the sign of a good restaurant when it's that crowded and popular, right?  I was greeted at the door by the friendliest staff and seated right away in a comfortable booth by the window.
Carrabba's is the perfect place for a date night or when you want to enjoy a night out with family and friends – it has wonderful, quality food and the perfect ambiance. They recently revamped their menu which includes 6 new amazing, lighter small plate options with inventive flavors.  Guess what?!  They are all under 600 calories and under 6$ each (lots of 6's going on here).  They invited myself and a few guests to come check out this "new way to do Italian"!  They are the perfect size to share with friends so that everyone can get a taste of the dish, in true Italian fashion.  We were all very impressed with and excited over the concept of small plates which are available for both lunch and dinner.
My husband and I are night owls and a lot of time want to go out later at night for a bite to eat but don't want a huge, heavy meal.  This is where these small plates come in handy.  We can go out and order a bunch of small plates to pass around and share!  A night out with great company and tasty food – how can it get much better than that?  You also won't break the bank with these new small plates – win/win.
Created with taste in mind first, the variety of small plates ensures everyone can find something that suites their taste.  As is the case with all of their dishes, they only use the finest cuts of meat and freshest ingredients and we were lucky enough to be able to try all six small plates.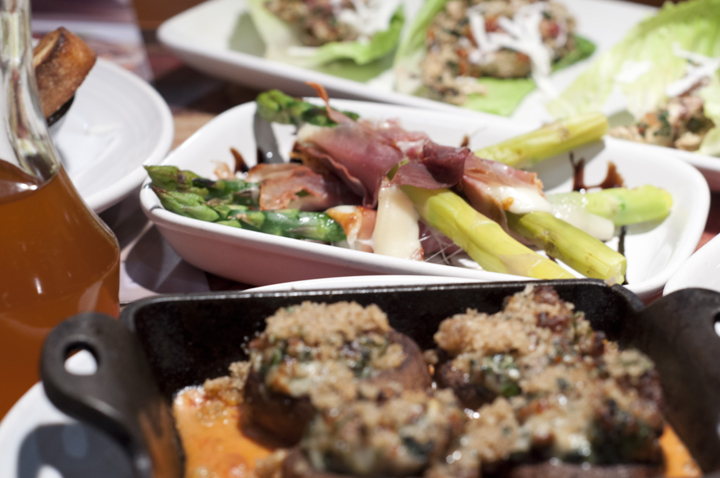 The new small plates are as follows:

Italian Lettuce Wraps – Wood-grilled chicken tossed with vegetables and ricotta salata in our Mediterranean lemon vinaigrette. Served with romaine lettuce, drizzled with a port wine reduction
Mozzarella Rustica – Crispy bites of mozzarella and ricotta with Italian herbs and panko breadcrumbs served with our marinara sauce.
Bruschette Siciliani – Oven–baked ciabatta bread served with diced tomatoes, fresh basil, oregano, red onions and kalamata olives marinated in olive oil and red wine vinegar then topped with ricotta salata.
Grilled Asparagus with Prosciutto– Wood-grilled asparagus wrapped in prosciutto and fontina, drizzled with balsamic glaze.
Three-Cheese & Sausage Stuffed Mushrooms – Stuffed with sausage, spinach, ricotta, romano, mozzarella and Italian breadcrumbs served with our tomato cream sauce.
Meatballs & Ricotta – Simmered in our pomodoro sauce with ricotta and romano cheese.
The Mozzarella Rustica was my absolute favorite and is worth getting if you love all things cheese (and who doesn't?).  I was crazy about the crispy bites of mozzarella, ricotta cheese and fresh Italian herbs.  If you you haven't tried this one yet, I highly recommend it!  Coming in at a close second was the meatballs and ricotta which comes with two good-sized meatballs.  I am a bit of a meatball "snob" and I definitely approved of these and would order them again!  The Pomodoro sauce was very flavorful and the creamy ricotta was so fresh tasting.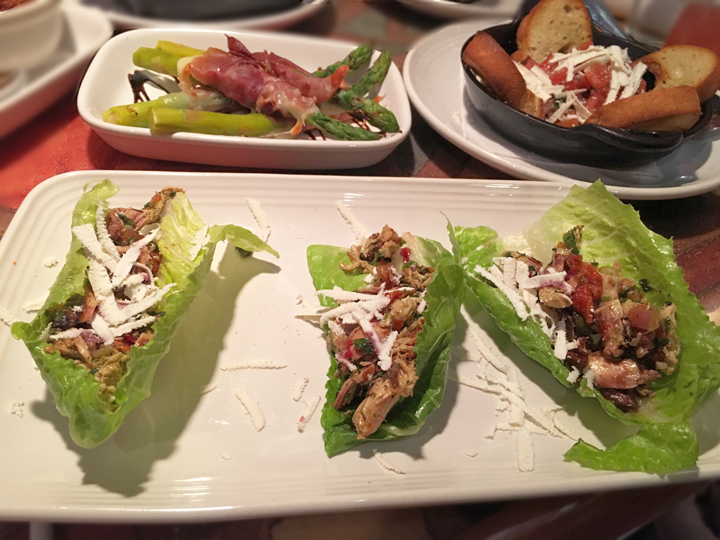 My husband and friend Janet voted for their favorite: the grilled asparagus with Prosciutto.  The grilled asparagus was delicious enough and was definitely taken to another level by being wrapped up in Prosciutto and Fontina cheese.  The fact that it is wood-grilled left for the best smokey and savory treat, paired perfectly with the balsamic glaze.  The Italian Lettuce Wraps also really stood out to all of us – they were very light, yet full of flavor.  Honestly, we loved ALL of the small plates.  There wasn't a single one that failed to impress us and, I'll say it again, the portion sizes are just perfect.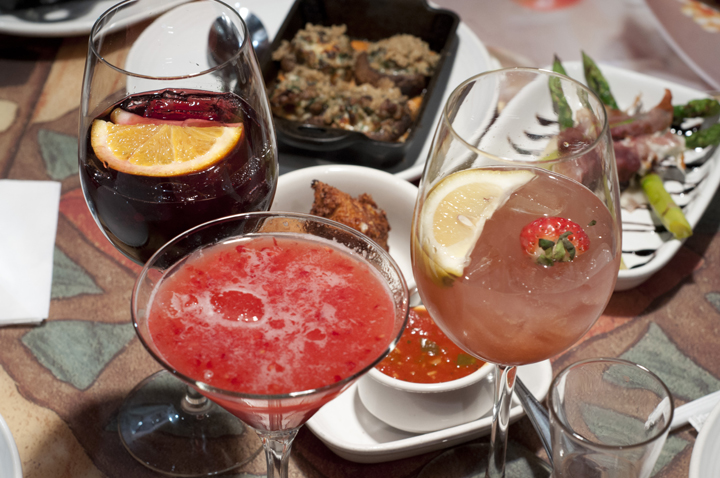 The drinks sounded too good not to try.  I was able to sample the Blackberry Sangria, Peach Sangria, and Raspberry Limoncello Drop.  The blackberry sangria was so unique and my favorite drink of the night!
For our main courses (yes, we went all out) my husband and I both couldn't decide between the new Parmesan-Crusted Chicken Arugula and the Prosciutto-Wrapped Pork Tenderloin.  Our server, Ricky, brilliantly came up with the idea to order both and he would split them up for us so we were able to try each dish.  We loved that idea and I was crazy about both!  The chicken dish was a sautéed chicken breast crusted with grated Parmesan and Panko breadcrumbs topped with fresh arugula, tomatoes and shaved Parmesan cheese in a Mediterranean lemon vinaigrette.  There is just something I love about a chicken cutlet paired with lemon flavor!  It tastes so fresh, and "spring-like".

The Pork Tenderloin is wood-grilled and wrapped in Prosciutto (I'm a sucker for food wrapped in Prosciutto, as you can see) with a port wine fig reduction sauce.  Yes, please!  We could cut the meat with the side of our forks – so tender and just how it should be.
One of our friends ordered the Lobster Ravioli which is a must try!  It is generously stuffed with lobster and Romano cheese in a flavorful white wine cream sauce topped with diced tomatoes.  This was just heavenly and probably what I will order next time I come.  Like a true Italian, I love my pasta.  See, that's what is great about going out with a group – you get to try multiple dishes!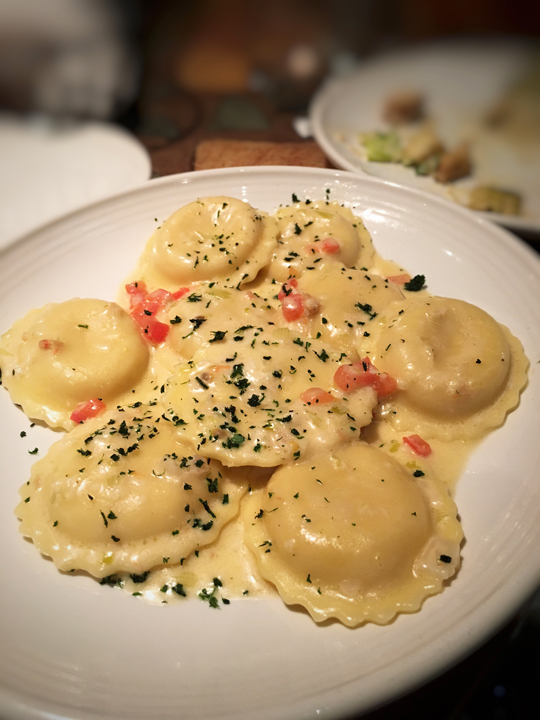 Of course, the most important part of any meal – the dessert.  As if we hadn't consumed enough food by this point, we absolutely needed to try a few sweet Italian treats!  My husband always makes fun of me when I say that dessert has it's own "compartment" and there's always room for it, no matter how full I am!  It's true though, right?  Everything sounded amazing, but we decided on the gelato and bread pudding.  Our server would not let us get away without also trying Carrabba's most popular dessert – the Sogno Di Cioccolata "Chocolate Dream".  I understood why when he brought it out: a decadent, rich fudge brownie with chocolate mousse, fresh whipped cream and chocolate sauce.  It's to die for!  We all thought the gelato perfectly complimented the richness of the brownie.  We couldn't decided which flavor of gelato to get when our server came to the rescue by informing us that we could mix and match flavors.  We ended up trying the vanilla, chocolate hazelnut, AND raspberry – topped off with an almond Biscotti.  Perfection.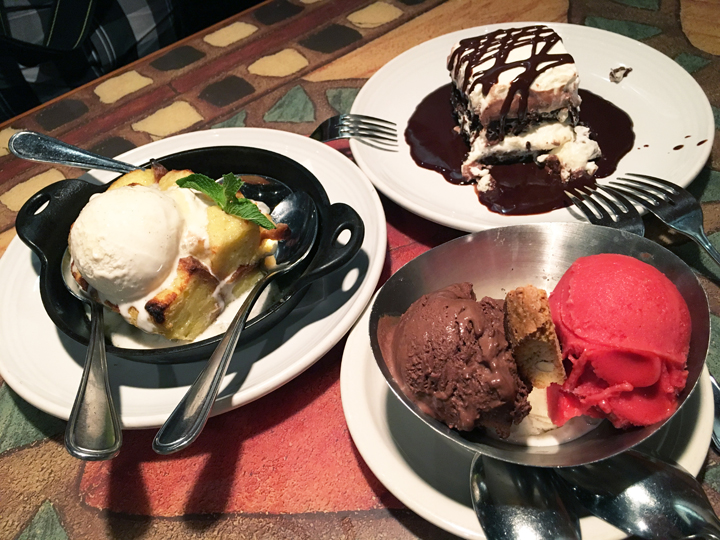 The Limoncello Bread Pudding that we ordered is a new dessert at Carrabba's.  I'm not even normally a huge fan of bread pudding, but this was the best I've ever had.  It was extremely soft on the inside with just the right amount of crisp on the outside from being finished in the pizza oven.  It was brought over to our table while it was still hot and sizzling!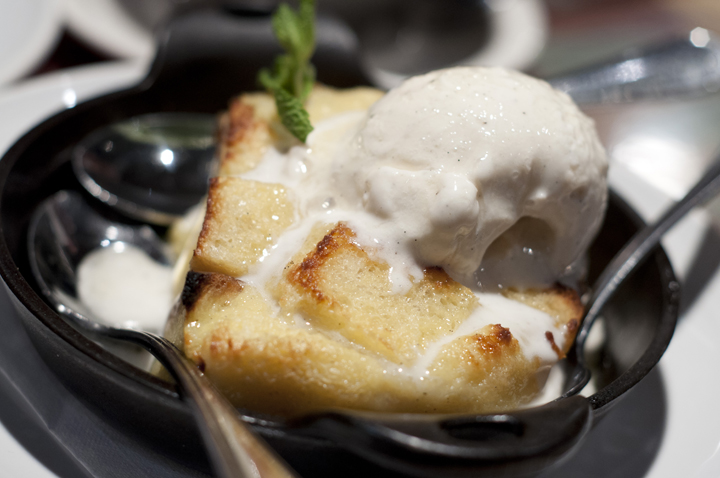 We really had the most amazing double date night focusing on fabulous company and fabulous food.  When left with full stomachs and big smiles. Our amazing server, Ricky, deserves a huge shout-out for being the best server ever!  He was so attentive, took great care of us, and best of all, he gave us his honest and knowledgeable opinion on every dish we ordered before we ordered it.  My husband and I can be quite indecisive and Ricky helped us figure out what we would probably like the most, according to our taste and preferences.  He really hit the nail on the head as we were loving every single food or drink that we ordered!  I can't say enough good things about him as he truly went above and beyond for us.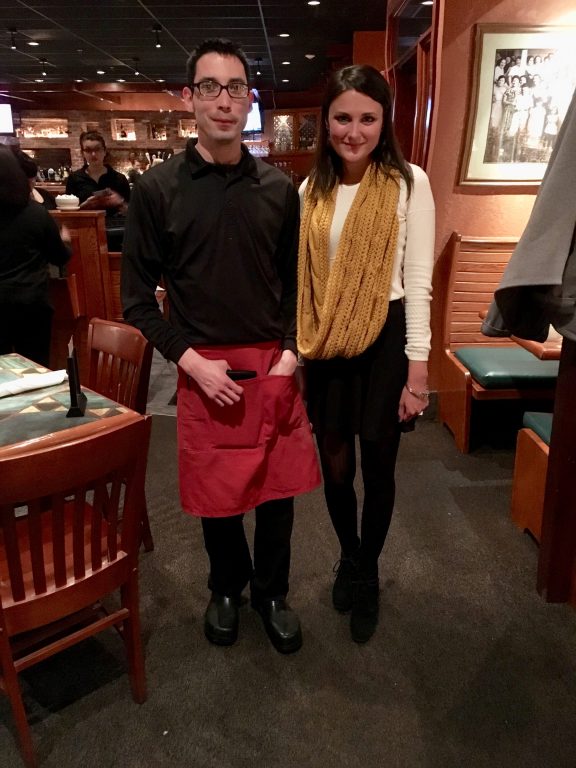 During my visit at Carrabba's, I also learned that every Tuesday is "Tasting Tuesday" where you can order any 3 small plates for $12.  You can pair them with Carrabba's house red or white wine for only $5 a glass!  It would be great idea for you to go on a Tuesday and try all six small plates at once.  Just saying…
So….when was your last date night?  I think you should go ahead and find out where the nearest Carrabba's Italian Grill is to where you live, try out the new menu items, order a few small plates (or order ALL 6 like we did), and enjoy the night together.  Whether it's a small plate party or a romantic night out, it will be a night to remember!  Oh, and don't skip out on dessert.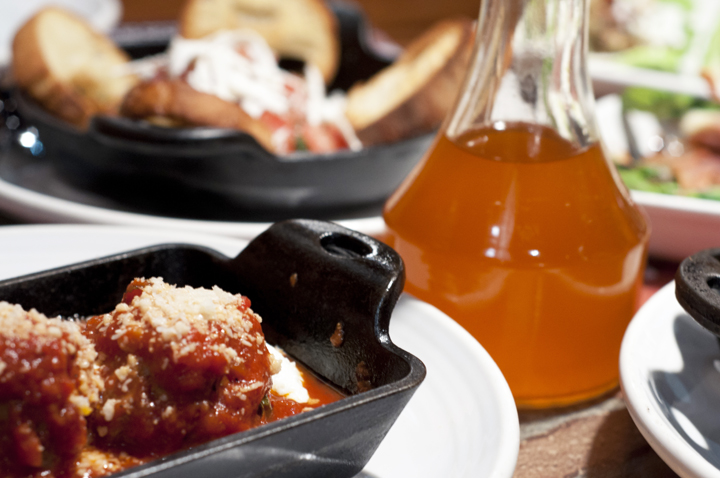 Disclaimer:  Thank you Carrabba's Italian Grill for sponsoring this post.  I have always been a fan of Carrabba's and all opinions remain 100% my own, as always.  #Carrabbas #carrabbasnewmenu #sponsored