Dark Chocolate and Oatmeal Cookie Bars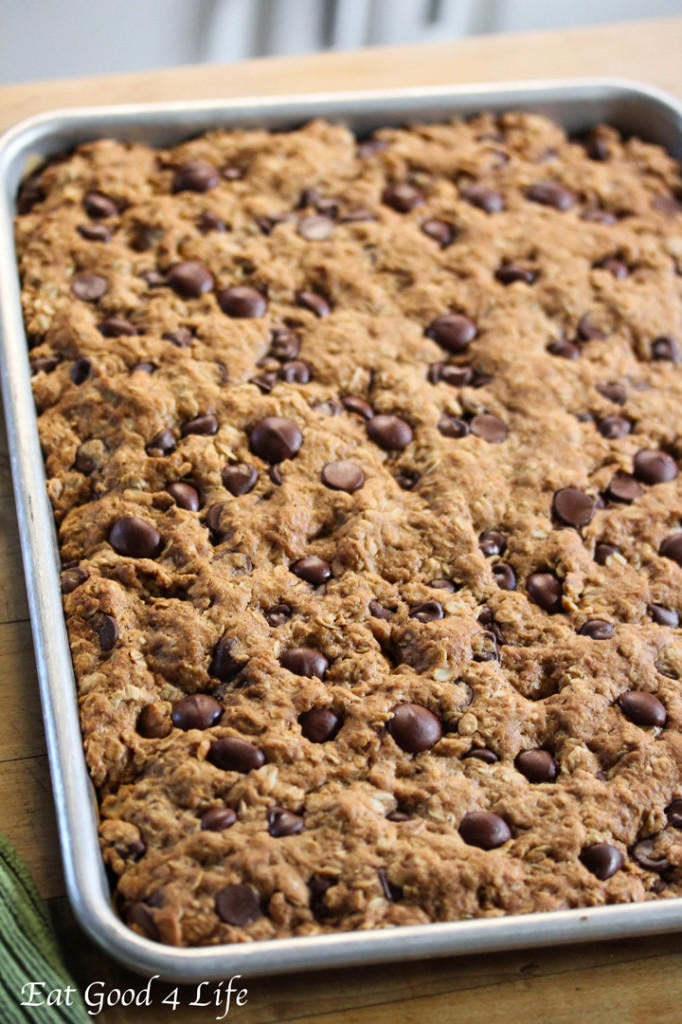 2 eggs
1 cup olive oil
1 tablespoon vanilla
2½ cup old fashioned oats
2 cups whole wheat pastry flour
1 cup unrefined sugar
1 teaspoon baking soda
½ teaspoon salt
8 ounces dark chocolate chips
Preheat the oven to 350 degrees. Line a 9x13 inch baking dish with
parchment paper.
In a large mixing bowl, with a wire whisk, combine the eggs, sugar,
vanilla and olive oil.
Add the oatmeal, flour, baking soda, chocolate chips, and salt and mix until combined and the dough holds together. I do this step with a rubber spatula. The dough will be oily but that is
just fine.
Turn the dough into the prepared pan, pushing the dough into the pan.
You can add more chocolate chips over the top if you like, I did.
Bake for about 25-30 minutes. I did mine for 25 minutes. Allow the bars to cool in the pan for at least 30-40 minutes before slicing and serving.
The bars maybe a bit crumbly but that is OK. Keep the cookies in an air
tight container for up to one week.
Recipe by
Wishes and Dishes
at https://wishesndishes.com/dark-chocolate-and-oatmeal-cookie-bars/