Cucumber Salad
Cucumber Salad is refreshing, flavorful and an embarassingly easy side dish recipe to make for summer with your fresh cucumbers!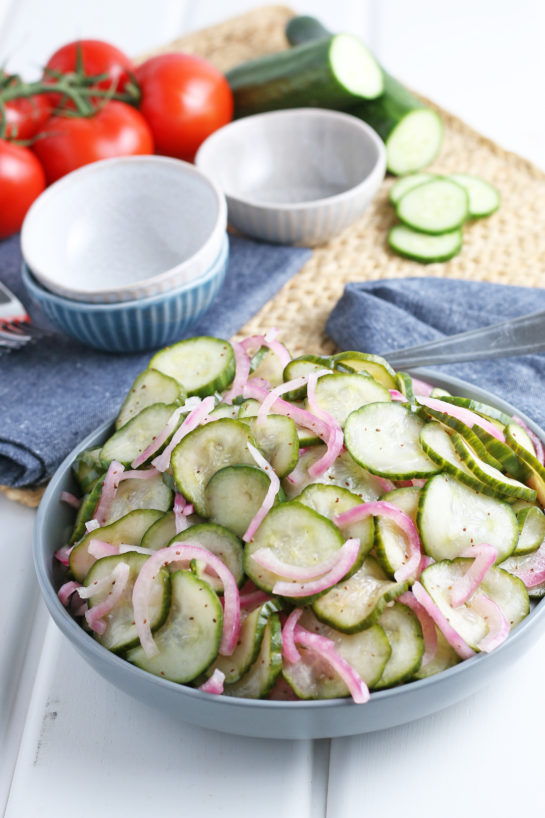 Hi, guys! I'm about to make you fall in love with this delicious cucumber salad! I'm serious – this might become your new go-to snack, appetizer, lunch, dinner side dish, whatever!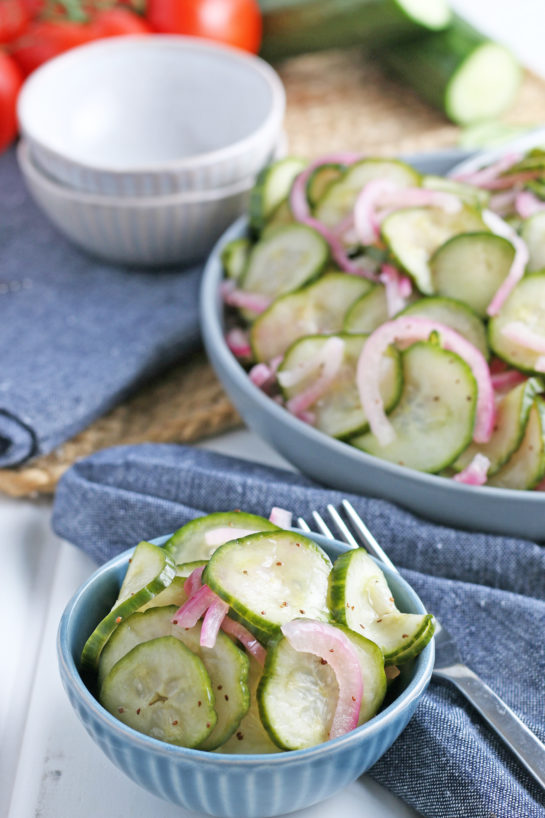 I feel as though the past few months my family has survived mostly on cheesy, creamy, comfort food dishes. Now that the weather is so much better and much warmer, I'm craving fresher dishes with fresh ingredients (hello, California Spaghetti salad).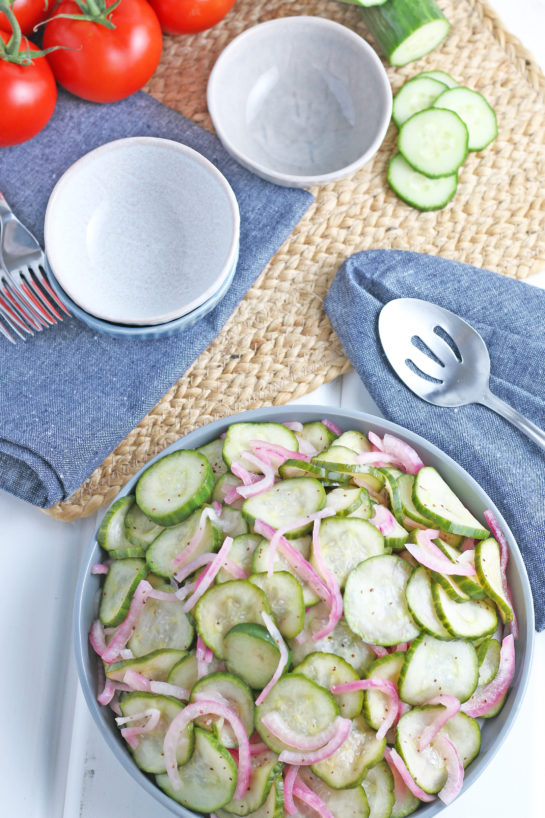 It's not like me to crave a salad normally, but I guess this is what they call "adulting"? I mean, I could live off this Make-Ahead Eight Layer Salad for a week straight.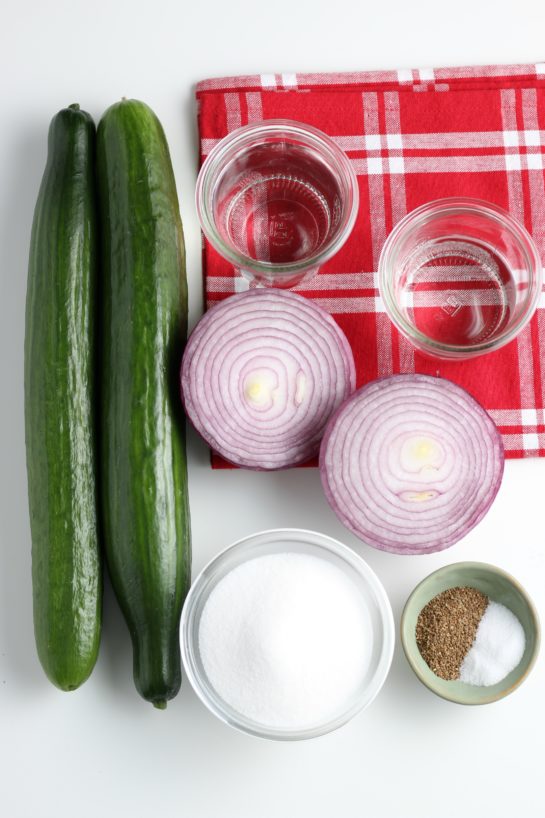 A glimmer of hope happened this past week in our local restaurants in Rochester opening up their patios for outdoor seating! Of course, on day 1 my little family went to get food at Panera and we ate outside on their patio. It felt so weird at first!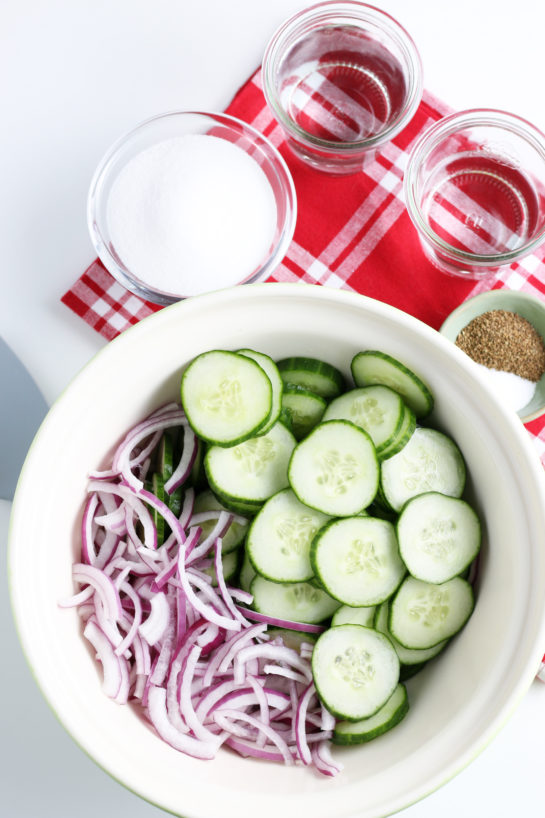 I just can't tell you how refreshing it was to drive around and see people eating/drinking outside and just looking alive. It was like this area has totally come back to life, even if just a little at a time!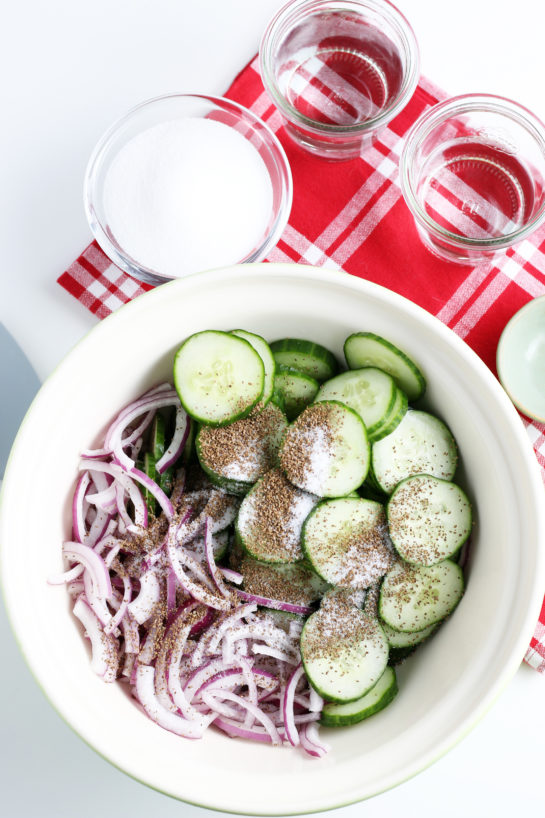 Isn't it amazing how quickly you adapt to a new "normal"? Just eating at a restaurant outdoors felt so odd. You can tell I was out of practice, because I forgot a bib and silverware for Eliza.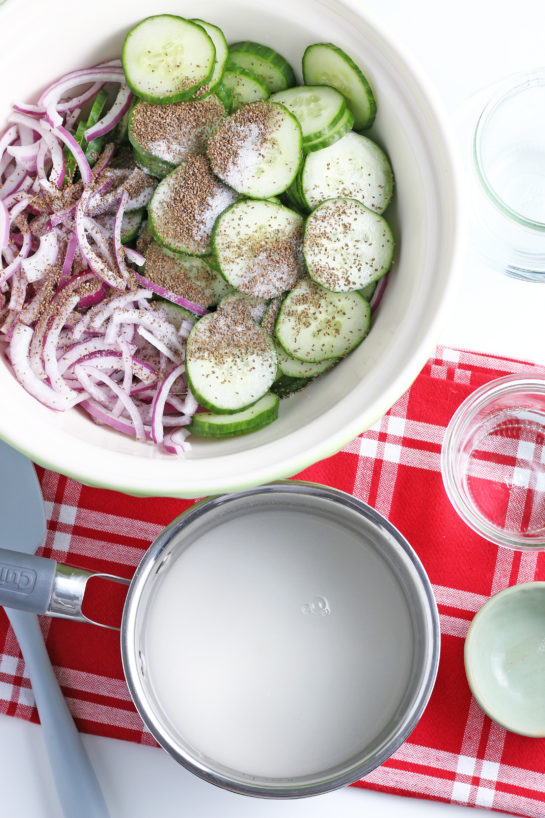 Are restaurants and stores opening up where you live?
I'm totally craving fresh salads and dishes like this, so I figured why not. I could totally make a meal out of my Caprese Avocado Salad.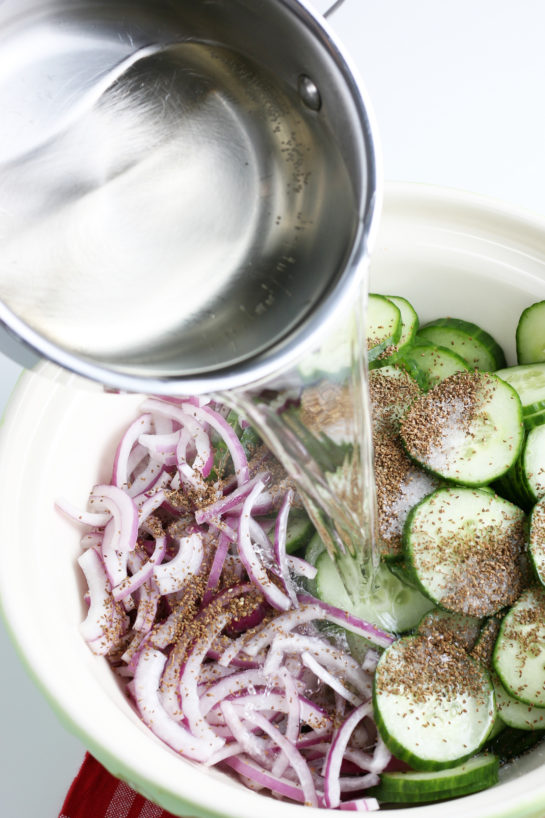 After all, you have to know about this deliciousness and how easy it is to make with few ingredients. This cucumber salad is refreshing and flavorful at the same time. I might be making this and my Bacon and Apple Broccoli Salad every summer weekend.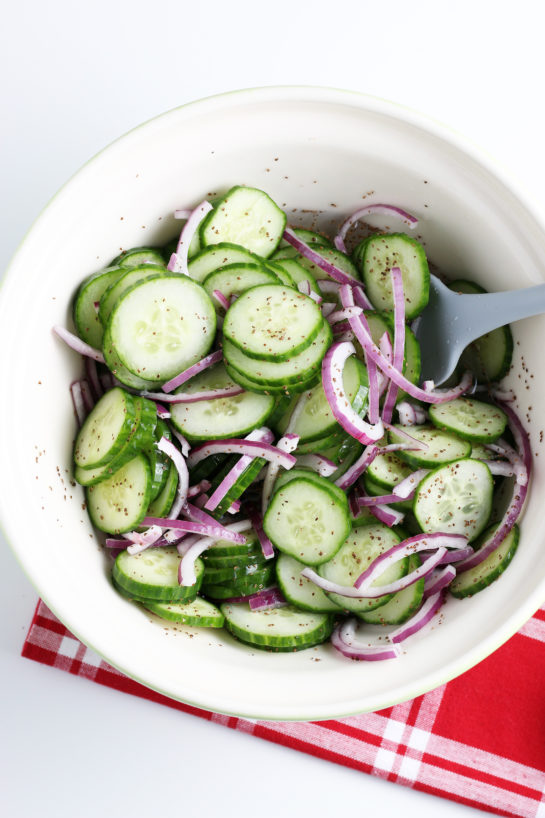 So, grab those fresh and juicy cucumbers from your garden (or grocery store) and whip this up! If you have any leftover cucumbers, I'm also loving this Cucumber Gazpacho!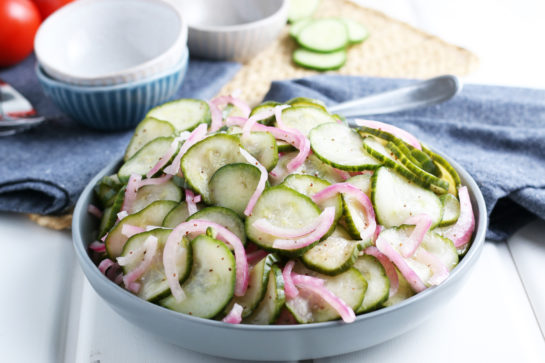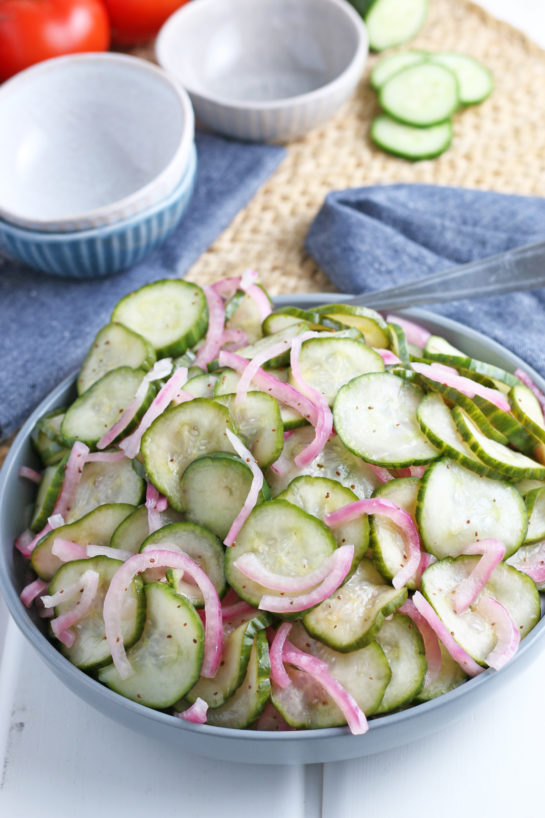 Cucumber Salad
Prep time:
Cook time:
Total time:
Cucumber Salad is refreshing, flavorful and an embarassingly easy side dish recipe to make for summer with your fresh cucumbers!
Ingredients
3-4 regular cucumbers or 2 English cucumbers, thinly sliced
1 medium red onion, thinly sliced
1 tablespoon celery seed
1 teaspoon salt
1 cup vinegar, white distilled
½ cup water
¾ cup sugar
Instructions
Slice cucumbers and onions and place in large bowl
Sprinkle on celery seed and salt
In a small saucepan, bring vinegar, water and sugar to boil and stir until sugar is dissolved
Carefully pour mixture over cucumbers and mix well
Place in airtight container, cover and seal
Place in refrigerator
Enjoy!
Notes:
Can be made up to 3 or 4 days before serving!