Friday Faves: My New Favorite Hair Styling Tools
On this edition of just-for-fun Friday Faves, I briefly talk about two of my New Favorite Hair Styling Tools – Karmin hair dryer and flat iron – that I now cannot live without.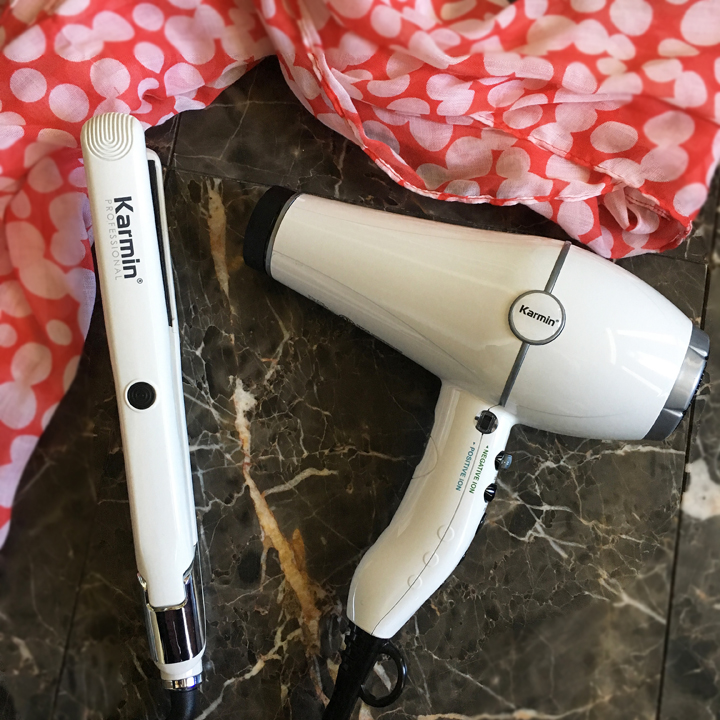 So a lot of people that know me well in real life know that I have had multiple issues with my hair in the last 6 years or so.  I'm not quite sure what caused all of the problems of my hair changing in negative ways, from the dry texture to it thinning out a lot (maybe some changes come with aging?), but it has taken me a long time to get it headed back in the right direction.  I chalked up my annoying hair problems to years and years of bleaching, using heat products on it without heat protective spray, and just overall beating up on it.  Once I learned that you need to really baby your hair in order to keep it looking nice, young and fresh I got back on the right track.  I can really go on on and, but any woman reading this knows that hair thinning and the like can be devastating, embarrassing and frustrating!
Taking better care of my hair started with using better styling tools.  Believe it or not, they are not all created equal!  I burned the heck out of my hair from several years of straightening it with a cheap drug store flat iron. It wasn't until somewhat recently that I learned how those flat irons only have ONE heat setting and that heat setting is extremely high and just detrimental for fine, thin hair – which is what I have.  Did everyone else in the world know this besides me?
I thought that maybe someone else can relate to these issues of hair thinning, breakage, or just not knowing the right tools to use to protect your hair and would greatly benefit from my recommendations of these two Karmin hair tools today.  This hair dryer and flat iron both have RAVE reviews all across the internet on every reputable website that I found…you really can't go wrong.
Karmin Salon Series Professional Styling Flat Iron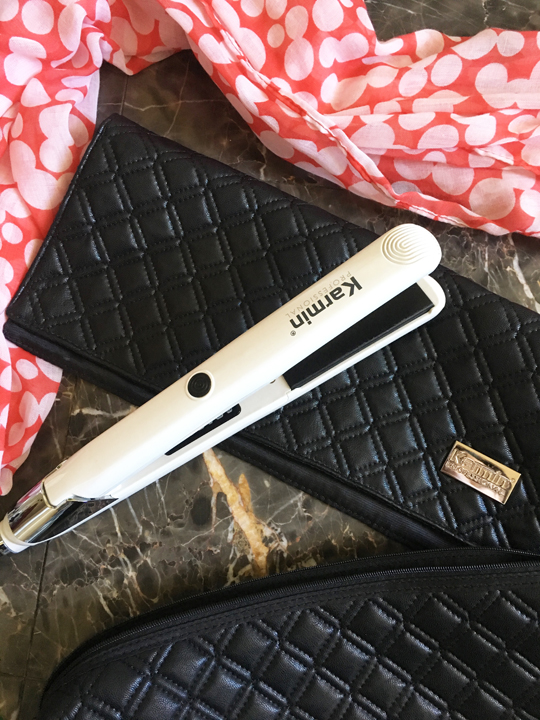 I am completely in love with this flat iron. It has done wonders for my hair.  I wasn't even in the market for a new one, but my hubby and I were traveling internationally back in March and being the smart guy that he is, he thought to check beforehand if my appliances would work in the outlets of those countries.  We quickly realized that I needed a new flat iron because no way was I going to go two weeks with my frizzy, very awkwardly wavy hair!  My husband, being an engineer and all, researched for over an hour on the best flat iron to get me that was dual voltage (which means it is fine for worldwide use). He found rave reviews on the Karmin G3 Salon Professional Hair Straightener Flat Iron, but saw that there was a newer version that had just come out.  We both agreed that given the endless positive reviews of the G3 that I was safe in taking a chance on the new Professional Styling flat iron by Karmin.  Leave it to him to find me one that was better than I even thought existed!
Two things I noticed about this one in comparison to my old flat iron (which was still a nicer one at around $80):
It doesn't pull at my hair!  The plates are so smooth that they glide flawlessly over my hair and I only need to go over each section once.
2. I wake up the next morning and my hair needs nothing done to it!  This is just unheard of, especially for someone who does not have naturally pin straight hair. I can straighten it once and wake up the next morning and not have to do it all over again or even do touch-ups.  It stays the exact same way that it was when I went to bed. That is the sign of a quality flat iron!
Some other features:
100% Pure Ceramic Floating Plates – Straighten, curl, wave or flip hair flawlessly – I watched  YouTube video on how to do waves with it and it really works!  It boosted the volume of my hair and the waves stayed in for several hours.

1″ Wide Plates Heat to Temperature Range of 230f – 450f for all hair types & textures – I keep mine on a very low temperature since I have very fine hair.


30 Second Heat up with 1 Hour Sleep Mode (automatic shutoff – this is great because, let's be honest, I never remember to turn mine off)

Heat mat/carrying case – I love this because it keeps your counter protected from the heat.


3 year manufacturer warranty (when purchased from an authorized retailer)
Karmin Salon Series Ultralight Professional Ionic Hair Dryer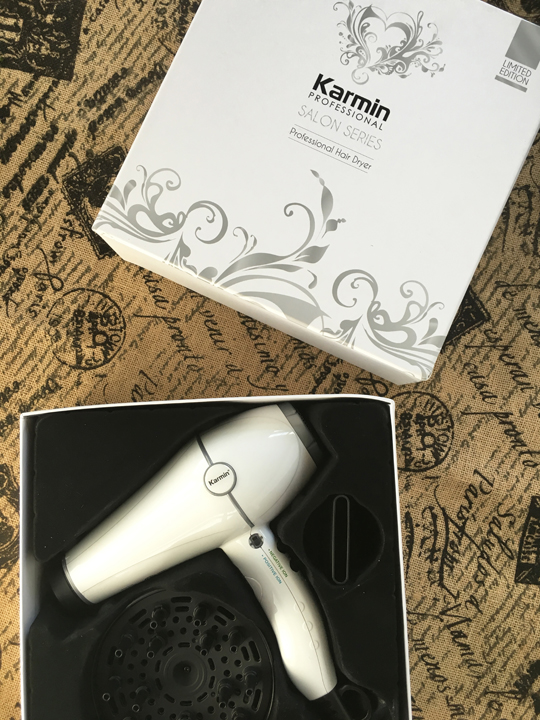 Karmin generously sent me this hair dryer and their hair repair kit (which is awesome) to try out since I wrote to them telling them how much I loved the flat iron.  I have used the dryer several times now and am pleased to say that my hair dries so quickly, comes out much softer and shinier, and I am crazy about how light it is (less than 1 pound).  My arm and wrist never get tired with this dryer!  This also makes it very travel-friendly.
This hair dryer comes with a diffuser attachment which is great to not have to buy that piece separately.  It also has a cold drying option (along with the normal warm and hot setting) and a cool shot button, if needed. The power cord is longer than all of my old dryers, which I love.
I read reviews where plenty of professional hair stylists recommended this hair dryer, and Karmin products in general.  I consider most hair stylists to be the "experts" in hair care as many of you probably do.  It really is a great investment.
Some additional features:
3 heat settings / 2 speed settings

1800 Watt Professional Grade Motor (this is one STRONG motor)

Ceramic Coated Nozzle for Infrared heat & Negative/Positive Ion Generator to create shine and dry your hair up to 70% faster (less time your hair is exposed to heat = less damage)


3 Year Warranty!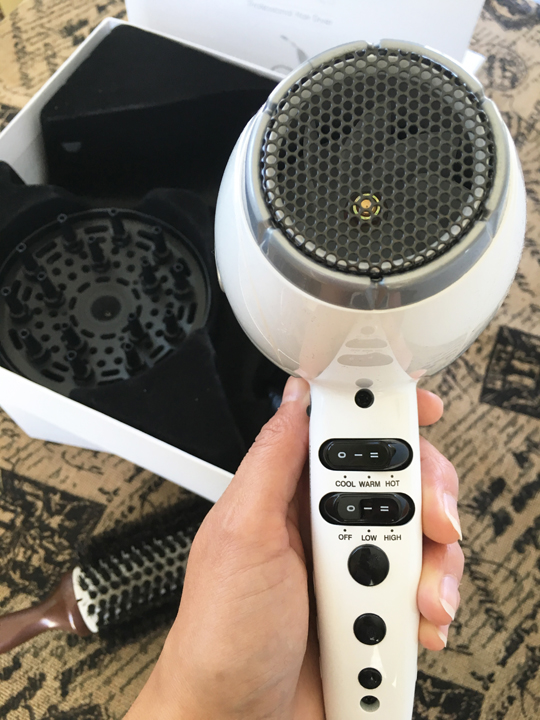 If you're in the market for new hair tools and want the best of the best, I highly recommend Karmin – you will be sure to notice the difference.  They are by far my new favorite hair styling tools.  Have a great weekend and if you have any questions, ask away!