Cinnamon Roll Cake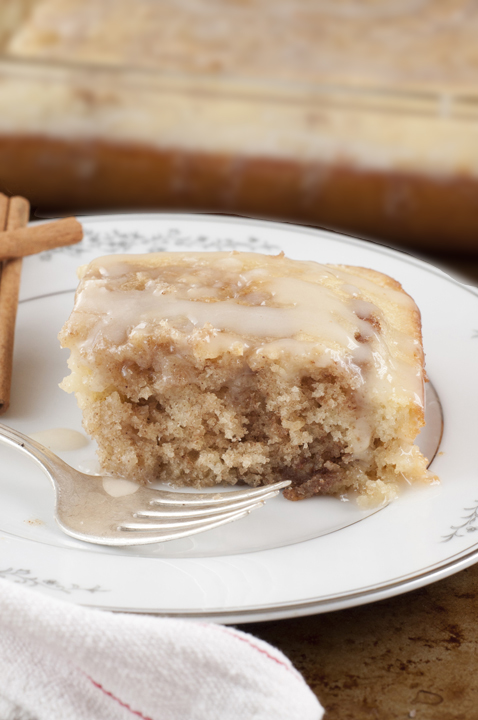 3 cups all-purpose flour
½ tsp. salt
1 cup sugar
4 tsp baking powder
1½ cup milk
2 eggs
2 tsp vanilla
½ cup unsalted butter, melted
¾ cup unsalted butter, very soft (almost melted)
1 cup light brown sugar
2 Tbsp all-purpose flour
2 Tbsp cinnamon
2 cups powdered sugar
5 tbsp milk
2 tsp vanilla
Whisk together the flour, salt, sugar, and baking powder.
Add in the milk, eggs (one at a time) and vanilla to the dry ingredients.
Slowly stir in melted butter and mix until just incorporated.
Pour into a well-greased 9x13 pan.
Mix topping ingredients together with a large spoon (3/4 cup butter softened, brown sugar, flour and cinnamon). Use clean hands if it makes it easier. Drop evenly over cake mixture (basically plop spoonfuls on top).
Swirl the topping into the cake mixture with a knife going up and down the length of the pan. Try not to go too deep into the cake with the swirls, but if you do, it will still taste great.
Bake at 350 for 30-35 minutes. Check at 30 and if a toothpick inserted in the center comes out clean, it is done. It might take closer to 35 minutes, maybe even a bit longer depending on your oven and how deep you made the swirls.
Whisk ingredients together to make the glaze.
Top cake with the glaze by drizzling it over the cake while it's still slightly warm. Serve immediately for best taste but it's also great once cooled. Enjoy!