Cinnamon Bun Cupcakes + a GIVEAWAY!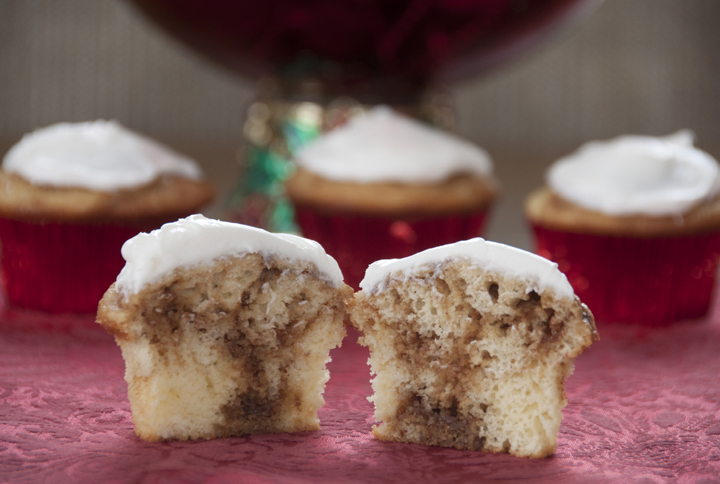 ¼ cup unsalted butter (melted)
⅓ cup light brown sugar
1 teaspoon cinnamon
1½ cups all-purpose flour
½ cup sugar
1½ teaspoons baking powder
½ teaspoon salt
½ cup unsalted butter, softened
½ cup sour cream
2 eggs, at room temperature
1 teaspoon vanilla extract
8 oz cream cheese, softened
⅔ cup butter, softened
1½ to 2 cups powdered sugar
In a small bowl, stir all of the ingredients together until combined. Set aside until ready for use.
(adapted from bakingdom.com)
Preheat oven to 350 degrees. Line a muffin pan with cupcake papers; set aside.
In a large bowl, or the bowl of a standing mixer, combine the flour, sugar, baking powder, and salt. Add the butter, sour cream, eggs, and vanilla and beat until smooth. Scrape the bowl, making sure there are no streaks of flour remaining (do not over mix or cupcakes will be tough).
Place 1½ tablespoons of batter in each of the paper liners in the prepared muffin pan. Make a small well in the middle of each cup of batter with a toothpick or spoon. Stir the filling to make sure the butter is combined, then spoon 1 teaspoon of the filling into each cup. Use a toothpick to swirl the filling and batter together.
Add another 1½ tablespoons of batter to each cup and repeat the filling/swirling process.
Bake for 18 to 22 minutes, until a toothpick inserted in the center comes out clean. Transfer to a wire cooling rack and allow to cool completely before frosting.
Mix together the cream cheese and butter using the whisk attachment of a mixer. Slowly add the powdered sugar until desired consistency has been reached.
Recipe by
Wishes and Dishes
at https://wishesndishes.com/cinnamon-bun-cupcakes-a-giveaway/