Chocolate Peanut Butter Eggs
Making peanut butter eggs is easy and fun! This is a great recipe for peanut butter eggs that even kids can make! If you like Reese's Eggs you should try this homemade chocolate peanut butter eggs recipe, it'll blow your mind!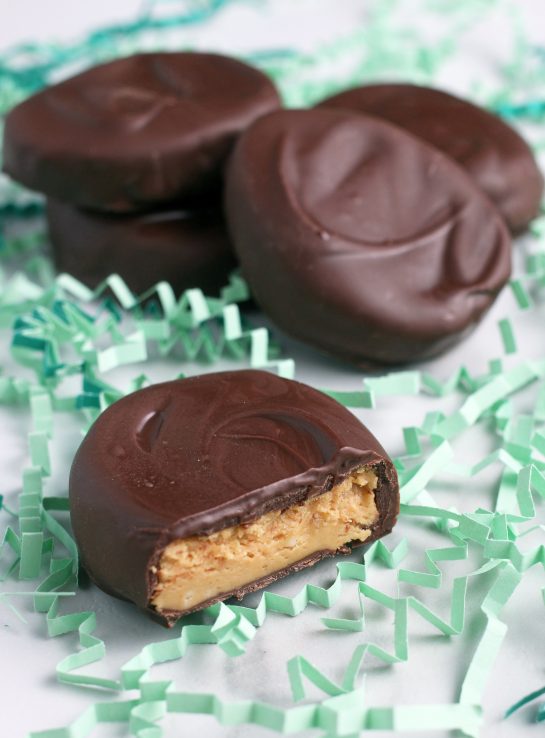 If there's someone in your life who loves peanut butter cups this is a great recipe to share with them! Peanut butter eggs are great year-round, not just when Easter arrives. I have to admit that I love making these and my Easter Bunny Tail Chex Mix throughout the year when we can't get those treats in stores.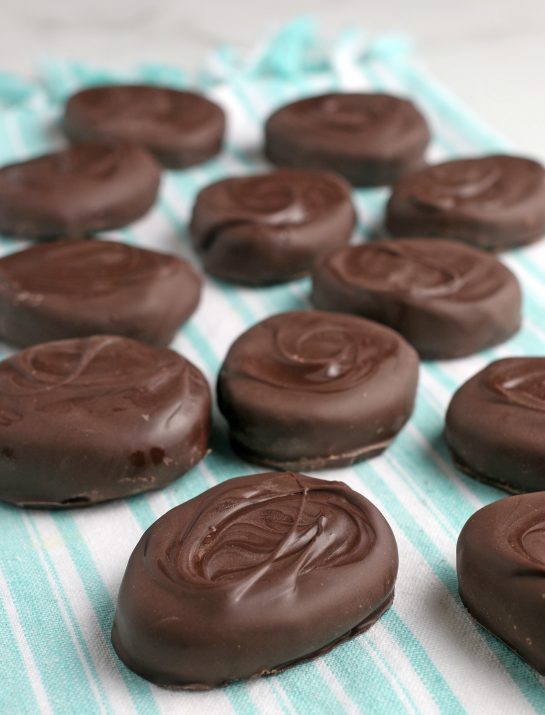 I think that my Fruity Pebble Easter Eggs and these chocolate peanut butter eggs are also great for cookie trays and gift baskets. They'll be the hit at your next gathering or party. I even recommend making chocolate peanut butter eggs or my Easter Bunny Bark to share at school or parties, assuming there are no peanut allergies! 

Ingredients needed for this recipe for peanut butter eggs: 
Here is a list of everything you will need to make your own batch of chocolate peanut butter eggs. There's nothing surprising on this list, it's all pretty straightforward. You can pick up all of these simple ingredients at the grocery store, you might even have them on hand right now! 
1 ½  cups creamy peanut butter

¼ cup butter, melted 

3 cups powdered sugar

1/2 teaspoon salt

1 package Chocolate Almond Bark 

Colored sprinkles, optional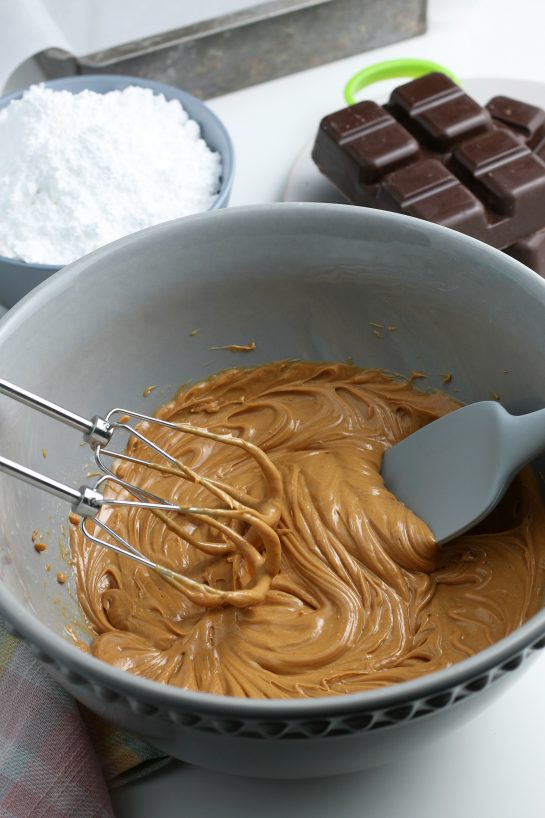 Can I substitute something for the chocolate almond bark? 
If you don't want to use the almond bark for coating your peanut butter eggs you can swap that out for some other kind of coating chocolate. You can even use white or pink chocolate like in my Salted Caramel Easter Popcorn. It's up to you, whatever works and whatever you have on hand will be fine.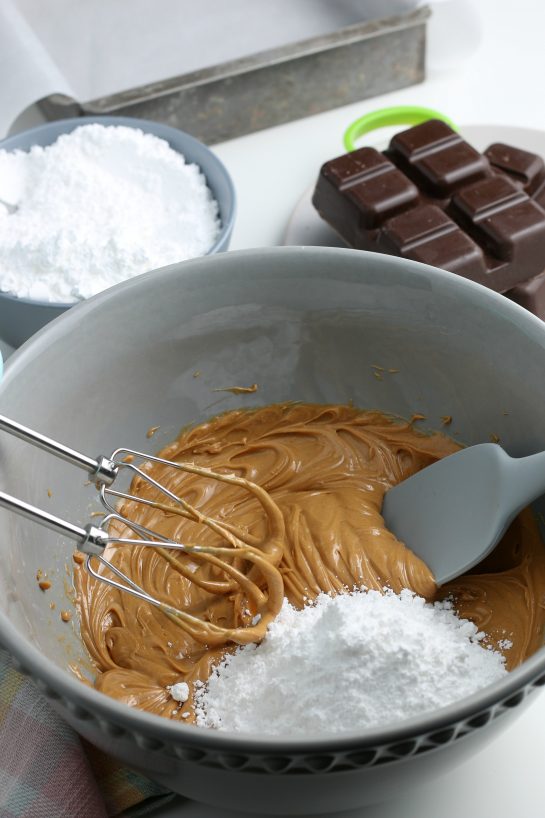 I will say that the chocolate almond bark does add a little something extra that I really enjoy. The flavor adds a nice touch that makes this a unique chocolate peanut butter egg recipe! 
Here's how to make these chocolate peanut butter eggs: 
To make your chocolate peanut butter eggs you will need to combine the peanut butter, butter, powdered sugar and salt in a bowl until they are smooth. 
You don't want the mixture to be too crumbly that it won't stick together…but also not too smooth so it melts into blobs! Add the butter in slowly if you are worried about it being too smooth or add a bit more powdered sugar to firm up the batter!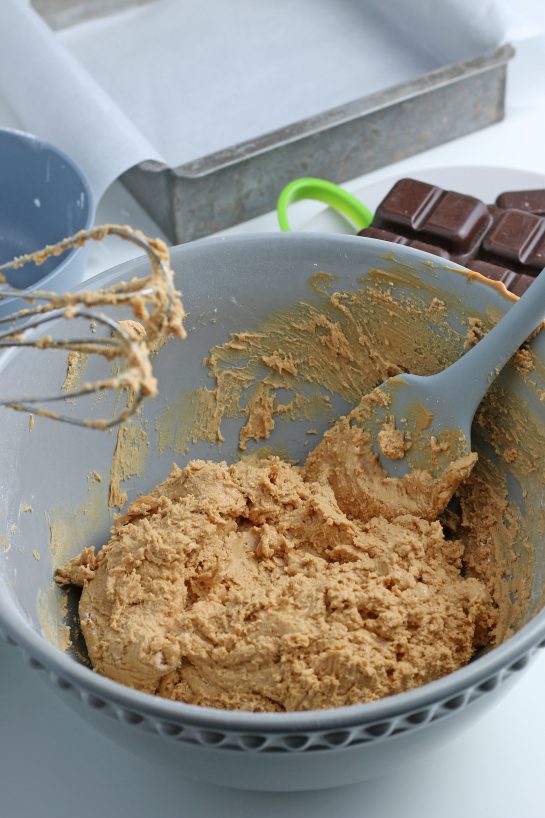 Next, you will want to line an 8×8 square pan with parchment paper. Leave a bit extra hanging over the edges so it's easy to get the peanut butter batter out after it cools!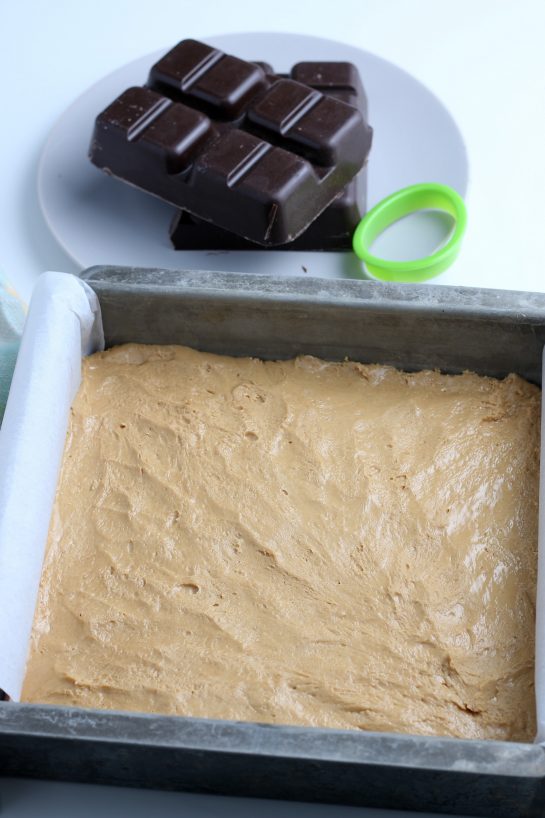 Press your peanut butter mixture into the pan, make sure it is even all around the pan so you don't have some pieces that are a lot thicker than others.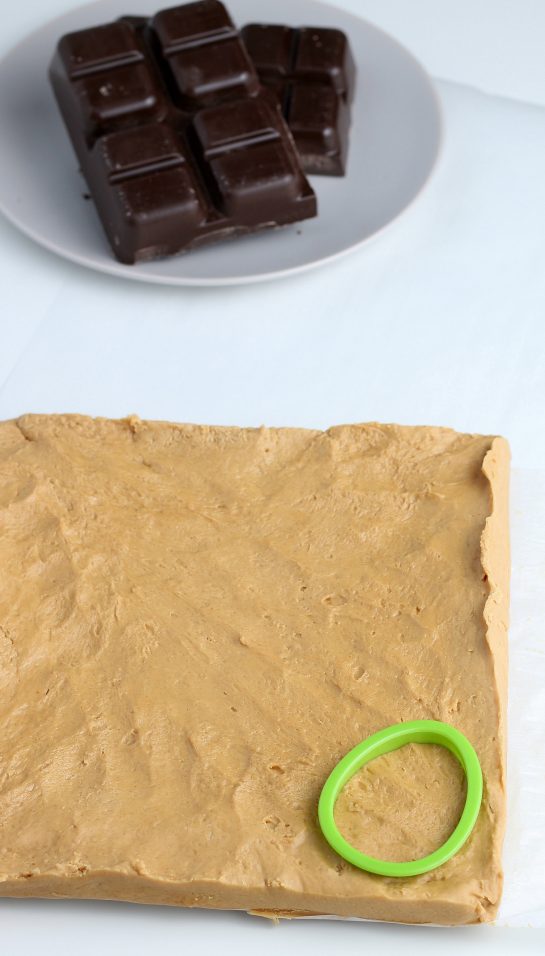 Put the pan into the freezer and allow it to cool for about 30 minutes. This will make the batter stiff enough to stand up to being cut into shapes!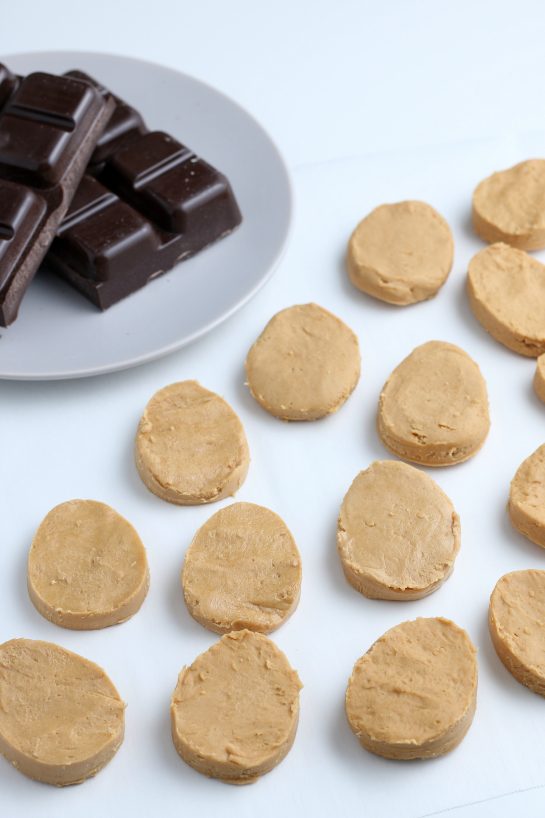 Remove the pan with the peanut butter mixture from the freezer. Pull it out of the pan using the extra parchment paper that is hanging over the edges.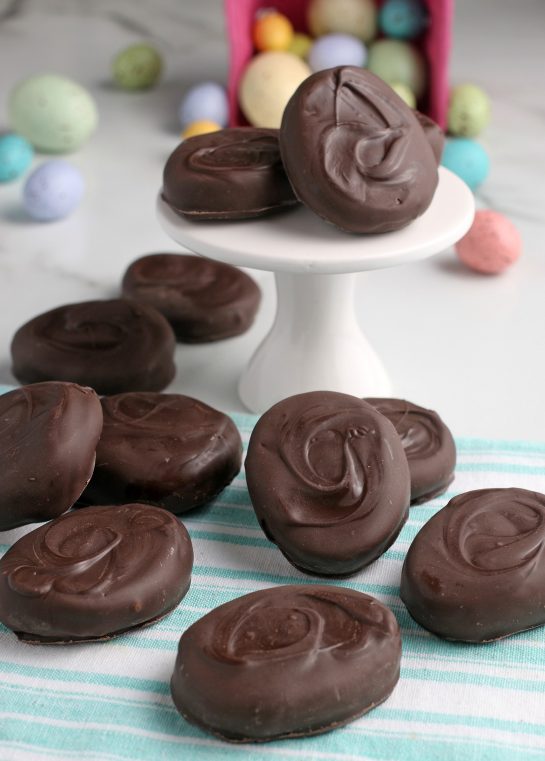 Using an egg-shaped cookie cutter, cut out your egg-shaped peanut butter middles and place them onto a lined baking sheet with more parchment paper!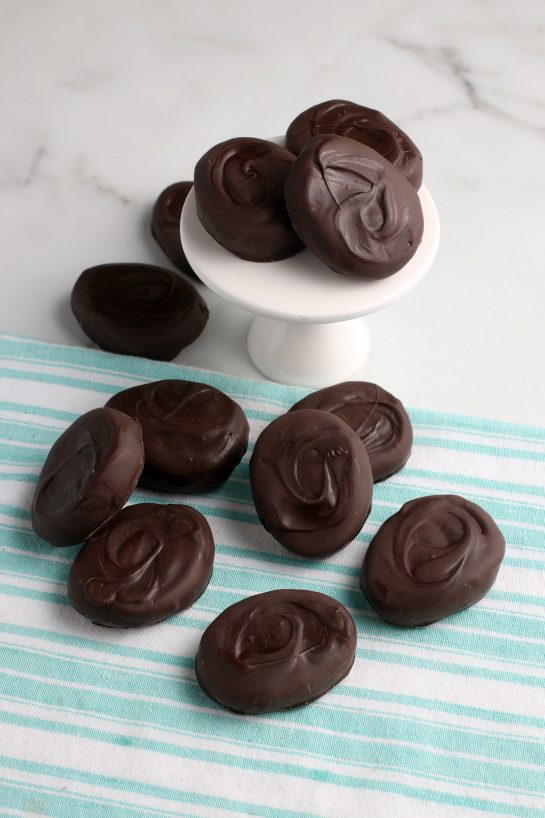 Now we want to put these peanut butter middles into the freezer for about an hour. They'll need to be firm enough to stand up to the warm chocolate coating. 
While the peanut butter eggs are freezing we can break the almond bark into squares and add it to a microwave-safe bowl, heat it up for 1 minute, stopping to stir after about 30 seconds. Only heat the mixture until it is mostly melted. Stir to finish the job so you don't burn the chocolate!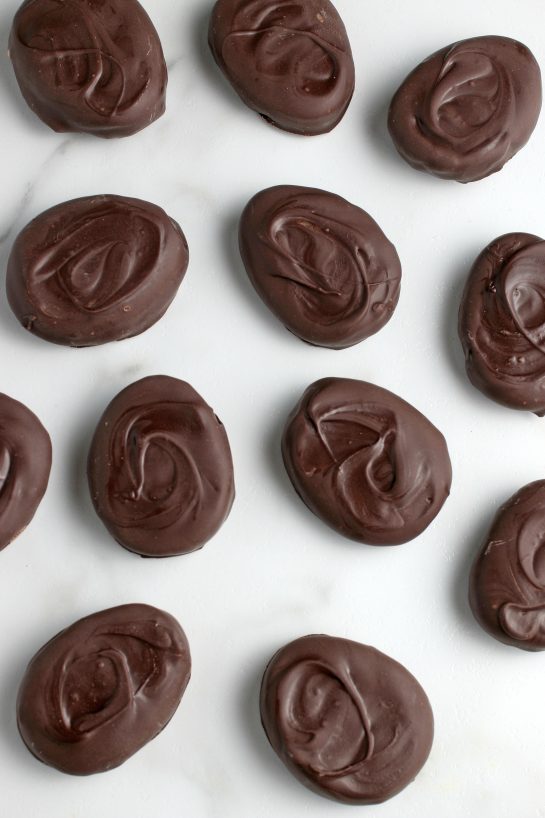 Take the eggs out of the freezer and one by one you'll want to dip them into the chocolate. Place them back onto the baking sheet lined with parchment paper so they can cool! 
If you want to add sprinkles, do it before the chocolate sets or cools. That will help them stick and stay in place!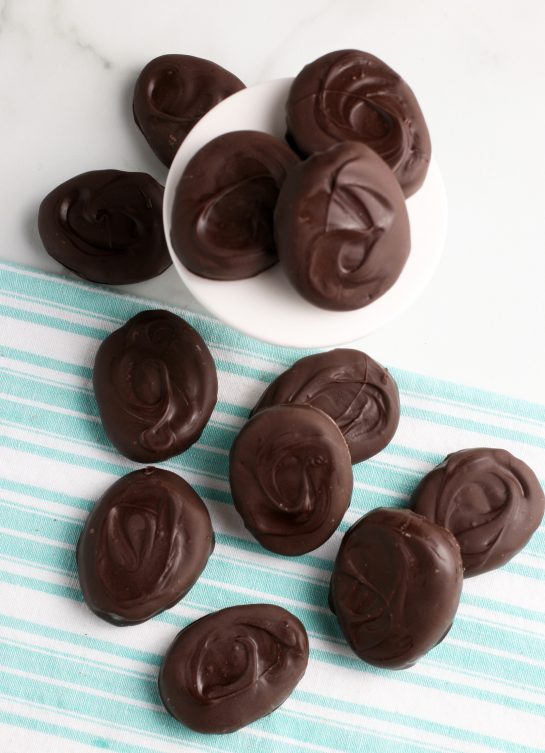 Let the chocolate peanut butter eggs stand for about 1 hour before you place them into an airtight container! 
Making your peanut butter eggs for another holiday? 
Is Easter over? Want to make these peanut butter eggs for another holiday? Just cut them into a different shape if you like. You can use any size or shape of cookie cutter to make the peanut butter into your desired shape. Just use squares or circles if you don't want these to be egg-shaped.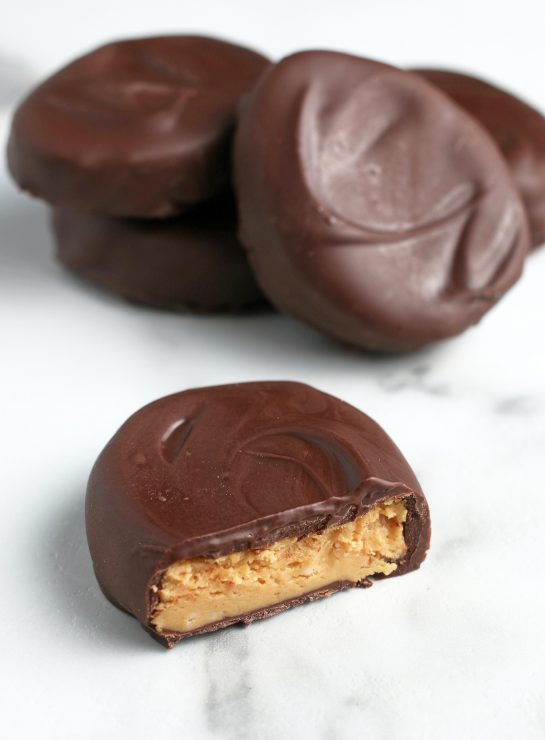 Another great idea is to use themed sprinkles on top of the chocolate. It's a simple way to make this Easter tradition appropriate for the whole year! Be sure to try out my Salted Caramel Easter Popcorn, also!

Chocolate Peanut Butter Eggs
There's never a bad time to make these incredible and easy peanut butter eggs. This recipe for chocolate peanut butter eggs is awesome!
Ingredients
1 ½ cups creamy peanut butter
¼ cup butter, melted
3 cups powdered sugar
½ teaspoon salt
1 package chocolate Almond Bark
Colored sprinkles, optional
Instructions
In a bowl combine peanut butter, butter, and salt until smooth and creamy. Gradually add in powdered sugar.
Line a 8x8 square pan with parchment paper leaving extra hanging over the edges
Press peanut butter mixture evenly into pan
Place in freezer for 30 minutes
Remove from freezer and lift parchment paper out of pan
Cut with egg shaped cookie cutter and place on baking sheet lined with parchment paper
Place in freezer for 1 hour
Break almond bark into squares and add to microwave safe bowl
Heat for 1 minute, stir and continue heating for 30 seconds at a time until chocolate is almost melted
Stir to melt chocolate completely
Remove eggs from the freezer
Dip into chocolate and place on parchment lined baking sheet
Add sprinkles immediately if desired
Let sit until chocolate is hard, at least 1 hour
Store in airtight container