Must Have No-Bake Spring Desserts
I have for you today the perfect list of Must Have No-Bake Spring Desserts for the warm weather picnics, cook-outs, and when you just feel like baking up an easy recipe without using the oven!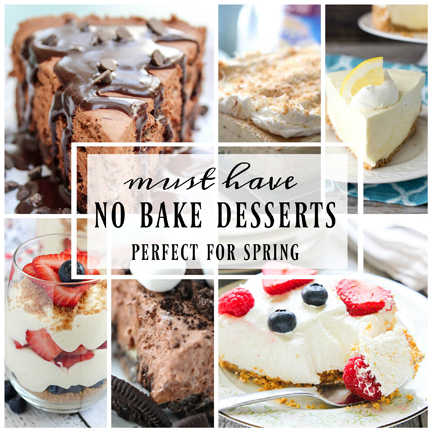 Summer dessert ideas: covered. Some of these no-bake spring desserts I'm sharing with you today in this roundup are straight out of my dreams. There is a little something for everyone here: fruity, chocolate, peanut butter, bright and colorful! Who wants their oven on for hours on end when it's warm outside? It's not like in the winter where I purposely stand in front of the oven after I take my food out and let all of that heavenly hot air hit me just to try to warm up a little. Not that I really do that…
I'm so glad you're here! Follow along on Pinterest for more inspiration! 
In full disclosure mode: I would do my fair of the damage if I had any of these options in front of me right now…or ever in my future. I want that lemon cheesecake..I want it all! You should also definitely put my No Bake Cinnamon French Silk Pie on your to-bake list (doesn't everyone have one of those?) Enjoy!
FUDGE BROWNIE NO BAKE CHEESECAKE
6-INGREDIENT NO BAKE KEY LIME PIE
NO BAKE CINNAMON FRENCH SILK PIE
CHOCOLATE MARSHMALLOW NO BAKE DESSERT
CAKE BATTER OREO CHEESECAKE DESSERT
NO BAKE FRUITY PEBBLE CHEESECAKE BARS
NO BAKE CRANBERRY CHEESECAKE PARFAITS
NO BAKE STRAWBERRY LEMONADE PIE
Pin this Must Have No-Bake Spring Desserts roundup for future reference!