Chicken and Mushrooms in Balsamic Cream Sauce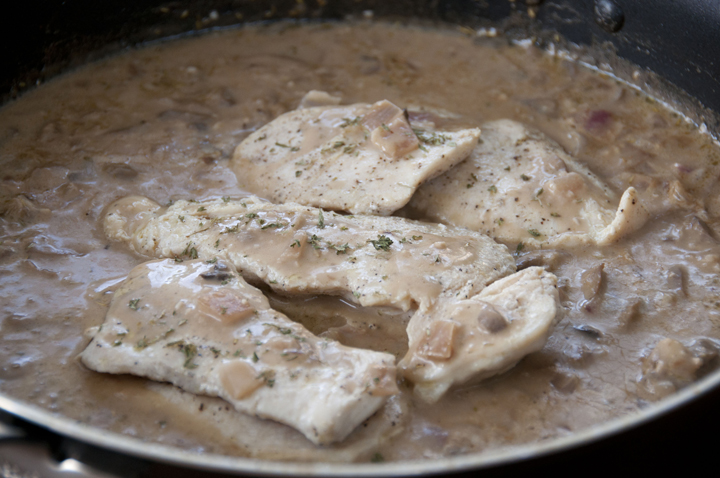 ½ pound pasta (regular or egg noodles)
2 tablespoons extra-virgin olive oil (about 2 turns of the pan)
4 boneless, skinless chicken breasts (or 2 large cut in half lengthwise)
Pepper
Salt
2 tablespoons unsalted butter
10 ounces white mushrooms, stems removed and sliced
3 cloves garlic, chopped
1 tablespoon thyme leaves, a couple of sprigs, chopped
2 large shallots, thinly sliced
1 teaspoon dried thyme
2 tablespoons all-purpose flour
1½ cups chicken stock
1 tablespoon balsamic vinegar
3 tablespoons heavy cream
¼ cup chopped fresh parsley, for garnish
Heat a large pot of salted water to a boil and add pasta (or cook rice according to directions). Cook pasta to al dente.
Preheat a large nonstick skillet over medium-high heat and add extra-virgin olive oil, 2 turns of the pan. Season chicken liberally with salt and pepper and add to the hot skillet.
Cook the chicken for 5 to 6 minutes on each side or until cooked through. Remove the chicken from the pan and set aside, covered with foil to keep warm.
Return the skillet to the heat, turn heat down a bit, and add the butter. Once the butter melts add the mushrooms and brown stirring occasionally for about 4 to 5 minutes.
Once the mushrooms are brown, season with salt and pepper then add the garlic, thyme and shallots.
Cook stirring occasionally for about 2 minutes or until the shallots are translucent/wilted.
Sprinkle the flour into the pan and cook 2 minutes more.
Whisk in the stock, balsamic vinegar and the cream.
Turn the heat up to medium-high and simmer for about 2 minutes or until thickened.
Add the parsley and the chicken back to the skillet to heat up, about 2 or 3 more minutes.
To serve, scoop pasta or rice on dinner plates or bowls and top with a chicken breast and pour cream sauce over all.
Recipe by
Wishes and Dishes
at https://wishesndishes.com/chicken-mushrooms-balsamic-cream-sauce/