Caramel Popcorn Soft Serve Ice Cream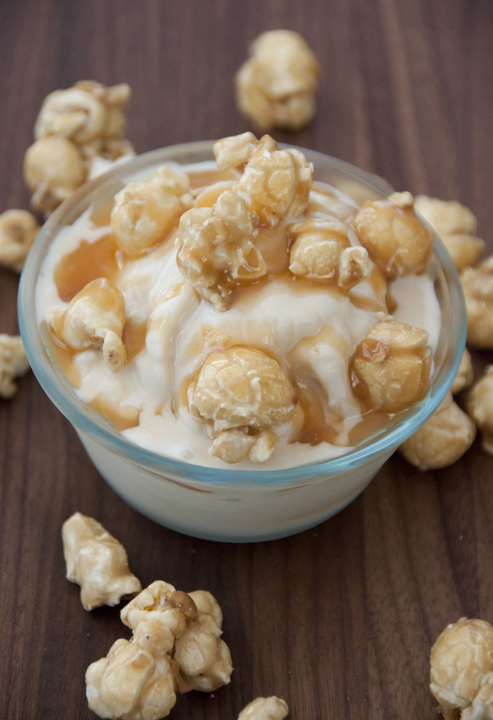 ¼ cup caramel popcorn (store-bought or homemade), crushed
1.5 cups whole milk
1.5 cups heavy whipping cream
⅔ cups granulated sugar
¼ teaspoon Kosher salt
1 tablespoon, plus 1 teaspoon vanilla extract
Extra caramel popcorn, left whole, for topping
Caramel sauce, for drizzling on top
Freeze Ice Cream Maker (just the inner bowl) upright in the freezer for at least 12 hours.
Whisk together the milk, cream, sugar, vanilla and salt for 2-3 minutes until the sugar has dissolved.
Chill in the refrigerator for several hours or until 40 degrees F or colder.
As soon as you take it out of the refrigerator, pour half the mixture (or until it reaches close to the top of the bowl) into the Zoku Ice Cream Maker and continuously stir for about 10 minutes so ice cream doesn't stick to the sides of the bowl. Ice cream will begin to form.
Stir in crushed caramel popcorn as ice cream starts to form.
Stick back in the freezer for about 10 minutes, if needed.
Top with extra caramel corn pieces and a drizzle of caramel sauce/ice cream topping.
Repeat process with extra mixture after you have frozen the ice cream maker for another 12 hours. Enjoy!
Recipe by
Wishes and Dishes
at https://wishesndishes.com/caramel-popcorn-soft-serve-ice-cream/