Oreo and Pumpkin Pudding Parfaits
This is a lower calorie autumn version of the ever-so-popular parfait dessert. It encompasses all of the flavors of fall spice, pumpkin and Oreo and makes for an easy dessert alternative for the holidays.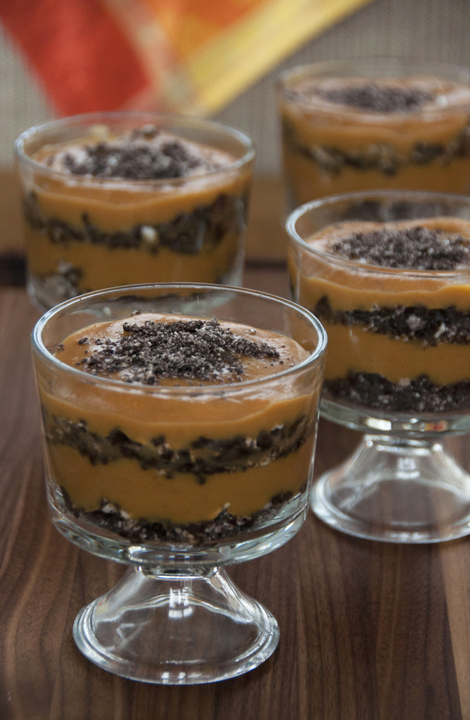 So I think I have a new favorite flavor combination, my friends.  It's called pumpkin and chocolate.  You may shun me for what I'm about to say, but I'm not a huge chocolate fan and I'm also not a huge pumpkin fan, but put the two together and I'm in dessert heaven. These pudding parfaits are where it's at.
Where has this marriage of pumpkin and chocolate been all of my life?
This is a super easy dessert that I created using a great-tasting zero calorie sweetener called Pure Via in place of regular sugar and just in time for the holiday season, also known as "dessert season" and "sugar coma" season.
I don't know about you, but I get a little bit stressed and overwhelmed around the holidays since I am a baker who likes to put out tons and tons of sweets to bring to holiday events and to share with friends and family.
I'm not a huge pie baker and sometimes cookies get a little redundant, so I was happy to discover this holiday-worthy simple dessert that will not fail to impress. Layered desserts, such as pudding parfaits, just always look so fancy, am I right?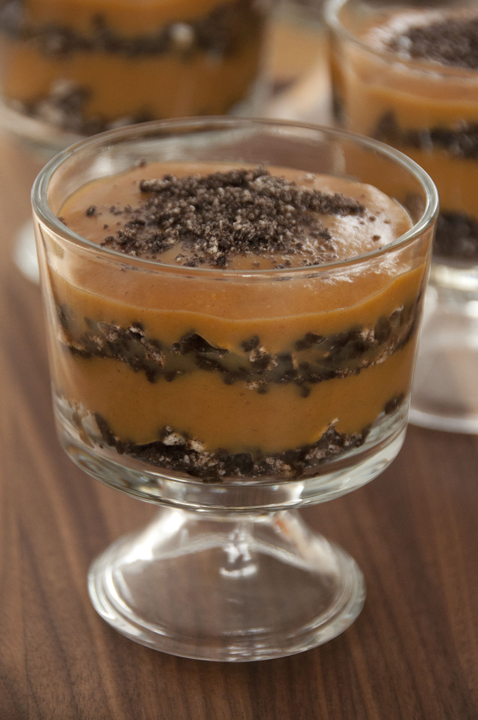 Enter these Oreo and Pumpkin Pudding Parfaits,  Nope, parfaits aren't only for breakfast anymore (although you totally can eat these for breakfast, and I may have done so).  These babies are like pumpkin pie in a glass and have the added bonus of chocolate sandwich cookies mixed in.  You really can't go wrong.
These do NOT taste lower in fat or lower in calories – trust me.  This Pure Via Non-GMO sweetener made from the Stevia plant (this means that the ingredients in Pure Via are produced without bioengineering) is the all natural way to keep calories down and sweetness high.
You can use Pure Via however you like – in baked goods, in your coffee, anywhere that you would normally use sugar.  Each zero-calorie packet quickly dissolves in hot or cold liquids, and sweetens just like two teaspoons of sugar.  I can honestly say I love this product and will keep baking with it in the future.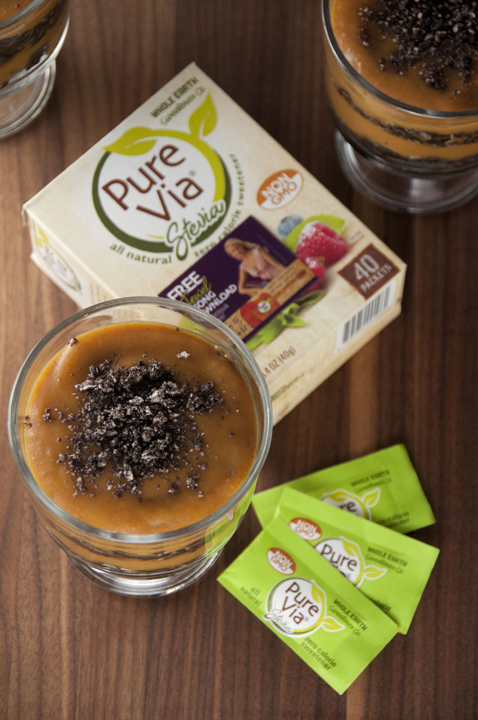 I picked Pure Via up at Walmart and used this coupon.  It's also available for you to use while supplies last!  There's also a free song and cookbook/songbook download from one of my person faves, Jewel.  Enjoy!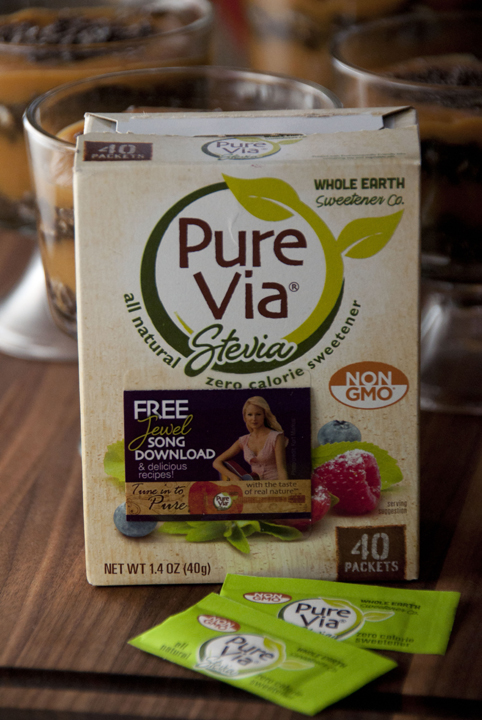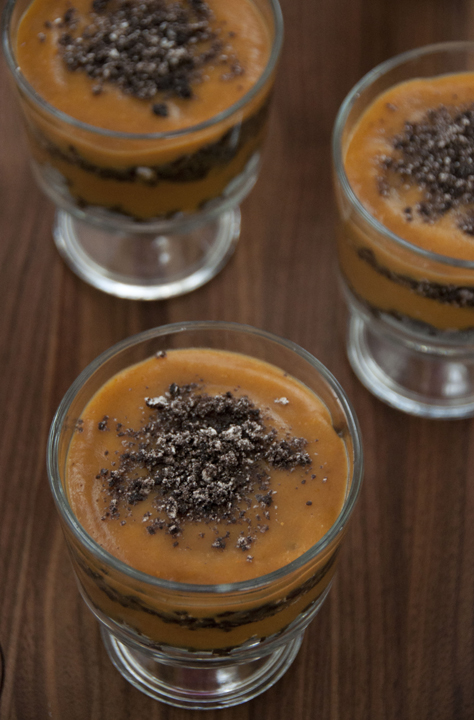 Oreo and Pumpkin Pudding Parfaits
This is a lower calorie autumn parfait dessert. It encompasses all the flavors of fall spice, pumpkin and Oreo and makes for an easy dessert for the holidays.
Ingredients
2 cups pumpkin purée (NOT pumpkin pie filling)
1 cup skim milk
1 tsp pumpkin pie spice
6 packets Pure Via Zero Calorie Sweetener (or sweetener of choice)
4 teaspoons sugar-free, fat-free instant vanilla pudding mix
24 Oreos (or chocolate sandwich cookies, reduced fat is optional)
Instructions
Pudding:
Mix together the pumpkin, milk, cinnamon, Pure Via, and pudding mix until well combined and thickened. Cover and refrigerate for at least 2 hours or overnight.
To assemble the parfaits, roughly crush the Oreo cookies. Divide the cookie crumbs between four mini trifle bowls (can also use mason jars, or any glasses), leaving a small amount to garnish the tops with at the end. Top with a layer of pumpkin pudding, then another layer of cookie crumbs, and a final layer of pumpkin pudding. Garnish with leftover crumbs. Refrigerate until ready to serve.
Recipe source:  heavily adapted from amyshealthybaking.com