Grilled Pesto Chicken and Tomato Kabobs
Super easy, healthy restaurant-quality Grilled Pesto Chicken and Tomato Kabobs recipe for summer grilling and entertaining!  They are cheap to make, gluten free, and low carb.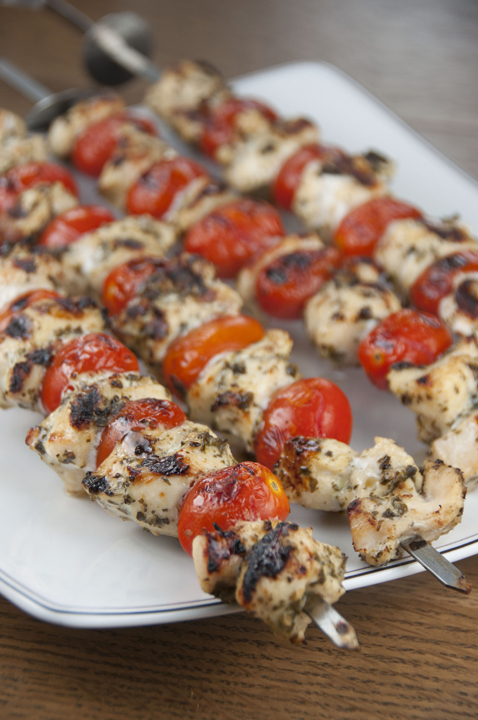 Aloha from Hawaii and welcome to these Grilled Pesto Chicken and Tomato Kabobs!  Someone pinch me because I don't feel like I'm really here!  I quickly told you last week that I was joining Mr. Wishes on yet another business adventure and this time it has brought me to the beautiful island of O'ahu.  I'm loving it here so far (who wouldn't?) and it's just as beautiful as I always imagined it would be.
This is one place I always dreamed of visiting ever since my Grandma and Grandpa vacationed here back when I was a kid and I saw pictures (and thought the shark teeth they brought me back were just way too cool).  Yup, I made up my mind way back when I was young that I would make it to Hawaii someday and my dream has come true.  I honestly don't know why I should be so fortunate to see so much of the world as I have in my 31 years of life, but I'm extremely grateful for every bit of it!  Wow, I just got all emotional there for a second! I better start talking about food now and focus on what's really important (ha ha)…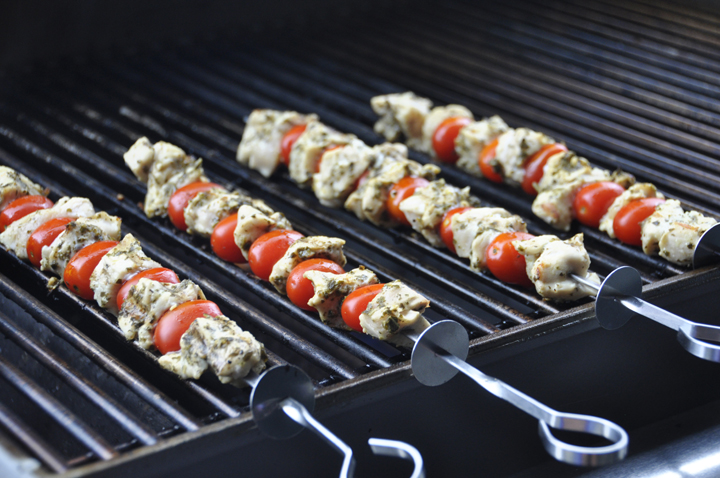 I have the perfect summer grilling dish to share with you today….these pesto chicken and tomato kabobs, to be exact.  It kind of goes without saying that these need to be added to your grilling list for your 4th of July BBQ's.
I always like to have a chicken dish as an additional healthier option to have instead of burgers and hot dogs once in a while.  These kabobs really are easy to make and can be made a day ahead of time as the longer they marinate, the better!  I just like the look of kabobs – they look all decorative 🙂  Mr. Wishes said multiple times during this meal how much he liked these.
Serve these kabobs many different ways: over pasta, with a salad, or grilled veggies on the side.  You can even serve these into an appetizer at a party.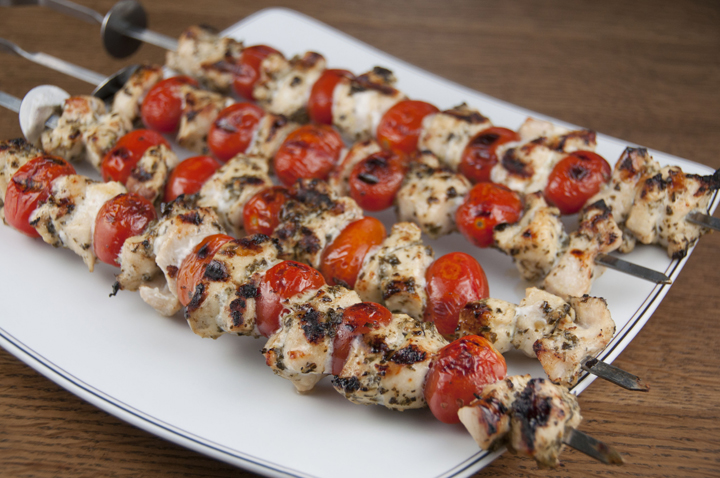 Grilled Pesto Chicken and Tomato Kabobs
Recipe type:
Main Course, Dinner
Serves:
4-8, depending on how much you put on each skewer
Super easy, healthy restaurant-quality Grilled Pesto Chicken and Tomato Kabobs recipe for summer grilling and entertaining!
Ingredients
1 cup fresh basil leaves, chopped
1 clove garlic
¼ cup grated Parmigiano Reggiano
kosher salt and fresh pepper to taste
3 tbsp olive oil
1-1/4 lbs skinless chicken breast, cut into 1-inch cubes
24 cherry tomatoes
16 wooden skewers
Instructions
In a food processor pulse basil, garlic, parmesan cheese, salt and pepper until smooth. Slowly add the olive oil while pulsing.
Combine the raw chicken with pesto and marinate a few hours in a bowl.
Soak wooden skewers in water at least 30 minutes (or use metal ones to avoid this step). Beginning and ending with chicken, thread chicken and tomatoes onto 8 pairs (or less if you load them up like I did) of parallel skewers to make 8 kebabs total.
Heat the outdoor grill or indoor grill pan over medium heat until hot. Be sure the grates are clean and spray lightly with oil.
Place the chicken on the hot grill and cook about 3-4 minutes; turn and continue cooking until chicken is cooked through, about 2 to 3 minutes.
 Recipe source:  skinnytaste.com