The Best Italian Wedding Soup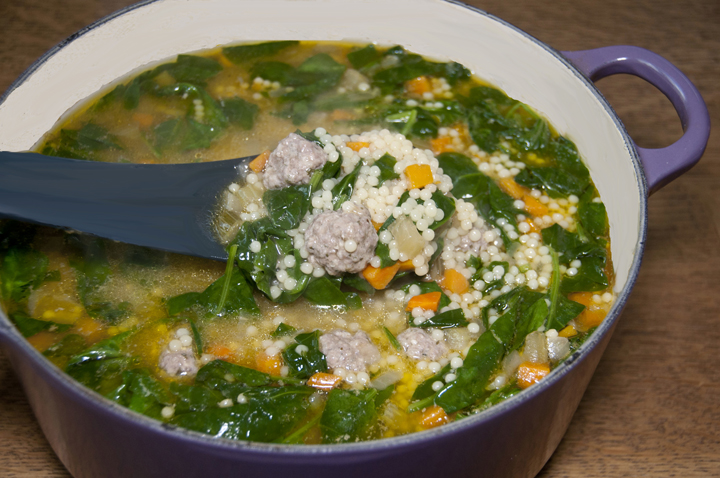 ½ Pound ground beef
½ Pound ground pork
1 small onion, minced
⅓ cup chopped fresh parsley
1 egg
3 Cloves garlic, minced
1 teaspoon salt
¾ teaspoons freshly ground black pepper
⅓ cup panko bread crumbs
½ cup grated Parmesan cheese
3 Tablespoons olive oil (good quality)
1 cup diced celery
1 cup diced carrots
1 cup minced yellow onion
1.5 cups acini de pepe pasta
8 oz fresh baby spinach
12 Cups chicken stock
salt & pepper to taste
In a medium bowl, stir the minced onion, parsley, egg, garlic, salt and bread crumbs together. Add the Parmesan cheese, ground meat and pepper and combine, using your hands or a fork. Using about a heaping teaspoon portion, roll meatballs; this will yield about 40 meatballs. Set aside on a baking sheet. This can be done in advance and stored in the refrigerator.
In a large Dutch oven or soup pot over medium heat, heat the olive oil. Add the onion, carrots and celery and saute until the onion is transparent, about 7 minutes. Add the chicken stock and bring to a boil. Add the pasta and meatballs, return to a boil, and cook until the pasta is cooked al dente.
Taste the broth and adjust the seasoning to your liking with salt and pepper. Add the spinach and simmer for a couple of minutes more, until the spinach is just wilted but still a vibrant green.
Ladle into bowls and serve with a little extra grated Parmesan cheese, if desired.
Recipe by
Wishes and Dishes
at https://wishesndishes.com/best-italian-wedding-soup/