How's that for a long title?!
So I'm finally almost fully recovered from my 23 hour juice cleanse.  Ha!  I'm still feeling a little light-headed and I'm extra fond of food and eating anything I can get my  hands on.  WOW, drama much?! ;)  I will never hear the end of it from Mr. Wishes that I couldn't even go one full day when most people juice for at least 3 days.  HE, on the other hand, went 2 full days and said it was a cake-walk basically.  What??!!  Next time (if there IS a next time) I need to lock myself away in a room some place where I can't look at pictures of food on the internet or see commercials for food on my TV constantly. 
My husband, who normally isn't a huge fan of pumpkin cookies, LOVED these cookies I'm sharing with you today and ate them like they were going out of style.  He's going to hate that I said that, but oh well.  These cookies are cake-like and moist because of the pumpkin puree.  If you've ever had pumpkin cookies before, you know what I'm talking about.  If not, don't be expecting the "normal" texture of a typical baked cookie.  Your taste buds won't care about the texture once you pop one of these babies in to your mouth!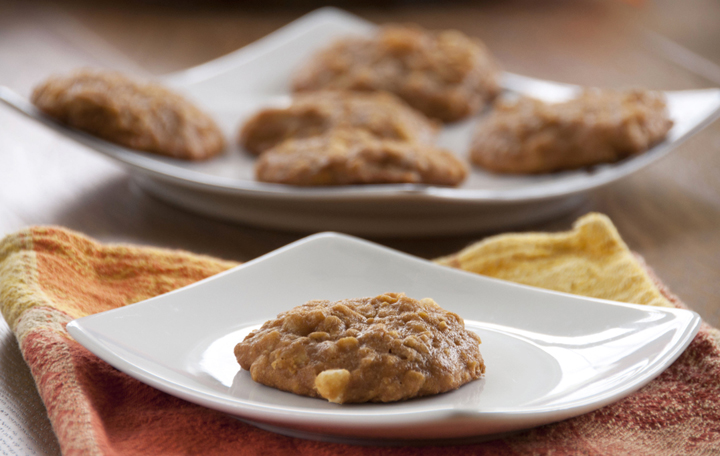 INGREDIENTS:
*makes about 15 cookies*
1/2 cup butter, softened
1/2 cup brown sugar, packed
1/2 cup white sugar
1/2 cup pumpkin puree
1 egg
1 teaspoon vanilla extract
1 cup all purpose flour
1/2 teaspoon baking soda
1/4 teaspoon salt
3/4 cup rolled oats
1/2 cup white chocolate, coarsely chopped (or use baking chips)
1/2 cup macadamia nuts, coarsely chopped

DIRECTIONS:
Preheat oven to 350F.
Cream the butter and sugar in a bowl.
Beat in the egg, pumpkin and vanilla extract.
Mix the flour, baking soda and salt in another bowl.
Add the dry ingredients into the wet and mix in just until incorporated.
Mix in the rolled oats, white chocolate and macadamia nuts.
Place the dough onto a GREASED cookie sheet one heaping tablespoon at a time (you can also use parchment paper or Silpat lined baking sheet).
Bake in the oven for 9-10 minutes.  Mine were done at 11 – it depends on the size you made your cookies.
Let them cool for about 5 minutes on baking sheet because they were be really soft, then transfer to wire rack to cool completely.
Recipe source: adapted from closetcooking.com
- Craving more?
Sign up for the Wishes & Dishes Newsletter
for a fresh serving of content delivered every week to your inbox! And stay in touch on
Facebook
,
Twitter
,
Pinterest
and
Instagram
for all of the latest updates!