Creamy New York-Style Blueberry Cheesecake recipe with a buttery, thick graham cracker crust and sweet fruit topping. Guests will be begging for seconds!
I have been so busy this week and caught up in my little world that I almost forgot about Mother's day!  How could I? I'm so sorry to all of you mother's out there (and my own mother, haha).  I hope I can make it up to all of you with this New York-Style Blueberry Cheesecake.  I know brunch get-togethers are super popular for Mother's day, and although a cheesecake is not officially a "brunch" item, it really will fit the bill for whatever gatherings you are planning.  That's the beauty of dessert recipes – they are good for breakfast, lunch OR dinner (or brunch…or brinner…or just anytime of the day.)
This New York-Style Blueberry Cheesecake was cooked perfectly, creamy and fairly dense.  I'm representing New York today!  The cheesecake filling is luxurious and rich with the perfect fruit – REAL fruit – topping.  The topping takes hardly any extra time at all and it's very much worth it to make your own as opposed to buying the stuff from the can.  The taste is just much more authentic when you make it yourself.  Some people don't notice a difference so that's OK if you prefer to use the canned pie filling!  It will still taste great.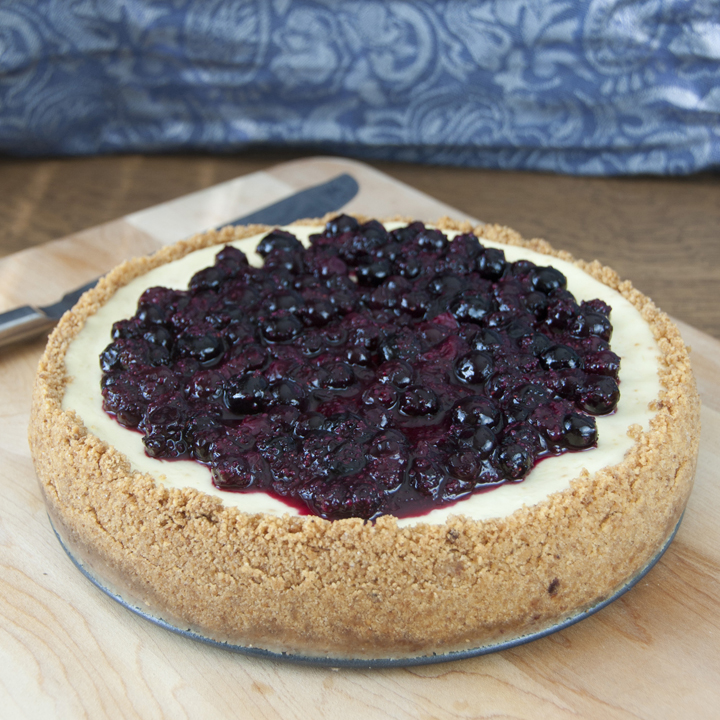 What is the best part about this New York-Style Blueberry Cheesecake you might ask?  Well, the best part is that even if your cheesecake cracks on top and you end up with a crack the size of the grand canyon, you are covering it with the blueberry topping anyways.  I know that is everyone's biggest fear with cheesecakes is the cracking on top during the baking or cooling process when the crust starts to pull away from the edges of the pan.  No worries with this one, my friends. 
Note:
  mine did
not
crack, but I'm just saying to you that it doesn't have to look all pretty on top because the blueberries do that job for you.  Fruit topping covers a multitude of sins.  Enjoy!
New York-Style Blueberry Cheesecake
Prep time:
Cook time:
Total time:
Creamy New York-Style Blueberry Cheesecake recipe with a buttery, thick graham cracker crust and sweet fruit topping. Guests will be begging for seconds!
Ingredients
1 cup graham cracker crumbs
2½ tablespoons unsalted butter
1½ tablespoons sugar
2½ pounds cream cheese, softened
1½ cups sugar
1 lemon, zested
1 orange, zested
½ teaspoon vanilla extract
3 tablespoons all-purpose flour
5 eggs
2 egg yolks
½ cup sour cream (good quality)
Blueberry sauce:
1½ cups sugar
3 tablespoons cornstarch
1½ cups water
½ cup fresh-squeezed orange juice
2 tablespoons Grand Marnier or other orange flavored liqueur
1½ teaspoons orange zest
1½ cups blueberries, picked over and rinsed
1½ tablespoons unsalted butter
Instructions
Preheat oven to 375 degrees F.
Butter the bottom of a 9-inch springform pan. In a mixing bowl, combine graham cracker crumbs, butter and sugar and mix well.
Press onto bottom of springform pan and bake until golden, about 8 minutes. Set aside to cool. When completely cooled, butter the sides of the pan.
Increase oven temperature to 500 degrees F.
In a large mixing bowl with an electric mixer, combine cream cheese, sugar, zests and vanilla and beat until light and creamy.
Add the flour, then the eggs and yolks 1 at a time, mixing well after each addition. Add the sour cream and mix until smooth.
Pour mixture into prepared pan (use water bath if desired, I did not for this cheesecake and it didn't crack) and bake for 12 minutes.
Reduce oven temperature to 200 degrees F and bake for 1 hour more. Transfer cake to a cooling rack and let cool completely.
Refrigerate cake overnight before serving.
To serve, top with blueberry sauce. Slice with a knife dipped in hot water and wiped with a clean cloth, and serve
Blueberry sauce:
In a small saucepan over medium-high heat stir together the sugar, cornstarch, water, orange juice, and orange zest.
Cook, stirring occasionally, until thickened, about 5 minutes.
Stir in the blueberries and simmer the mixture, stirring occasionally, until the berries have burst, about 5 minutes.
Add the butter and stir until melted. Remove from heat and let cool before pouring over the cheesecake. (Yield: 3 cups)
Recipe source:  adapted from the foodnetwork.com
- Craving more?
Sign up for the Wishes & Dishes Newsletter
for a fresh serving of content delivered every week to your inbox! And stay in touch on
Facebook
,
Twitter
,
Pinterest
and
Instagram
for all of the latest updates!