Giant Reese's Pieces Chocolate Chip Cookies are the perfect combination of peanut butter and chocolate.  These are the absolute best soft, chewy, thick cookie recipe!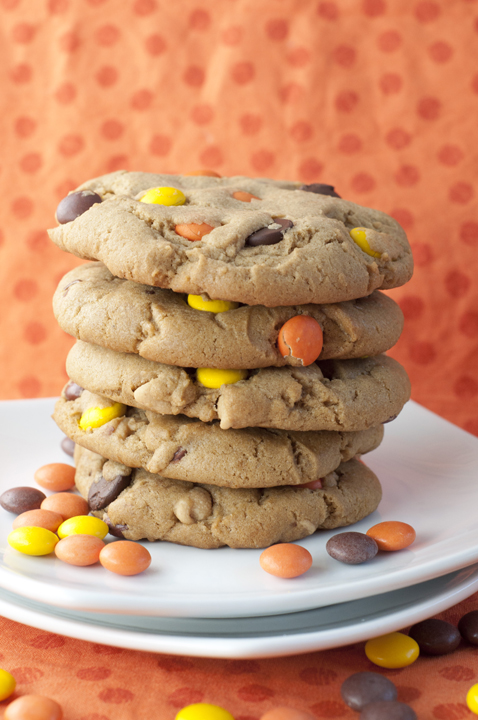 Guess what?! Today is my birthday!  I'm not even going to say how old I am because I'm to the point where the number is too large and embarrassing.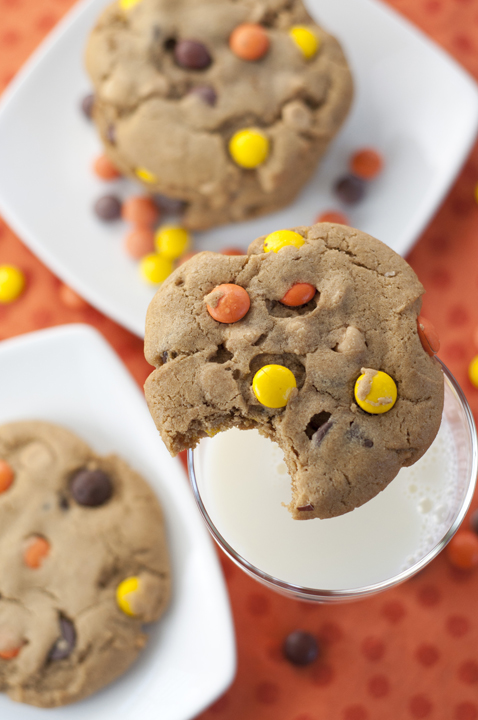 It's now January and everyone else is over there on their food blogs posting these healthy New Year's resolution recipes.  I'm over here like, "Hey, I made you ginormous and fatty cookies because regular size ones just weren't quite anti-diet enough!"  I just love giant cookies.

To cheer me up from the realization that I'm another year older, I got asked to team up with a small group of my favorite blog friends (Laura from Pies and Plots, Erin from The Spiffy Cookie, and Kayle from The Cooking Actress) to host an awesome giveaway for one lucky reader!  Laura is very generously providing this collection of cookbooks (the list is below along with the form to enter!) that every home cook should have in their collection.  I know a lot of people make New Year's resolution to cook more at home and/or eat together more as a family, so no better time to win all of these cookbooks!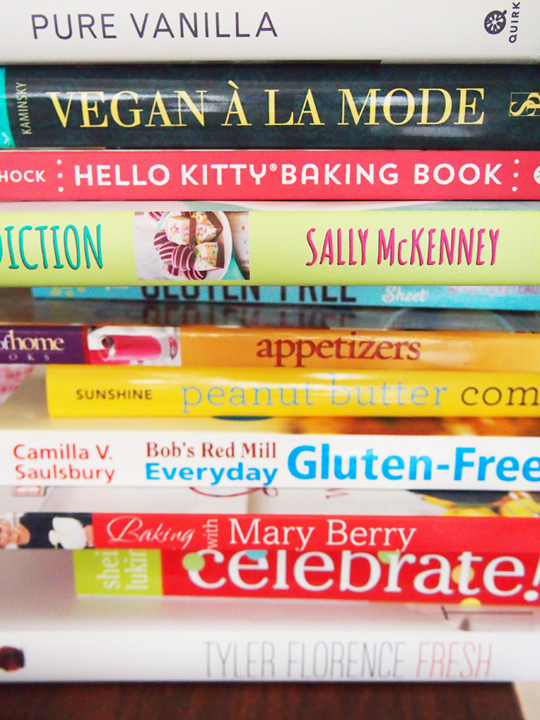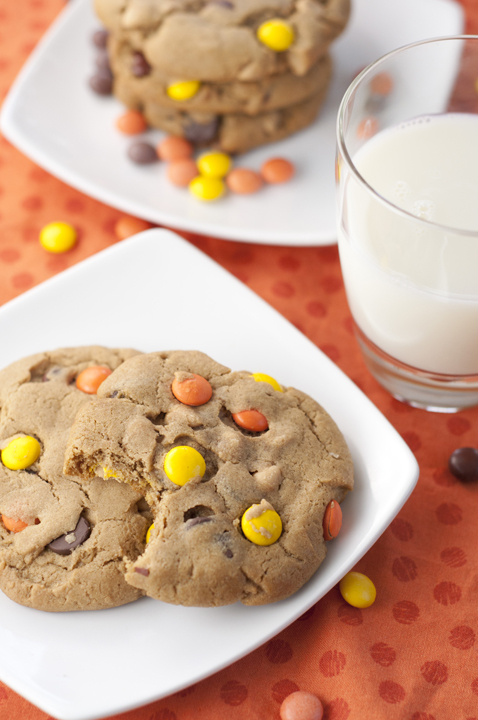 You know how else I'm celebrating my birthday today? Shopping and these COOKIES!  They represent all of my favorite things in one delicious cookie: peanut butter, chocolate, and my favorite candy of all time.  Who doesn't love Reese's Pieces in baked goods (like these Soft Baked Reese's Pieces Cookies, Reese's Pieces Blondies)?  If you've never added them to your cookies before you need to change that.  Also, the only thing better than a regular sized Reese's Pieces cookie is a GIANT Reese's Pieces cookie.  You can eat the equivalent of three cookies and feel good about yourself because you really only ate one cookie (right?).
So, if your New Year's resolution is to eat more cookies, you can thank me later after you make these Giant Reese's Pieces Chocolate Chip Cookies.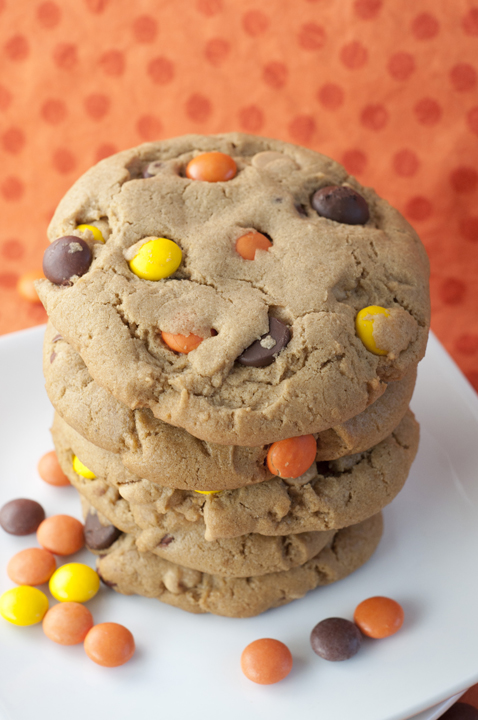 Giant Reese's Pieces Chocolate Chip Cookies + GIVEAWAY!
Prep time:
Cook time:
Total time:
Giant Reese's Pieces Chocolate Chip Cookies are the perfect combination of peanut butter and chocolate. These are the absolute best soft, chewy, thick cookie recipe!
Ingredients
3 cups all-purpose flour
1½ teaspoons baking soda
¾ teaspoon fine sea salt
1 stick (1/2 cup) unsalted butter, at room temperature
½ cup creamy peanut butter
1 cup packed light brown sugar
¾ cup granulated sugar
2 large eggs
1 tablespoon milk
1 tablespoon vanilla extract
¾ cup semisweet chocolate chips
¾ cup peanut butter chips
1 cup Reese's Pieces
Instructions
Preheat the oven to 350°F. Line baking sheets with parchment paper or silicone baking mats.
In a mixing bowl, whisk together the flour, baking soda, and salt.
In the bowl of an electric mixer (stand or hand), cream the butter, peanut butter, brown sugar, and granulated sugar on medium-high speed until completely combined. This step will take a couple minutes.
Add the eggs, milk, and vanilla to the bowl and beat until well combined.
Put mixer on low speed and gradually add the flour mixture, mixing until just combined.
Add the chocolate chips, peanut butter chips, and Reese's Pieces and mix until evenly distributed. If needed, do this by hand with a spatula or large spoon if your mixer isn't strong enough for the thick dough.
Roll the dough into ¼-cup balls and place on the prepared baking sheets, giving a couple of inches in between each. Flatten the dough balls into ½-inch thick disks.
Bake for 12 to 15 minutes, or until the cookies are light golden brown at the edges (check at 12).
Place the baking sheets on cooling racks and let cool completely.
Store the cookies in an airtight container at room temperature for 3-4 days.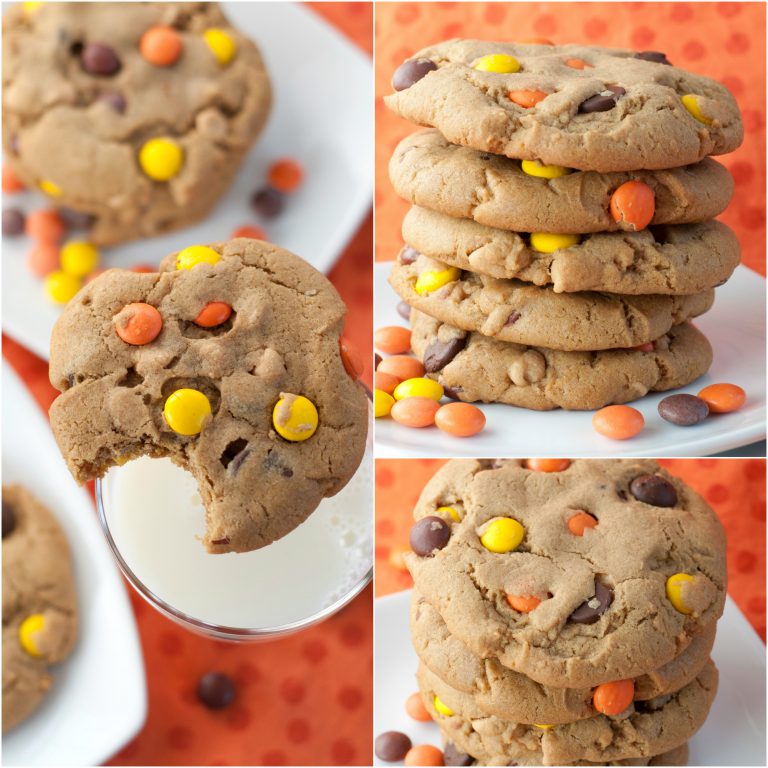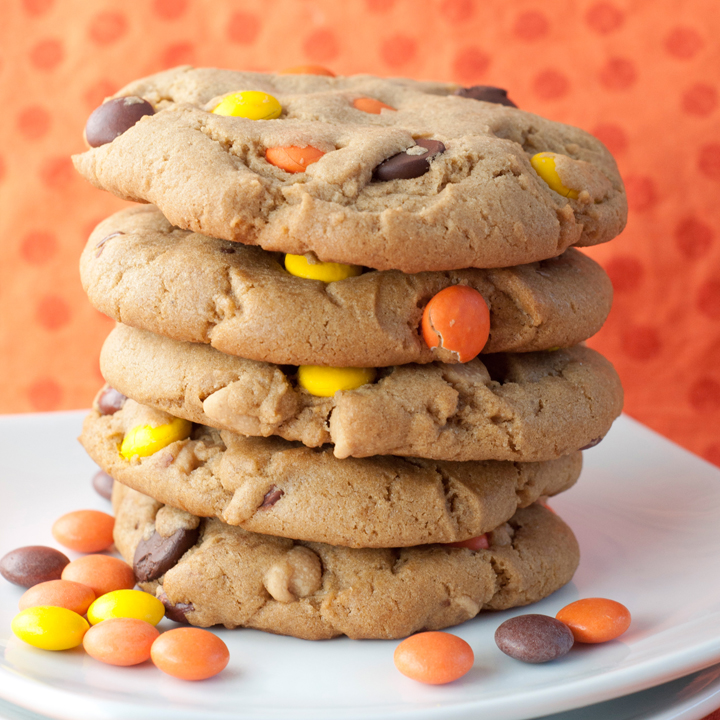 Recipe source: adapted from handletheheat.com
- Craving more?
Sign up for the Wishes & Dishes Newsletter
for a fresh serving of content delivered every week to your inbox! And stay in touch on
Facebook
,
Twitter
,
Pinterest
and
Instagram
for all of the latest updates!