Delicious and easy vanilla cupcakes recipe with buttercream frosting and Keebler fudge stripe cookies baked right in.  These are a fun dessert to make with kids!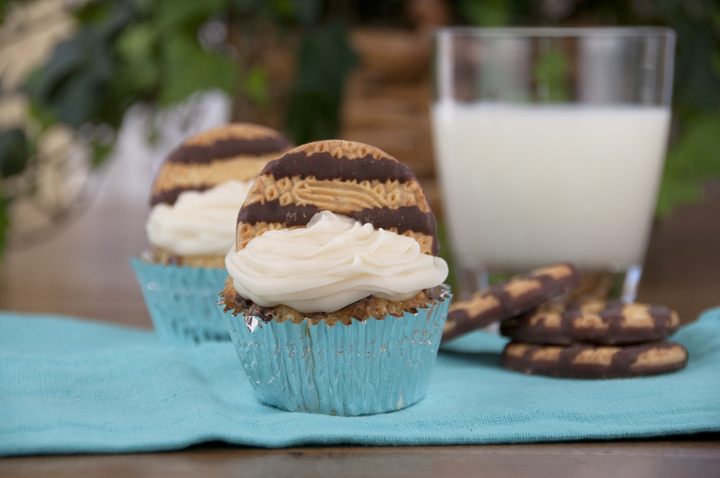 If you only had any idea how many tries these cupcakes took for me to get them right.  OK, I'll give you an idea – I'd say about ten tries….that's right – ten tries.  I got frustrated at times, but my loving husband reminded me that inventing a new recipe for cupcakes (or anything else, for that matter) is not going to work out perfectly the first time.  Ahhh, if only it were that easy, right?
Mr. Wishes helped me with these!  Originally, the idea was to leave the Fudge Stripe cookies whole and bake them into the middle of the cupcake.  Well, they didn't want to stay put and kept rising to the top of the cupcake during baking, which created a bubble of batter where the hole is in the middle of the cookie and some spillage over the edge of the pan.  Not fun!  Other times, they ended up diagonal within the cupcake…also not ideal.  We even tried pushing the cookies down a few minutes into the baking process…that also didn't work.  Ultimately, I ended up breaking up the cookies and putting them into the batter right before baking.  They still rose to the top but didn't look as messy and the cupcakes kept their shape better.  These are sooooo good!  Just the right amount of cookie and slight melted chocolate incorporated into a delicious yellow cupcake.  And of course the frosting on top is divine and goes perfectly with the flavors.  Definitely try these!  Make it worth all of my wasted time, ingredients and 10 extra pounds of cupcake eating.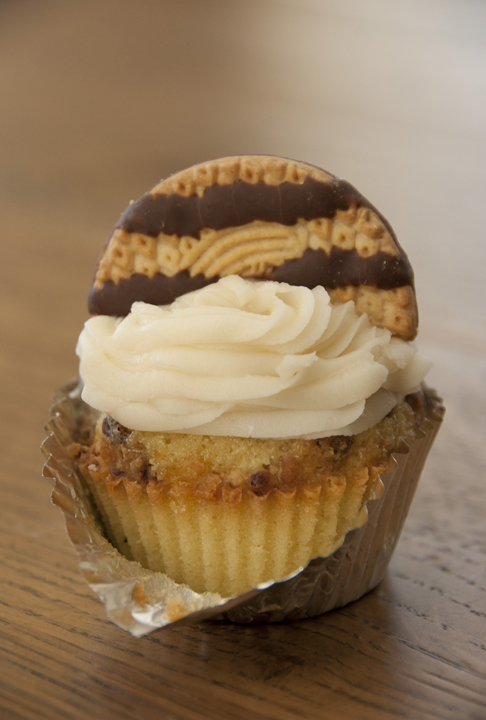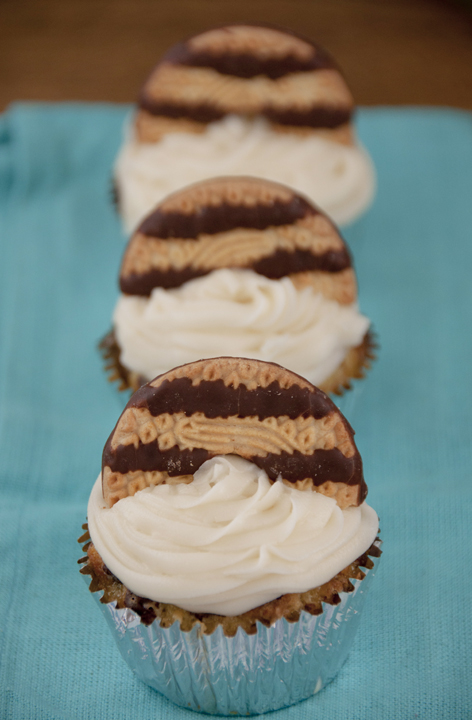 Fudge Stripe Cookie Cupcakes
Delicious and easy vanilla cupcakes recipe with buttercream frosting and Keebler fudge stripe cookies baked right in. These are a fun dessert to make with kids!
Ingredients
6 tablespoons unsalted butter, softened
1 and 1/3 cup granulated sugar
1 and 1/4 teaspoon baking powder
1/4 teaspoon salt
1 teaspoon pure vanilla extract
2 large eggs plus one egg YOLK
1 and 1/3 cups all-purpose flour
3/4 cup milk (I used 2%)
12 Keebler Fudge Stripe Cookies (or generic brand)

Buttercream Frosting:

1/3 cup unsalted butter, softened
1 teaspoon pure vanilla extract
3.5 cups powdered sugar
4 tablespoons milk (add a little bit more if needed to make spreadable)
Instructions
Cupcakes:

Preheat oven to 350 degrees F.
COARSELY crush 6 of the Keebler cookies (they will be added to the batter right before baking). A good balance of some crumbs and some chunks works best. Set aside.
In the bowl of a stand mixer, using the paddle attachment on medium-high speed, cream together butter, sugar, salt, baking powder and vanilla until fluffy, about 5 minutes.
Add eggs and egg yolk ONE at a time until fully incorporated. Scrape down sides of bowl as needed.
With the mixer on low, add one third of the flour, then half the milk, then another third of the flour, then the rest of the milk. Lastly, add the remaining flour. Scrape down sides as needed.
Pour into a cupcake tin lined with cupcake liners. Fill each liner 3/4 full of the batter. Evenly sprinkle cookies that you crushed earlier on top of the batter and push down the chunks into the batter with a toothpick or fork. Cookies will still mostly rise to the top during baking, but that's OK…they will taste awesome and look cool!
Bake cupcakes for 16-18 minutes or until a toothpick inserted in the center comes out clean. – CHECK to make sure they are done – some ovens cook faster/slower.
Cool cupcakes completely before frosting!

Buttercream Frosting:

Using an electric mixer, cream together all frosting ingredients until smooth and fluffy.
Pipe frosting onto cupcakes, place half of a Keebler Fudge Stripe cookie on top (try to break them in half cleanly) :). Enjoy!
http://wishesndishes.com/fudge-stripe-cookie-cupcakes/
Recipe source:  Cupcake idea was another one of my own creations (with the help of my husband!) and base cupcake recipe adapted from iambaker.net.
- Craving more?
Sign up for the Wishes & Dishes Newsletter
for a fresh serving of content delivered every week to your inbox! And stay in touch on
Facebook
,
Twitter
,
Pinterest
and
Instagram
for all of the latest updates!