Fudge Stripe Cookie Cupcakes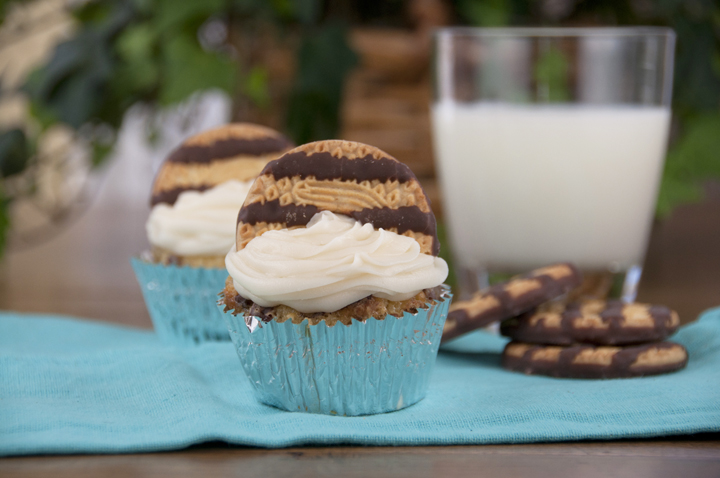 6 tablespoons unsalted butter, softened
1 and ⅓ cup granulated sugar
1 and ¼ teaspoon baking powder
¼ teaspoon salt
1 teaspoon pure vanilla extract
2 large eggs plus one egg YOLK
1 and ⅓ cups all-purpose flour
¾ cup milk (I used 2%)
12 Keebler Fudge Stripe Cookies (or generic brand)
⅓ cup unsalted butter, softened
1 teaspoon pure vanilla extract
3.5 cups powdered sugar
4 tablespoons milk (add a little bit more if needed to make spreadable)
Preheat oven to 350 degrees F.
COARSELY crush 6 of the Keebler cookies (they will be added to the batter right before baking). A good balance of some crumbs and some chunks works best. Set aside.
In the bowl of a stand mixer, using the paddle attachment on medium-high speed, cream together butter, sugar, salt, baking powder and vanilla until fluffy, about 5 minutes.
Add eggs and egg yolk ONE at a time until fully incorporated. Scrape down sides of bowl as needed.
With the mixer on low, add one third of the flour, then half the milk, then another third of the flour, then the rest of the milk. Lastly, add the remaining flour. Scrape down sides as needed.
Pour into a cupcake tin lined with cupcake liners. Fill each liner ¾ full of the batter. Evenly sprinkle cookies that you crushed earlier on top of the batter and push down the chunks into the batter with a toothpick or fork. Cookies will still mostly rise to the top during baking, but that's OK…they will taste awesome and look cool!
Bake cupcakes for 16-18 minutes or until a toothpick inserted in the center comes out clean. – CHECK to make sure they are done – some ovens cook faster/slower.
Cool cupcakes completely before frosting!
Using an electric mixer, cream together all frosting ingredients until smooth and fluffy.
Pipe frosting onto cupcakes, place half of a Keebler Fudge Stripe cookie on top (try to break them in half cleanly) :). Enjoy!
Recipe by
Wishes and Dishes
at https://wishesndishes.com/fudge-stripe-cookie-cupcakes/