I hope everyone had a wonderful weekend!  I tagged along with Mr. Wishes on a short business trip to Washington D.C. and am having a blast.  I haven't been to this city since I was a kid and never really appreciated it - it's a really cool place….and very clean

This dip version of apple pie is as scrumptious as it sounds.  I love all things Fall, but most of all, I love all things Fall that are food-related. So when I came across a recipe for apple pie dip, I thought "what a clever idea!"  Earlier in this fall season, I must have been craving pumpkin something bad, because that was the base for most ALL of my fall desserts.  Now it has turned to apple!
If you're making this for a larger crowd, definitely double the recipe.  I made in on a night we were just having a few friends over for dessert, hot apple cider, and a campfire and it was the perfect amount of dip.  The only time-consuming part of this recipe was the apples: peeling, coring and cutting the apples is kind of a pain, but worth it in the end.  I have an apple peeler with a vacuum base that makes my life a LOT easier.  I highly recommend buying one if you bake a lot with apples!
This would make a great pie filling, ice cream topping… or even yogurt topping.  I'm definitely adding it to my Thanksgiving appetizer list!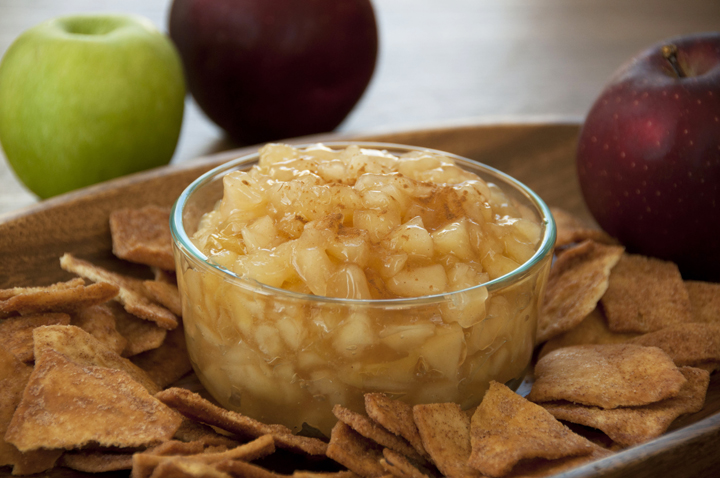 INGREDIENTS:
*makes about 4-6 servings*
2 cups peeled, cored, and diced apples
2 tbsp fresh lemon juice
3 tbsp brown sugar
¼ tsp cinnamon
1 tsp cornstarch dissolved in 1 tsp water
DIRECTIONS:
You can either cook this on the stove-top or the microwave.
Combine all the dip ingredients in a small pan/ microwaveable bowl except the cornstarch-water mixture.
Heat for a few minutes until it's boiling and has extracted juice from the apple.
Add cornstarch-water mixture to the "sauce"
Put back in the microwave/stove top until boiling and the sauce has thickened.
Set aside. You can serve this warm or chilled. It doesn't matter. It will taste delicious.  Sprinkle a little more cinnamon on top right before serving (optional).
Serve with cinnamon-sugar pita chips!
Recipe source: adapted from thepeachkitchen.com
- Craving more?
Sign up for the Wishes & Dishes Newsletter
for a fresh serving of content delivered every week to your inbox! And stay in touch on
Facebook
,
Twitter
,
Pinterest
and
Instagram
for all of the latest updates!