Happy Halloween!!! What are your plans for tonight? I'm doing my usual of staying home and handing out candy to the cute little trick-or-treaters.  It's so fun seeing all the creative costumes!  Mr. Wishes will be helping out at his family's business as he does every Halloween.  His parents own a pizzeria and this is their second busiest night of the year besides Super Bowl Sunday!  Before meeting him I never realized this and how popular pizza ordering is on Halloween. It makes sense, though, with parents not wanting to take the time to cook and clean up a whole dinner and are in a rush to get their kids out candy-collecting.
Well, if you're NOT doing the pizza "thang", I wanted to provide you with an alternative that is hardly any more work than picking up the phone and ordering a pizza.  You just throw it all in the crock pot and let it cook away and it can be ready for you before or after trick-or-treating.  And if you happen to live somewhere that is super cold this time of year, like I'm lucky enough to, this will be a good warm-you-up meal to come home to!
Enjoy!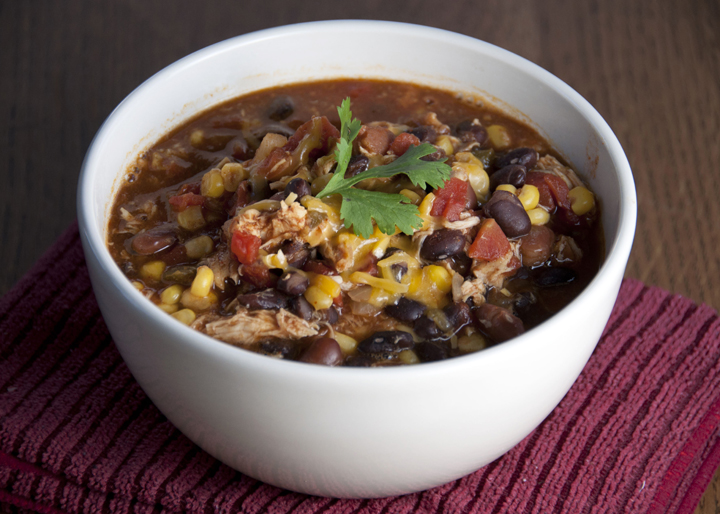 INGREDIENTS:
*makes a LOT – about 8 servings*
1 white onion, chopped
1 (16 oz.) can chili beans, undrained
1 (15 oz.) can black beans, drained
1 (15 oz.) can whole kernel corn, drained
1 (8 oz.) can tomato sauce
2 (10 oz.) cans diced tomatoes with green chiles, undrained (make sure you add TWO cans!)
1 (1.25 oz.) package taco seasoning
3 whole skinless, boneless, chicken breasts
DIRECTIONS:
Stir onion, beans, corn, tomato sauce, dice tomatoes, and taco sauce into a slow cooker. *I saute the onion in a skillet beforehand to make sure that they are not crunchy. Lay the chicken breast on top of the mixture, pressing down slightly so that it gets covered by other ingredients. Set slow cooker to low heat, cover, and cook for 3-4 hours on low if your chicken is thawed. May take 4-5 hours on low if your chicken is frozen.
Remove chicken breasts from the soup and shred. Stir shredded chicken back into the soup. You are technically supposed to cook it on low for another 2 hours in the crockpot but you really don't have to. I never do. It's very forgiving. You can leave it in longer if you want too.
Top with shredded cheese, sour cream, and/or crushed tortilla chips.
- Craving more?
Sign up for the Wishes & Dishes Newsletter
for a fresh serving of content delivered every week to your inbox! And stay in touch on
Facebook
,
Twitter
,
Pinterest
and
Instagram
for all of the latest updates!