Crock Pot Chicken Taco Soup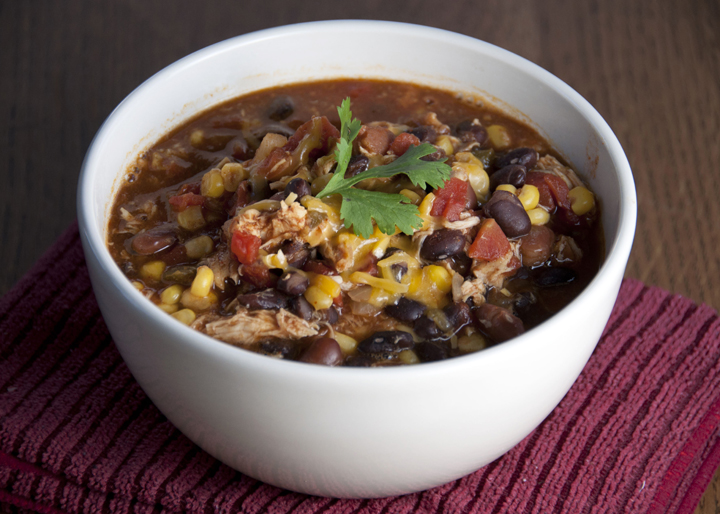 1 white onion, chopped
1 (16 oz.) can chili beans, undrained
1 (15 oz.) can black beans, drained
1 (15 oz.) can whole kernel corn, drained
1 (8 oz.) can tomato sauce
2 (10 oz.) cans diced tomatoes with green chiles, undrained
1 (1.25 oz.) package taco seasoning
3 whole skinless, boneless, chicken breasts
Stir onion, beans, corn, tomato sauce, dice tomatoes, and taco sauce into a slow cooker. *I saute the onion in a skillet beforehand to make sure that they are not crunchy.
Lay the chicken breast on top of the mixture, pressing down slightly so that it gets covered by other ingredients.
Set slow cooker to low heat, cover, and cook for 3-4 hours on low if your chicken is thawed. May take 4-5 hours on low if your chicken is frozen.
Remove chicken breasts from the soup and shred.
Stir shredded chicken back into the soup. You are technically supposed to cook it on low for another 2 hours in the crock pot but you really don't have to. I never do. It's very forgiving. You can leave it in longer if you want too.
Top with shredded cheese, sour cream, and/or crushed tortilla chips.
Recipe by
Wishes and Dishes
at https://wishesndishes.com/crock-pot-chicken-taco-soup-easy-post-trick-or-treating-meal/