This chinese fried rice recipe with chicken is better than takeout!  You don't need to order out anymore after tasting this dish!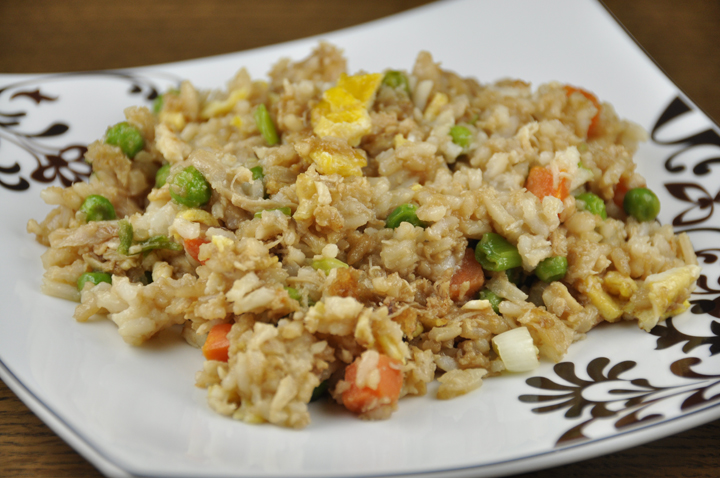 Chinese Fried Rice…something I've been wanting to make well for a long time now.  Mr. Wishes and I are big fried rice fans.  It's one of our favorite things to eat anytime we are dining at an Asian restaurant.  I don't even care so much about any of the other food…as long as the fried rice is good then I'm happy! We don't eat at Chinese food restaurants often nor do we order Chinese take-out on a regular basis, so it was absolutely necessary for me to make a "just as good as take-out" fried rice recipe so that I can enjoy it anytime, anyday!  This came out perfect – not too greasy, not too salty, and full of flavor.
I know that people have different views on what traditional or authentic Chinese fried rice is and should be, but this is my own take on it and the way I prefer it.  You can adapt it to your liking!  This was so easy to make, very enjoyable, tasty, and there was not a scrap left!  I recommend it to anyone craving some good Chinese fried rice.  It's also a great way to use up leftover rice and/or chicken!
Chinese Fried Rice with Chicken
This chinese fried rice recipe with chicken is better than takeout! You don't need to order out anymore after tasting this dish!
Ingredients
1 cup diced yellow or white onion
3 cloves of garlic, minced
5 tablespoons sesame oil
4 large eggs, lightly beaten
3 drops soy sauce
3 drops sesame oil
8 ounces cooked chicken, chopped
½ cup diced carrot
½ cup peas
4 cups cold, cooked rice
4 green onions (scallions), chopped
4-5 tablespoons soy sauce
Instructions
Heat 2 tbsp oil in wok OR deep skillet; add chopped onions and stir-fry until onions turn a nice brown color, about 8-10 minutes; add in garlic and saute with onions for a couple of minutes (until fragrant).
Remove from wok/skillet.
Allow wok/skillet to cool slightly.
Mix egg with 3 drops of soy and 3 drops of sesame oil; set aside.
Add 1 tbsp oil to wok, swirling to coat surfaces; add egg mixture; swirl egg until egg sets against wok/skillet; when egg is set, flip egg and cook other side briefly; remove from wok/skillet, and chop into small pieces.
Heat 2 tbsp oil in wok/skillet; add chicken to wok/skillet, along with carrots, peas, and cooked onion and garlic; stir-fry for 2 minutes.
Add rice and green onions tossing to mix well; stir-fry for 3 minutes.
Add 4-5 tbsp of soy sauce (add more or less to your liking, just make sure all rice is coated) and then add chopped egg to rice mixture and fold in; stir-fry for 1 minute more; serve hot.
Serve with additional soy sauce on the side.
- Craving more?
Sign up for the Wishes & Dishes Newsletter
for a fresh serving of content delivered every week to your inbox! And stay in touch on
Facebook
,
Twitter
,
Pinterest
and
Instagram
for all of the latest updates!