Chinese Fried Rice with Chicken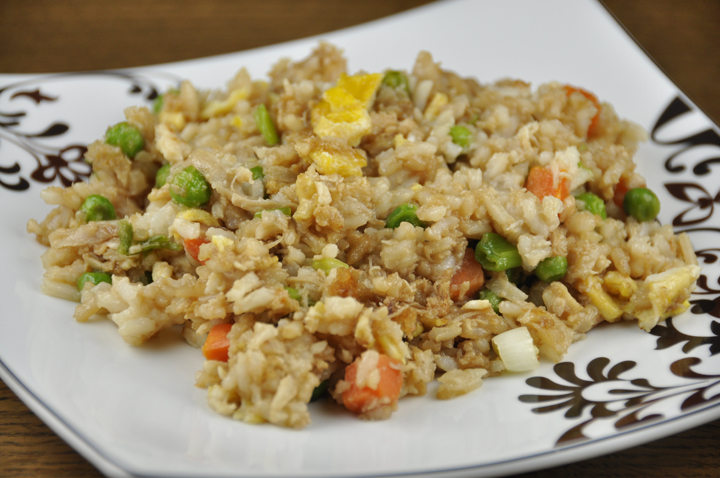 1 cup diced yellow or white onion
3 cloves of garlic, minced
5 tablespoons sesame oil
4 large eggs, lightly beaten
3 drops soy sauce
3 drops sesame oil
8 ounces cooked chicken, chopped
½ cup diced carrot
½ cup peas
4 cups cold, cooked rice
4 green onions (scallions), chopped
4-5 tablespoons soy sauce
Heat 2 tbsp oil in wok OR deep skillet; add chopped onions and stir-fry until onions turn a nice brown color, about 8-10 minutes; add in garlic and saute with onions for a couple of minutes (until fragrant).
Remove from wok/skillet.
Allow wok/skillet to cool slightly.
Mix egg with 3 drops of soy and 3 drops of sesame oil; set aside.
Add 1 tbsp oil to wok, swirling to coat surfaces; add egg mixture; swirl egg until egg sets against wok/skillet; when egg is set, flip egg and cook other side briefly; remove from wok/skillet, and chop into small pieces.
Heat 2 tbsp oil in wok/skillet; add chicken to wok/skillet, along with carrots, peas, and cooked onion and garlic; stir-fry for 2 minutes.
Add rice and green onions tossing to mix well; stir-fry for 3 minutes.
Add 4-5 tbsp of soy sauce (add more or less to your liking, just make sure all rice is coated) and then add chopped egg to rice mixture and fold in; stir-fry for 1 minute more; serve hot.
Recipe by
Wishes and Dishes
at https://wishesndishes.com/chinese-fried-rice-with-chicken/