Who didn't have rice krispie treats as a favorite treat when they were a kid?  These bad boys aren't just any rice krispie treats.  These are even better because they have CAKE BATTER mixed in to them!  Welcome to day #4 of my favorite childhood food week…
Rice krispies are dangerous.  I could seriously eat a whole batch of them myself.  And throw in the cake batter twist?!  Yes, please!  Anything with cake batter flavor was my kind of dessert growing up.  Funfetti cake was a staple for every birthday in my family and I even insisted on having it every year for my own birthday until **cough** a couple of years ago.  I think Mr. Wishes even considered me the "birthday brat" because no other form of cake was acceptable to me besides Funfetti.  I guess I grew up eventually?  Well these are basically a funfetti cake that has taken on the form of a rice krispie treat.  The cool thing about these is that you can adapt them to any holiday and just use holiday-colored sprinkles for the occasion.  These would also be great for a birthday party.  Enjoy!
Stop back tomorrow for day #5 and the final day of my themed week.  (Here's what you missed the last three days if you're just tuning in:  Frosted Animal Sugar Cookies, Homemade SpaghettiOs, Oreo Peanut Butter Swirl White Chocolate Fudge.)
Note: Please excuse the horribly embarrassing photo.  I didn't have my good camera at the moment!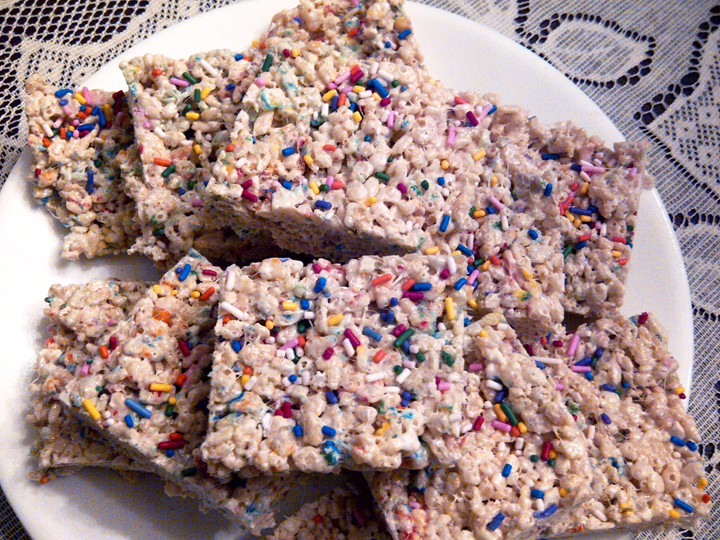 INGREDIENTS:
3 tablespoons butter
1 10-ounce bag of mini marshmallows
1/4 cup yellow cake mix
6 cups rice krispies cereal
1   1.75-ounce container of sprinkles
DIRECTIONS:
Melt butter in a large saucepan over low heat and add marshmallows. Stir until they begin to melt, adding in cake mix one spoonful at a time so its combined. Stir in cereal so it is completely coated with marshmallow mixture. Sprinkle in half of the sprinkles and mix. Press into a baking dish (any size will do) and top with remaining sprinkles. Let sit for about 30 minutes before cutting. I find spraying a knife with nonstick spray helps to cut them!
Recipe source:  adapted from howsweeteats.com
- Craving more?
Sign up for the Wishes & Dishes Newsletter
for a fresh serving of content delivered every week to your inbox! And stay in touch on
Facebook
,
Twitter
,
Pinterest
and
Instagram
for all of the latest updates!