Tomato, Onion, and Cucumber Salad
How was everyone's Labor Day weekend?!  Mine was nice and relaxing.  Lot of sunshine, sleeping in, pool lounging, and family time.  We celebrated my Grandpa's 80th birthday over the weekend and it was really nice to see some out of town family that I hardly ever get to see.  The weather was perfect and the company was even better.  Hard to believe my Gramps is 80!
Now Labor Day has come and gone, and just like that, summer is pretty much over.  I'm not as depressed as I thought I would be saying goodbye to Summer….I think it's because for some "strange" reason I am looking more forward to Christmas this year than I ever have before.  I swear that every year I get more giddy and excited over my favorite day of the year, and this year I'm 100 times worse than last year….maybe even 200 times worse.  I am already listening to Christmas music at least a few times a week…..I normally at least wait 'til October before I get the urge to do that.  OK, so I probably lost a lot of people here with even mentioning the "Christmas" word…..please, please still be my friends!   I will move on to a more relevant topic now…which is the recipe I am sharing with you here today 🙂
It's a salad.  A salad with a few simple veggies that is tossed in light non-fattening dressing.  It's an easy throw together kind of side dish that I'm pretty sure can go with just about any meal.  Make and enjoy!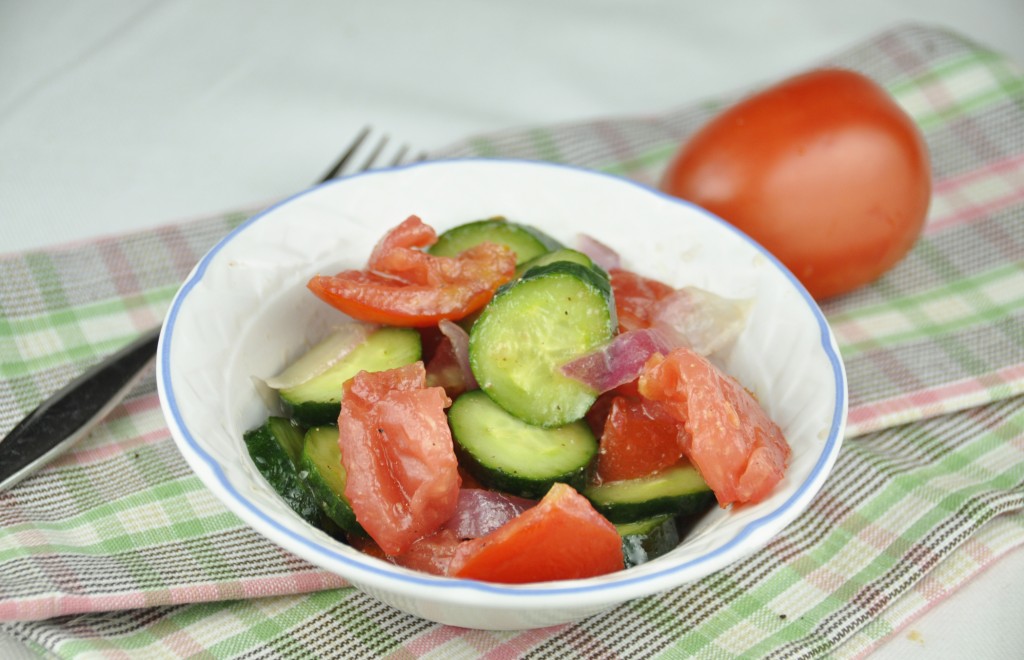 INGREDIENTS:
5 medium plum tomatoes, halved lengthwise, seeded, and thinly sliced
1/4 red onion, peeled, halved lengthwise, and thinly sliced
1 cucumber, halved lengthwise and thinly sliced
A generous drizzle of extra-virgin olive oil, about 2 tablespoons
2 splashes red wine vinegar
Coarse salt and black pepper
DIRECTIONS:
Dress the tomatoes, onions, and cucumber with olive oil, red wine vinegar, salt, and pepper.
Let stand while you prepare dinner, about 20 minutes, so the flavors come together. Re-toss and serve salad with crusty bread for mopping up juices and oil.
Recipe source:  adapted from foodnetwork.com