Tips on Traveling to Dubai
Tips on Traveling to Dubai

in the United Arab Emirates (UAE)

: afternoon tea at Burj Khalifa, what to do, what not to do, and why this is a new favorite vacation destination of mine.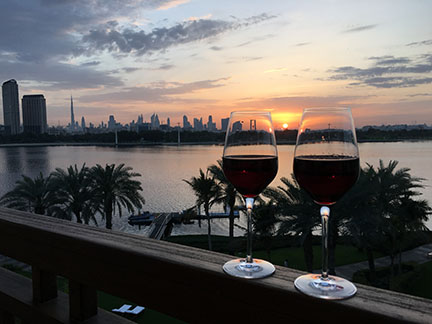 I know there are very mixed opinions and feelings on traveling to the Middle East at this point in time, but Dubai has been one of my husband's dream cities to visit for years now because of all the innovative, modern architecture.  He is a structural engineer, or as I like to call him on occasion, an "Engi-nerd".  The city has become iconic for its skyscrapers and high-rise buildings, in particular the world's tallest building, the Burj Khalifa.  I was admittedly a bit nervous because of the huge culture difference and the opinions of family and friends advising us not to travel there, but I honestly didn't feel threatened or unsafe even once during my time there.  It's important to remember that disaster can happen anywhere, at any time, but it's all about perspective and I feel that traveling makes you a braver person in general.
Dubai was NOTHING like I was expecting at all (but in a good way).  For anyone who may be wanting to pay Dubai a visit but are feeling uneasy about it, I will briefly talk about my personal experience vacationing there and provide a few tips while I'm at it.
Dubai is the most international and ethnically diverse city in the world and tourists come to Dubai from everywhere in the world.  I don't like "concrete jungles" enough to ever want to live in one and give up my easy-going, relaxed life in Rochester New York, but it's an extremely comfortable and pleasant place to visit or vacation. 
While this eclectic city is one of the most relaxed, cosmopolitan destinations in that region and there is a large amount of things to do there, you do have to watch your behavior to some degree as it is a Muslim country.  Don't let the rules and regulations you read about scare you like they initially did with me.  I was literally awake for the entire 14 hours of our flight there because of how anxious I was feeling. Read up on basic guidelines and cultural sensitivities before traveling there and act sensibly to always be on the safe side and you will be fine.  My hubby and I travel a lot, so adapting to other cultures has become almost like second nature. 
I was so paranoid that I was going to do something wrong and be thrown in jail for it after research led me to articles relaying how strict and oppressive the country is.  Dubai has a relatively low crime rate and I think it could have everything to do with their laws.  To be honest, I over-thought it in my head, which tends to be the case with me the majority of the time.  The rules are hardly annoying or difficult to follow and many didn't affect my day-to-day at all (oh, and 90% of Dubai residents are non-natives, FYI.)
The short and simple summary that will help you fit in better and not offend the locals:
Do not cuss in public, no PDA: public display of affection is considered indecent in Dubai (don't hold hands, kiss, etc. in public), don't snap photos of the locals without their permission as it is considered rude and intrusive (common sense), don't drink alcohol in public but restaurants do serve alcohol and you can safely consume it in those places, don't greet, open a door, or hand something to someone with your left hand as that hand is traditionally used for "body hygiene" in Muslim cultures (I'm extremely glad I'm right-handed as a traveler to Dubai), and dress modestly (shoulders covered at all times).  You can have a good time without offending anyone or breaking any local laws.
Fun fact: foreign residents are allowed to drink alcohol at home if they obtain a license.
The latter rule was one I was the most worried about as the word "modest" can be very subjective.  Dubai is a fashion-forward, stylish cosmopolitan city with all the latest designer trends from around the world.  There are rules against women wearing tight, short, low-cut, skimpy or suggestive clothing in public spaces. You will definitely see the occasional rule-breaker and chances are they aren't going to go to get in trouble for it, but it's best to keep your clothing relatively conservative (don't flash a lot of skin).  I adhered to the concept of simply not wearing anything that would make me stand out.  Blending in here is key.  Even though it's hot here as you're in the desert and you may be uncomfortable or sweaty at times, wear dresses/skirts below your knees, and if you have a sleeveless shirt or dress, make sure it's not low-cut. Also, bring a light sweater or scarf to cover up your arms in public. The less skin that is showing, the better off you are.  I normally just carried a long sleeve sweater or cover-up with me to wear while walking from place to place and once I was at my destination I could safely take the sweater off if I was too hot.  Guys can wear whatever they want, but again, nothing that's going to draw attention to themselves is the best option.
When at the beach, resort or your hotel pool you can comfortably wear your normal beach attire.  I wore my regular swimsuits and fit right in. You don't have to worry about purchasing a "mom" bathing suit with a skirt if that's not your style.
I did run into one problem and, although pretty embarrassing, I'll share it with you as it was a valuable lesson learned.  My husband and I left the pool area to grab some food at one of the more casual hotel restaurants.  It had outdoor seating on a dock and it was just about sunset time.  We asked for a table outside and we were just going to have a snack and maybe a smoothie.  The hostess conversed with what looked to be the manager at the restaurant and she came back to politely give us the bad news that I wasn't dressed appropriately and had to change before being allowed to sit at a table in the restaurant.  I had a long sleeve black cover-up on over my bathing suit and flip-flops. Normally I would have never thought twice about this, but wasn't thinking how this is not the "norm" here, even at the hotel outdoor, casual restaurant.  I was obviously mortified that I had tried so hard to fit in and abide by the rules and then got rejected at a restaurant…but, lesson learned! I did the walk of shame back to my room and did not show my face at that restaurant again.
We spent the majority of our time exploring the city, shopping at the amazing malls, or just laying out by the pool at our hotel.  Our one splurge was doing afternoon tea at Burj Khalifa.  This is the tallest building in the world with it's 160-story glass and steel structure.  At it's foot lies Dubai Fountain, with jets and lights choreographed to music each night at the fountain show.  The shows are right outside Dubai mall and they start at 6 pm with a show every 30 minutes up to 11 pm.  From the top of Burj Khalifa you can see really cool looking man-made islands: just offshore is the Atlantis, a resort with water and marine-animal parks.
Afternoon tea was amazing at The At.mosphere Restaurant on the 122nd floor of the Burj Khalifa.  If you don't enjoy fast and long elevator rides, you may want to skip this one.  This is the ultimate afternoon tea experience! Why yes, I'd love an entire tower of cake, sweets, and sandwiches in the middle of the afternoon. Why not?  The views of Dubai are spectacular and breath-taking if you get a clear day!  We really killed two birds with one stone as normally there's quite a steep charge just to go to the top of Burj Khalifa to enjoy the view and take photos.  Doing it this way, we had the view, were able to spend as much time taking photos as we wanted, and enjoyed of my favorite activities of feeling all fancy with an afternoon tea party.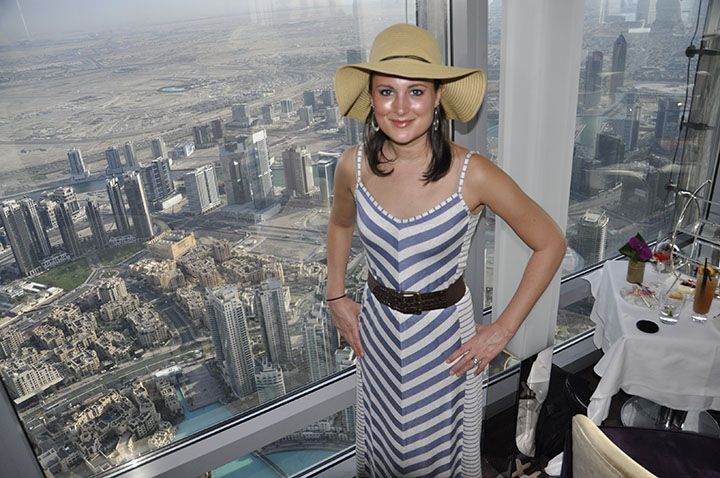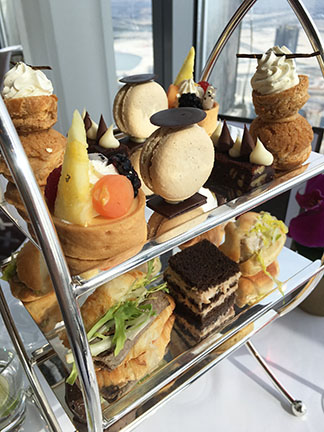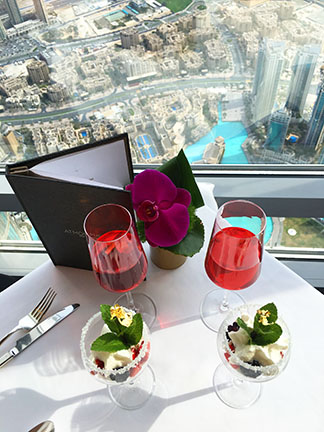 We booked a non-window table since we made our reservations so last-minute but were upgraded to a window table once we sat down – it was really our day!  The seating arrangements in the lounge are very comfortable and cozy, and the floor to ceiling windows mean even the seats set away from the windows have a decent view.  Get your tickets in advance, otherwise the may charge you double price or more to just walk up without a reservation. This is definitely something I recommend doing once just to have the experience and the views.  You are treated like royalty and the food, tea and drinks are on-point.
Summary
As you can see, follow the tips on traveling to Dubai that I gave you and you can have a good time here without worrying too much that you will offend or break a law.  Emirates are very welcoming of foreigners and you will feel comfortable in no time at all.  The city is wonderfully designed for people to feel safe and is extremely easy to navigate around.  It makes it easy because almost everyone we encountered spoke English, as well.  Dubai is a very unique place and totally worth seeing if you ever get the chance to travel there.  The people are pleasant, beaches are beautiful, there are many activities to keep you entertained, including desert safaris (next time I'm totally doing one of those and riding a camel), beautiful resorts, and great food.  You will also be surrounded by the comforts of home with being able to grab food at many familiar places such as Shake Shack, Tim Horton's, Five Guys, Starbucks, P.F. Chang's and many other chain restaurants.
Let me know if you ever have any questions and I will be happy to answer them for you!