Friday Faves: Favorite Swimwear
On this edition of Friday Faves: Favorite Swimwear! Here I will talk about the latest swimwear styles that I am loving lately as the very best beach essentials.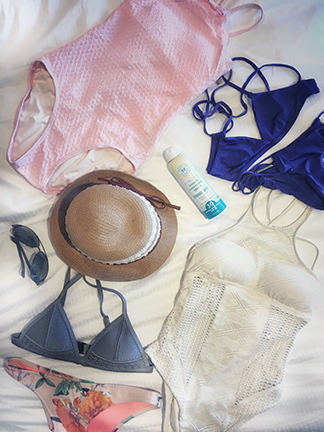 For anyone who is going on Spring Break or looking for amazing swimwear for this summer that will earn you a bazillion compliments, then I have just the right finds for you. Whether you are going on vacation or staying home this summer, you gotta look cute, right?
I'm so glad you're here! Follow along on Pinterest for more inspiration!
I am really loving the one-piece swimsuits as opposed to bikinis lately because I just feel so much more comfortable in them.  Hey, and it's less surface area to have to lather with sunscreen, so there's that! I don't normally post about my clothing but I received these four swimsuits as a gift from Mr. Wishes this past Christmas. He picked them out all on his own (be jealous, ladies) and I had several people while traveling ask me where I bought them. I figured I would link up to them all in one post so everyone can easily find them or find something similar!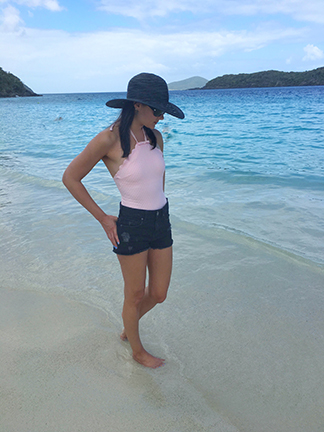 I wore this baby pink Kate Spade one-piece swimsuit on our cruise on the Harmony of the Seas back in February. I loved how comfortable it was. It dried quickly after getting out of the water/hot tub and didn't lose it's shape when I swam in the ocean. Even after a few washes and being in salt water for countless hours, it still looks like the day I got it. I guess you really get what you pay for as far as quality with Kate Spade! The back scoops down in the back but had full booty coverage (ha). I took a close-up photo of it so you can see the quilted "3D" texture on it and the cutest little bow at the very top at the neckline. I found a similar style here and the exact swimsuit here on Amazon (it comes in pink and black).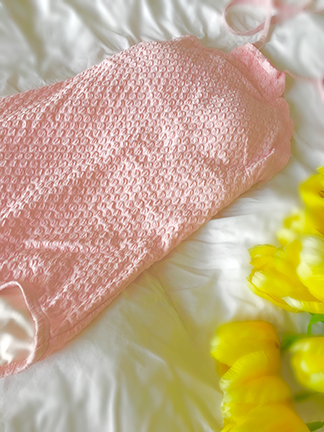 This "Vitamin A" one-piece swimsuit you see below fits so perfectly all over and the meticulous quality to the styles they have are unmatched. Sometimes I scroll their Instagram page and want every….single…suit that I see. They are all so unique and really stand out. This one I'm wearing in the photo below is an off-white color and has crochet details all throughout. It also has crisscross straps all across the back and is more "cheeky" in the back. The crisscrosses made for some crazy tan lines, but totally worth it! I also found another similar style here.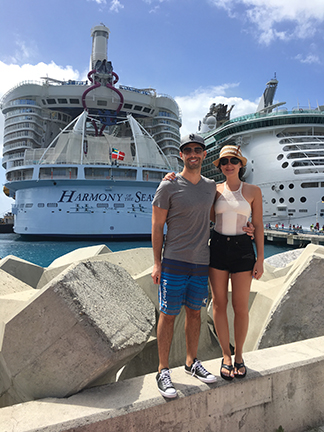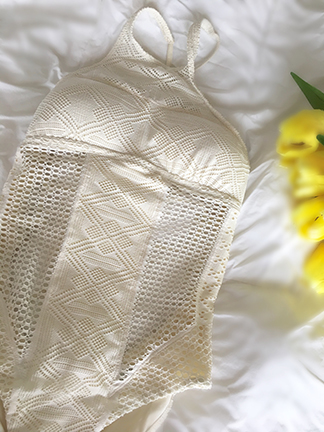 This blue Beach Bunny bikini is one I am not quite so much feeling wearing it in public spaces, but it's nice for when nobody else is seeing me except me, myself, and I (and my hubby, obviously). It has a "cheeky" bottom and the material is SO soft. The fabric is just super comfortable and it dries really quickly after being in water. Love it! I love the three straps on the bottom and the crystals. Beach Bunny's swimwear is known to be "flirty and fun", so you will love it if that's the look you're going for. They have a lot of styles that will really make you stand out on the beach. I found similar ones to the style I have on Beach Bunny's website here (in sapphire) and here on their website. I also found that style on Amazon.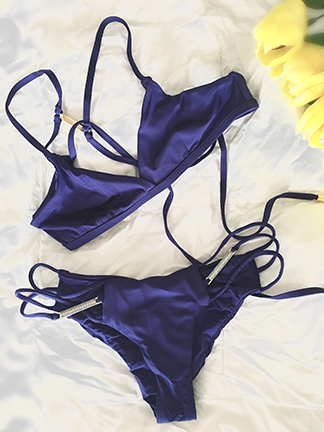 I have been absolutely loving Triangl swimwear for a couple of years now. I got my first Triangl swimsuit last year before heading to the Maldives and Dubai. I wanted something that was really trendy and in style and that is exactly what I got. I was perusing Victoria's Secret website and recognized so many swimsuits on their site because I tend to see them everywhere while on vacation. Triangl was definitely more unique and not just a dime a dozen, so to speak! The neoprene material fits snug on the body and you don't feel at all like it is going to fall out of place when getting out of the water or swimming. You will definitely notice a difference with the material and how quickly it dries!
I actually had another Triangl bathing suit and I misplaced the bottom half while in Miami last year. I left it hanging on the back of the bathroom door – never to be seen again! I was so sad about it. Mr. Wishes tried to find it for me online for Christmas but they wouldn't sell us just the bottom separately. He decided to just go ahead and pick out another style for me and this Triangl bikiki with a silver top and floral bottom is what he chose (below). I also found a knock-off version on Amazon here. I love it and LOVE the colors! They look really nice with a tan.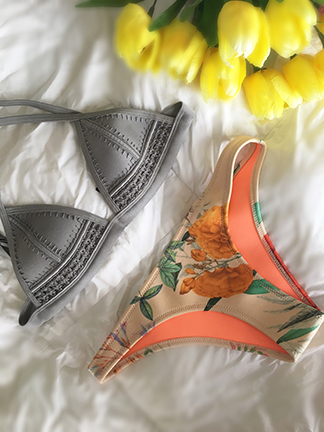 Happy bathing suit shopping! Let me know if you have any questions about anything!