Tips for Taking a Baby on a Cruise
My Tips for Taking a Baby on a Cruise AKA cruising with a baby 101 from someone who has been on several cruise vacations!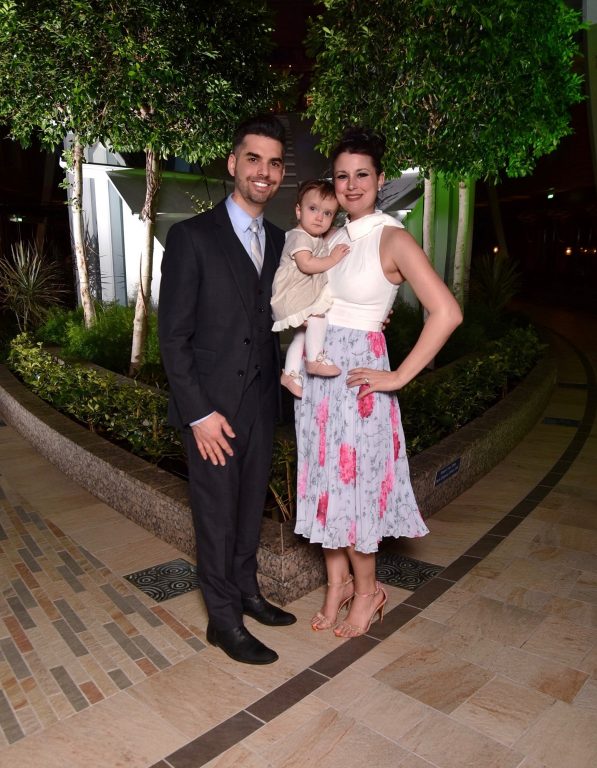 We recently took our little 10 month old Eliza on her very first cruise! We decided to take her on Royal Caribbean's Symphony of the Seas. Mr. Wishes and I went on the media cruise for this brand new ship back in November and loved it! We had an absolutely amazing experience taking Eliza on the cruise and I wanted to write an informative post sharing my Tips for Taking a Baby on a Cruise in hopes of helping out other families.
I read so many articles about why to NOT bring a baby on a cruise and I'm glad I didn't listen to them! Eliza had the best time she has ever had. She smiled the entire week.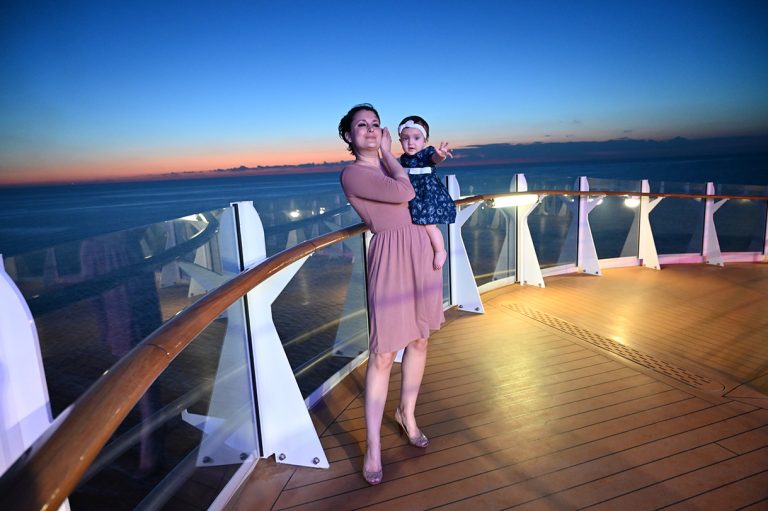 Mr. Wishes and I have been on many, many cruises. This trip went as smooth as you can expect with a baby in tow, but it was definitely different than our experiences cruising without a kid, as to be expected. There really are so many ways to make it feel like a vacation and I'm so thankful that ours did.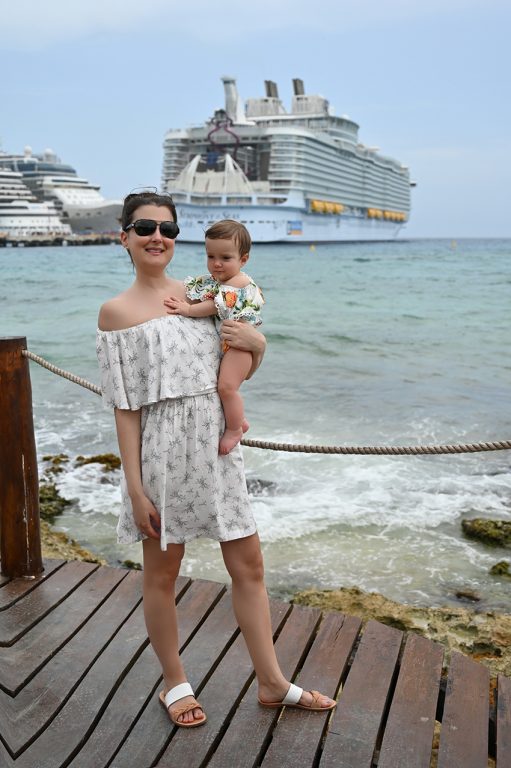 Know that there is an age Restrictions for Babies
The absolute first thing you should find out is if you can even take your baby on a cruise. Most cruise lines mandate the child be six months old or older on the day of embarkation. This means that the child must be at least that age by cruise day.
If you are sailing on a transatlantic, transpacific, or a Hawaii cruise then your baby must be at least 12 months old at the time of sailing. In addition, any cruise that has 3 or more days consecutive at sea will require infants to be 12 months old on the first day of the cruise.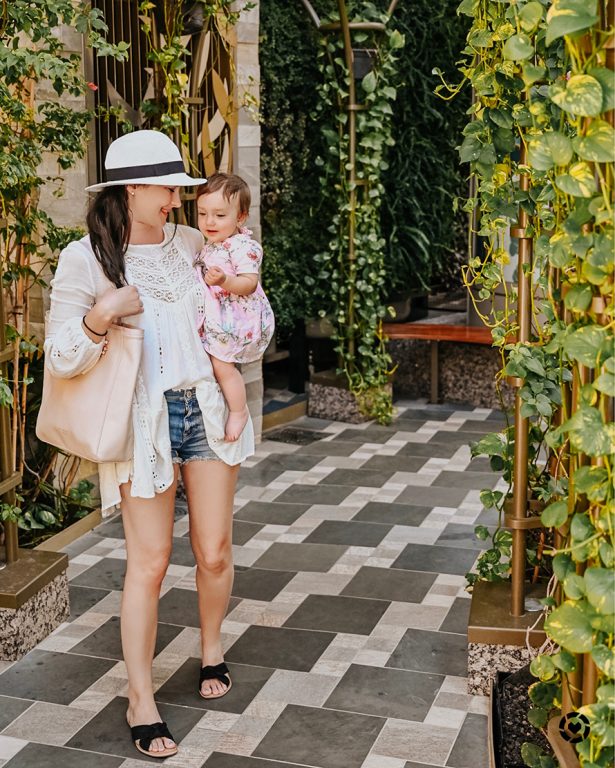 Also, if on a closed-loop cruise (one that begins and ends in the same place), the child won't need a passport. You will need to bring a government issued birth certificate that you will show at check-in on your first day and when passing through immigration when debarking the cruise back at home.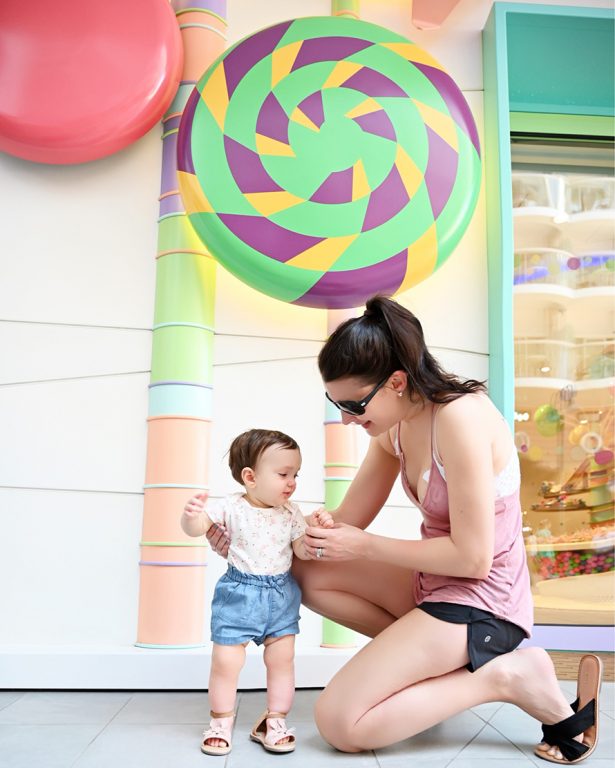 Cost for Babies
On Royal Caribbean cruises, infants are charged a cruise fare, just like everyone else onboard. If your child is the third or fourth passenger, you will usually pay a reduced rate.
Things to bring with you
A lot of the cruise lines will provide a free crib for your room if you request it. They will provide the bedding for it as well. I believe they are available on first come, first serve basis, so I would definitely make a reservation as early as you can. We brought our own travel crib because it folds really small and actually took up LESS room in our cabin than the pack 'n play Royal Caribbean provides.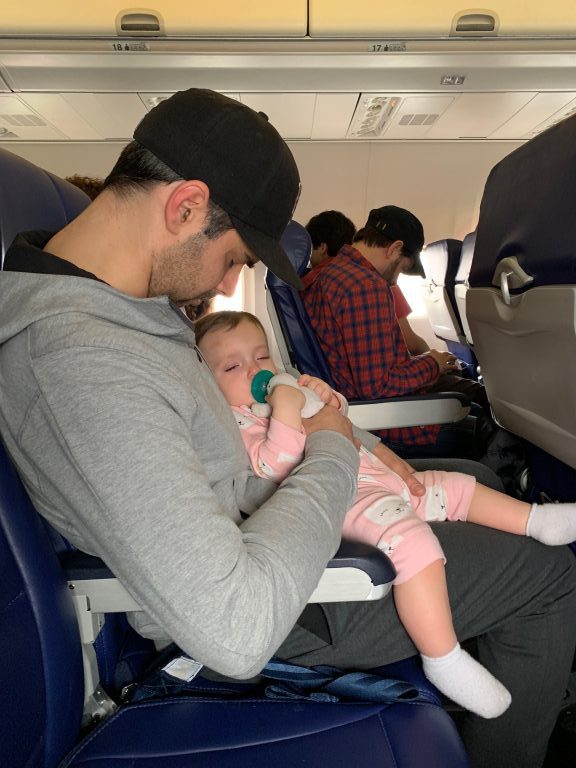 Bring more diapers than you think you need because the prices on board are very high. To save room in our luggage, we only packed diapers and wipes we would need for the plane and went to Target as soon as we were in Miami and got diapers and wipes to last us the length of the cruise.
If you do bring your own diapers and don't want to have to go to the grocery store when you arrive at your destination, I recommend lining your suitcase with your diapers as they take up much less room than big, bulky pack of diapers.
The same is true for any other of your regular supplies like diaper rash cream, children's Tylenol, sunscreen, etc.
Some other things I find helpful to bring:
Swim diapers
Sun hat
Teething toys
Coloring books/regular books
Pacifiers
Antibacterial wipes
Baby thermometer
Infant Tylenol or Motrin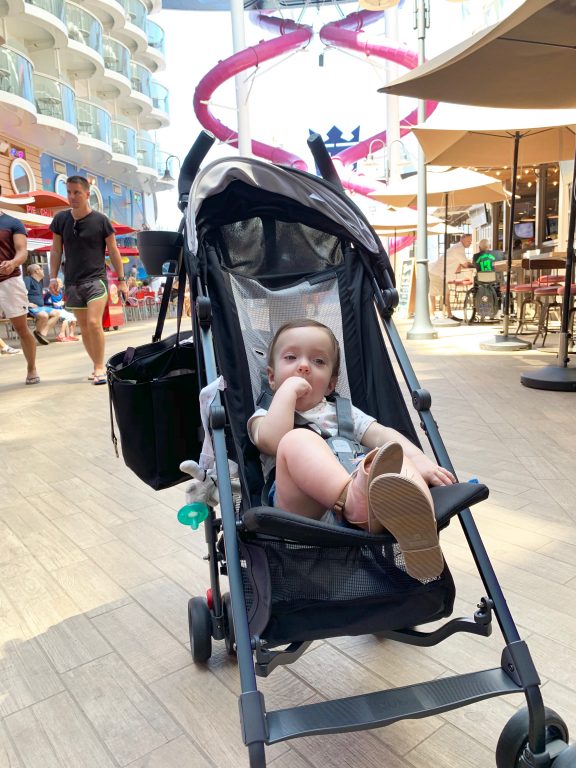 Stroller
We have a large comfy stroller at home with all the bells and whistles, but opted to bring our smaller Uppa baby umbrella stroller. This was one of our better decisions!
I definitely recommend bringing one of these types of strollers if you can get away with it. Parts of the cruise ships can be narrow and with so many people on board and crowded elevators some of the time, it can be difficult to navigate a large stroller.
Plus, you can also just fold smaller ones and put them in the cabin closet or in a corner when not in use. Any way to save space is a win! That being said, our umbrella stroller is still super comfy with a great sun shade and Eliza still took her naps in it often.
I did spot many families with their larger strollers on the ship, but the smaller one worked out great for us.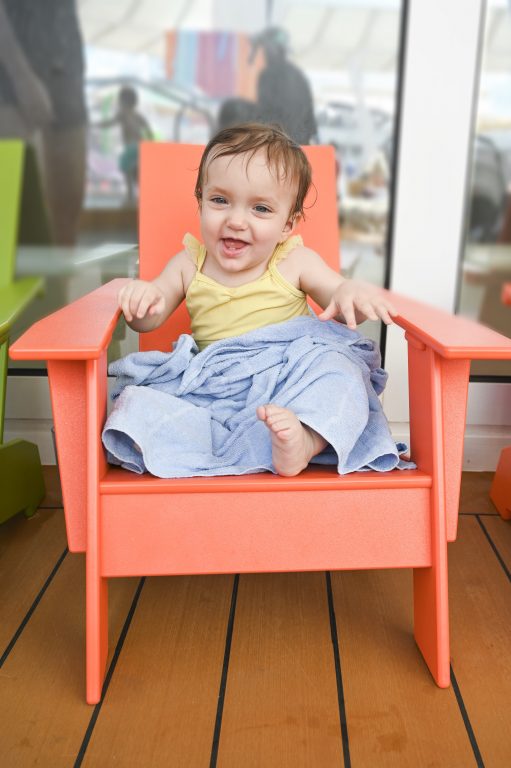 Things to carry with you during the cruise when walking around
Place a spare outfit in a plastic ziploc bag or two and carry it with you when you're out and about on the ship or getting off at the ports. Then, if you have a diaper blowout or other mess, you can bring out the clean clothes and put the dirty clothes in the bag.
I carried around snacks and my daughter's sippy cup for the stroller to keep her occupied. There was so much to look at on a cruise that I rarely had to worry about keeping her entertained in the stroller.
As far as car seats, some countries don't have the same laws as the United States. We didn't do any excursions or take a taxi/shuttle to any beaches because the countries we visited didn't have car seats available. I wasn't comfortable holding her in the back seat of a taxi, but to each his own!
It wasn't so bad since it saved us from having to shell out a lot of money for an excursion while we might be tending to a sleeping baby or having to stop and feed her. We also didn't have to go far and could make it back to the ship quickly if needed. It was the best of both worlds!
Also, don't expect to find changing tables in every restroom on the islands and some restaurants may not have high chairs. If you are worried about having facilities catering to your baby, your best bet is to stick around the more Americanized parts of town such as the area right near the cruise port.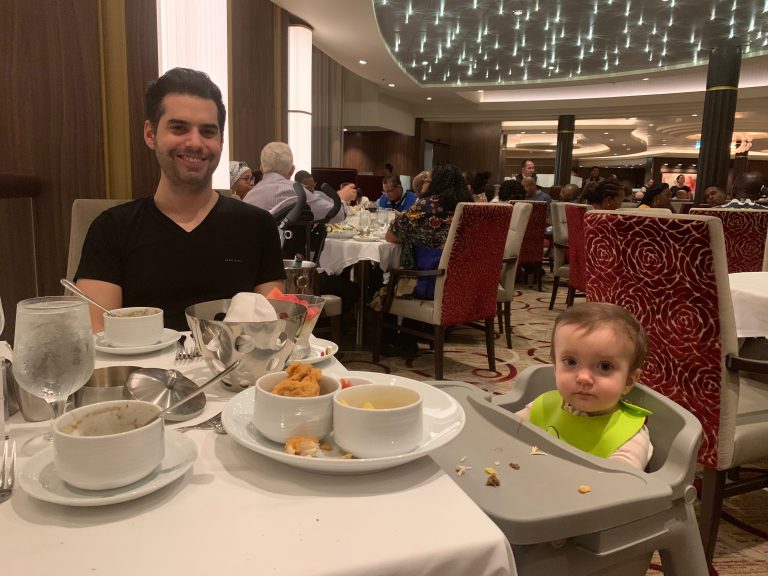 Food
I didn't bring ANY food with us to the dining room at night. They had a kids' menu and I just ordered her something off that menu or gave her some of what we were eating. Obviously, this depends on the age of your baby. Eliza started getting solid food in addition to breastmilk several months before the cruise so I knew she would be fine just eating whatever was available.
The principle of "just ask" works wonders here and the wait staff was wonderful with Eliza. Just ask your waiter if he or she is able to puree your infant's food or cut it up. I didn't even have to ask – they just did it for us automatically. Remember, they cater to families, so this is a pretty common request for them. This can be a big saver of luggage space/weight not having to pack baby food!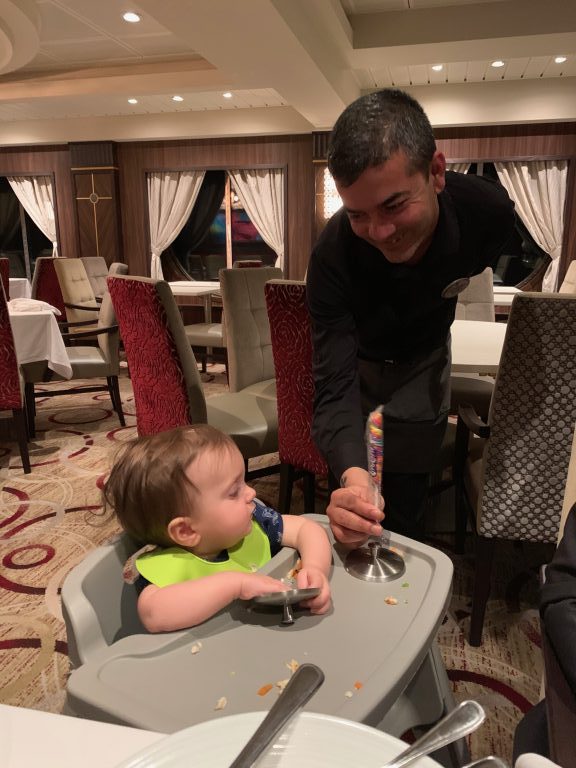 Nice, clean high chairs are available in all of the dining areas, just like in a restaurant. If you don't see one, simply ask the wait staff for help.
So I know that no one wants to be that family with the loud, messy eater in a nice, fancy restaurant. We love eating in the main dining room and didn't want to avoid it altogether.  Dining in the main dining room each evening is a rather formal process with several different courses. A long, drawn-out meal is not the best environment for a baby with a short attention span.
That being said, Eliza did great! As long as she was continuously being fed and had people to look at, she was fine. If your baby is not used to eating in restaurants, for your own and everyone else's sake, you may want to plan on eating in the buffet restaurant or other venues for your meals. The wait staff on the Symphony of the Seas went out of their way to entertain Eliza; making her animals out of napkins, bringing her random things to play with, etc.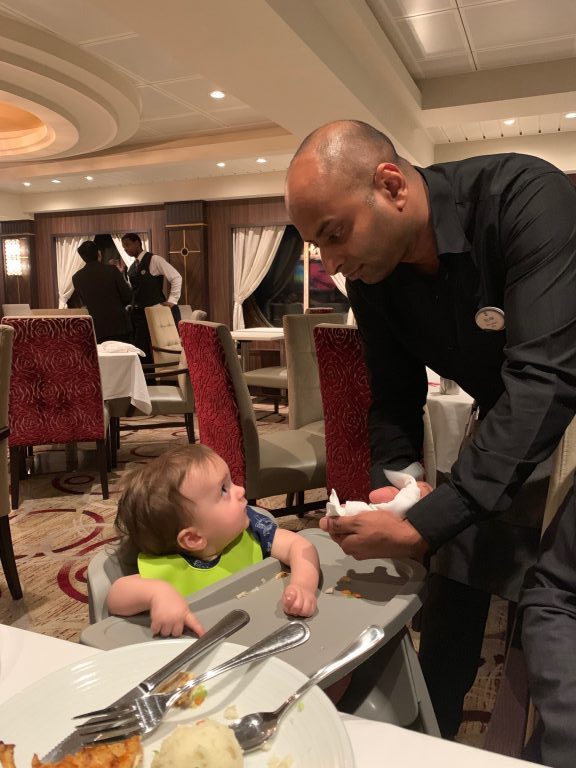 We chose to eat at the buffet for lunch and the last night of the cruise for the sake of saving time and not worrying so much about Eliza sitting through a long meal.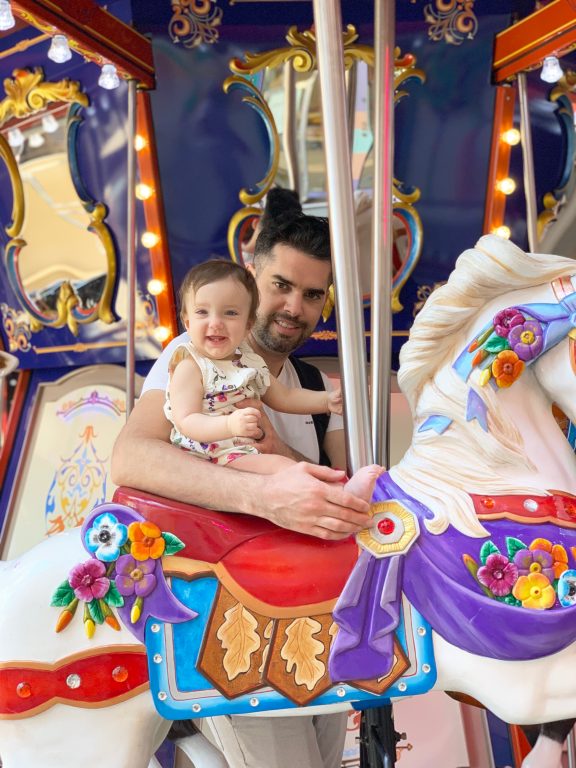 Entertainment
Eliza was ten months old at the time of the cruise. We assumed we wouldn't be able to go to all of the shows having a baby on a cruise, but we were wrong. She was super entertained by the shows and actually really enjoyed them! She even clapped at all the appropriate times.
The Broadway-style show aboard the Symphony of the Seas at the time was "Hairspray", which we had seen also on the Oasis of the Seas. We sat way in the back because that is a longer show that she wouldn't have been able to sit through. She did love the music and dancing and enjoyed a good portion of the show.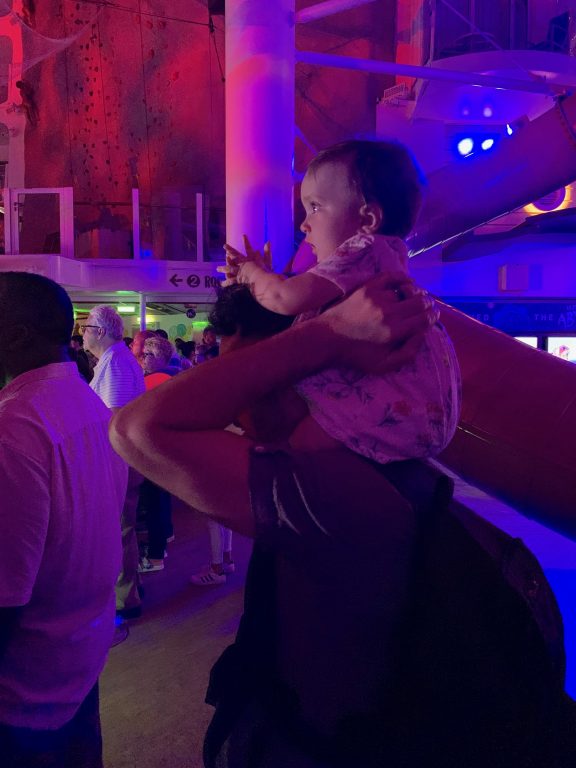 If you bring your small children to the shows, I just recommend sitting in the back so you can leave quickly if needed and avoid disturbing anyone else.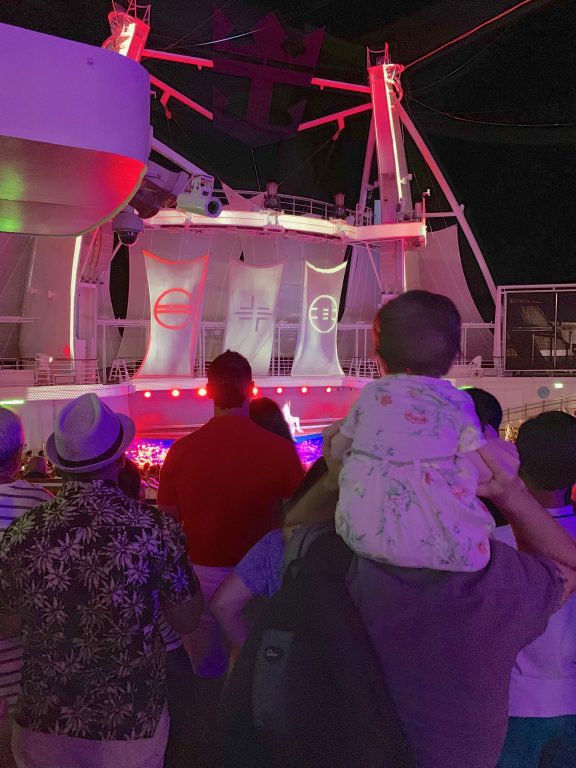 There is a play area on the ship with plenty of toys where you can bring your small children to let them roam around free. Eliza played in there on several occasions. It was nice to have somewhere to put her down and let her crawl freely since the staterooms are not large enough to let her wander around. I think she missed being able to be on the floor and crawl around like she does at home so we loved this feature of the ship!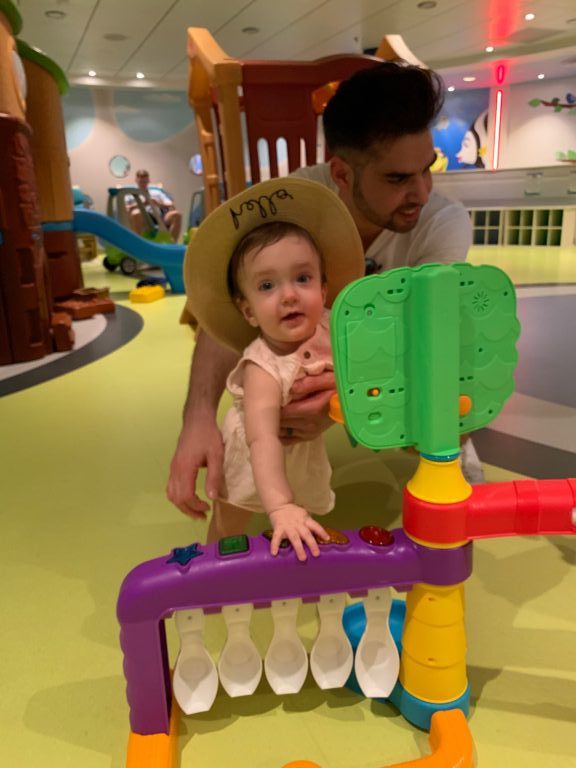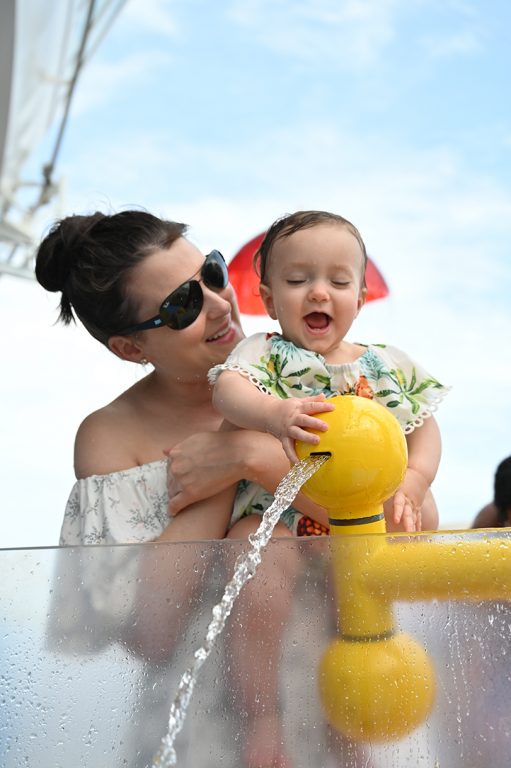 Pools
Symphony of the Seas has an infant pool known as the Baby Splash Zone, where children who are still in diapers can play in.  Ordinarily, children that wear diapers are prohibited from going into pools onboard the ship, but some of the newer cruise ships now offer an infant pool. I love that! Eliza was completely obsessed with the splash zone and it was nice not to have "bigger" kids running around in that area.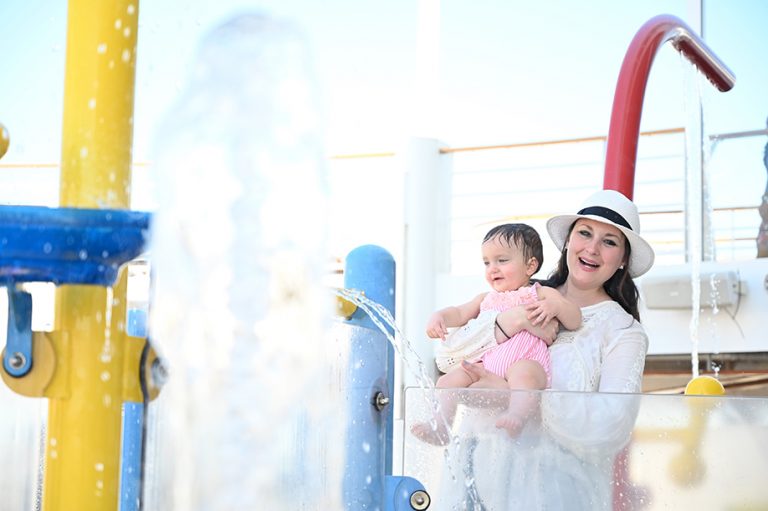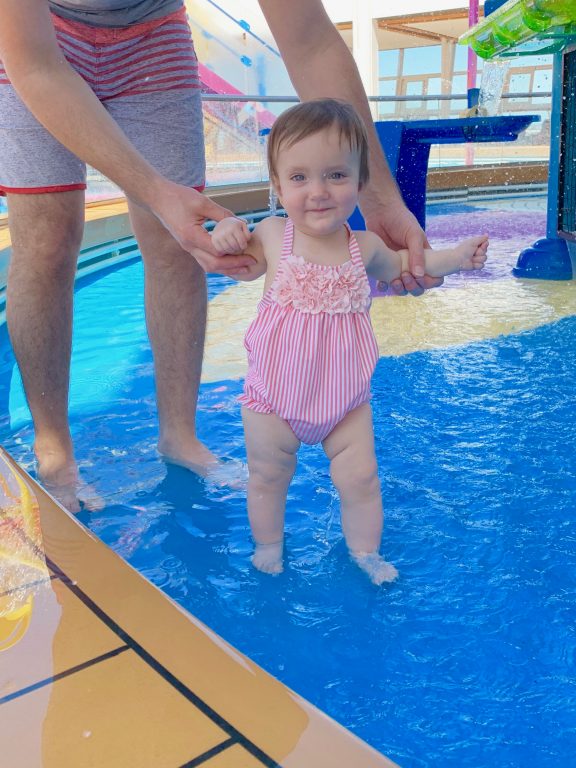 Sleeping
As mentioned above, most cruise lines will provide a crib or a pack 'n play at no extra charge if you bring a baby on a cruise. Royal Caribbean provides pack 'n plays. I recommend contacting them a couple of weeks in advance of your cruise to let them know you will need one. Don't just assume they will put on in the cabin automatically, especially since some people do bring their own like we did.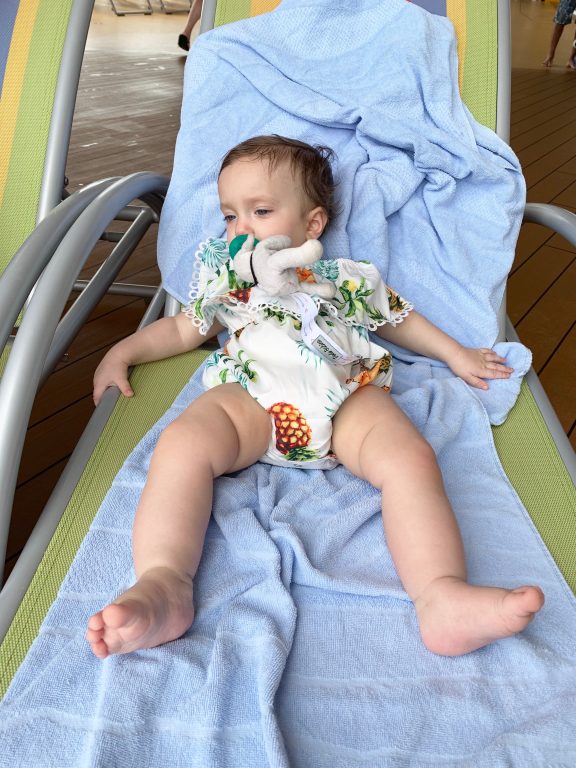 The one downside with the baby on a cruise was being in the same room as the baby. This mostly applies if you have already transitioned your child to their own room/crib at home. We've had Eliza sleep in her own room since she was about 7.5 months old.
In general she is a good sleeper now, but she does wake up a couple of times a night, crying for about a minute or two before settling back down to sleep. Being in the same room with her and in close quarters to other passengers caused a bit more hassle during the overnights.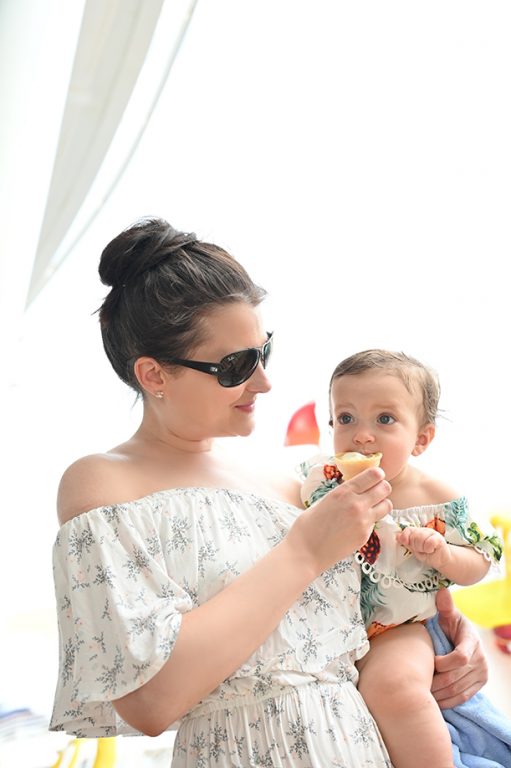 Instead of hearing Eliza cry over a low-volume baby monitor, the sounds were right next to us. That meant any little sound she makes woke us up. In addition, when she cried in the middle of the night, I had to hop out of bed and calm her immediately to keep from disturbing our ship neighbors instead of letting her settle herself back down like I would at home under normal circumstances. She didn't mind because she got extra feedings!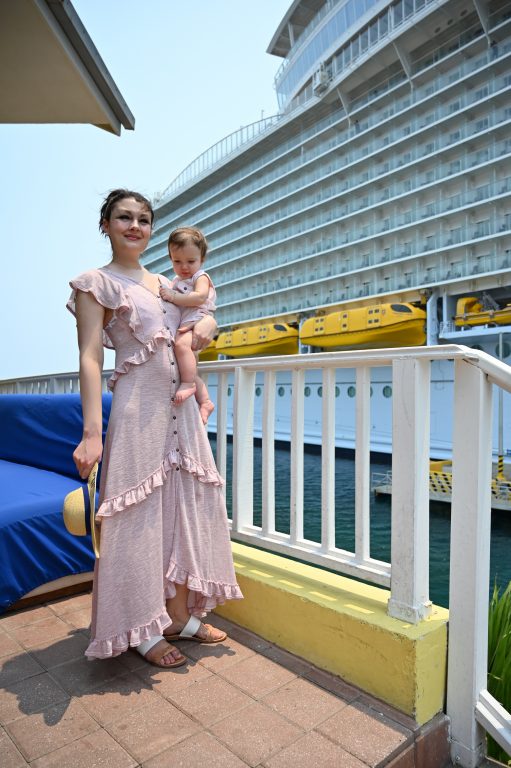 Childcare
Royal Caribbean offers the "Royal Babies & Tots Nursery" designed for kids that are six months to 36 months old. With this program (available only on select ships, so make sure you check first) you can drop your child off to be watched for $8 per hour. The trained professional staff will entertain and watch your child or baby on a cruise, providing a ton of kid-friendly things to do. They are super trust-worthy! Although we didn't take advantage of this on this particular cruise, I would definitely use it in the future.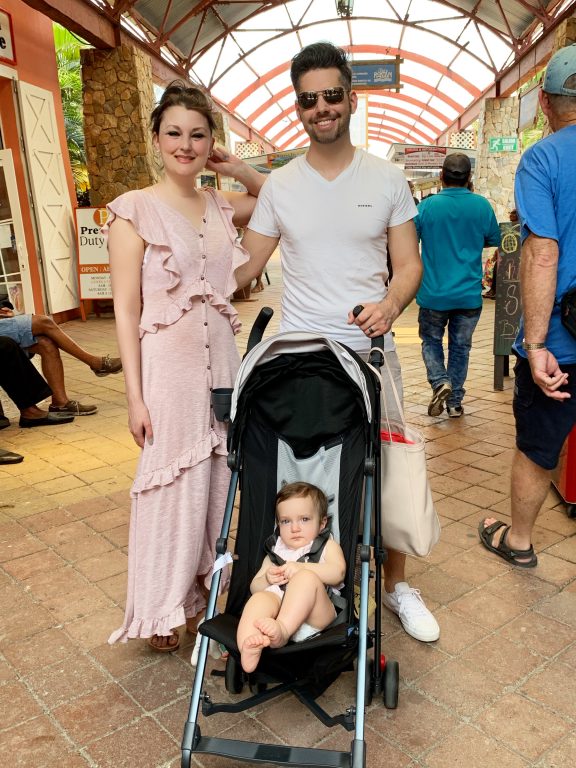 Keep in mind that the nursery has limited space, so you will want to go there on your first day to reserve times if taking your baby on a cruise.
I think this service would be super useful for a family where the cruise is a once in a lifetime trip and wants to do a non kid-friendly excursion on one of the islands. Also, if you and your spouse want to have a quiet, romantic dinner you can take advantage of this service. It is nice to know it's there if you need it!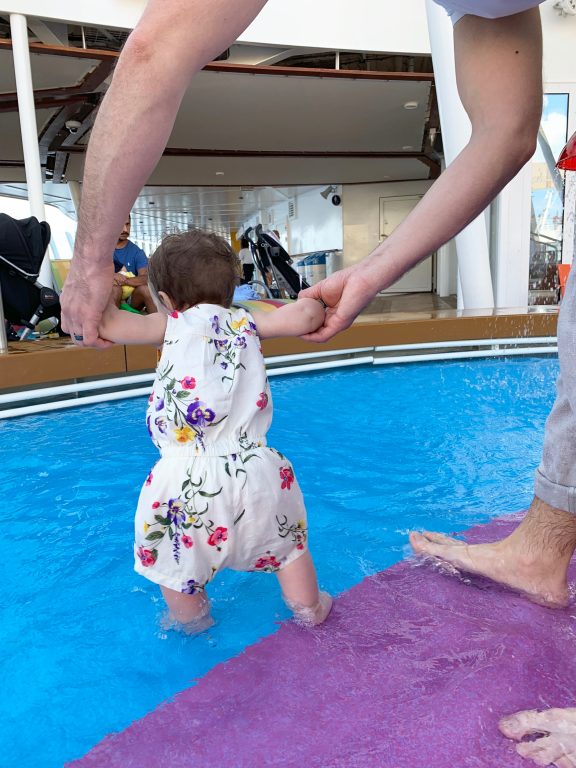 Feel free to also check out my recaps of Royal Caribbean Anthem of the Seas and Royal Caribbean Harmony of the Seas.
Let me know if you have any questions about taking a baby on a cruise and I would be more than happy to answer them!