Spinach Salad with Mandarin Oranges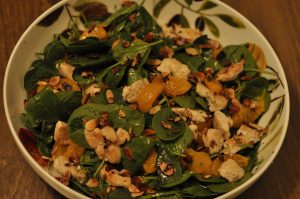 2 10-ounce bags of spinach salad
1 cup slivered almonds
2 tablespoons sugar, divided (can substitute with raw honey to be on the healthier side)
4 teaspoons red wine vinegar
1 can mandarin oranges, drained (save a little juice and add to "dressing" later, if you wish)
¼ teaspoons pepper
⅓ cup olive oil
2 tablespoons dried parsley flakes
¼ teaspoons salt
dash Tabasco sauce (optional)
1 large chicken breast (optional)
Spray saute pan with cooking spray (or use 2 tablespoons olive oil).
Add almonds and 1 tablespoon sugar.
Saute almonds low heat until lightly browned.
Take out of pan immediately and put aside.
Whisk together oil, vinegar, 1 tablespoon sugar, salt, pepper, Tabasco, and parsley.
Toss spinach with dressing just before eating and add almonds and oranges on top.
Recipe by
Wishes and Dishes
at https://wishesndishes.com/spinach-salad-with-mandarin-oranges/