S'mores Dessert Recipes
S'mores are a beloved summer treat but sometimes you do not always feel like making a campfire to have one, so instead try these tasty s'mores dessert recipes!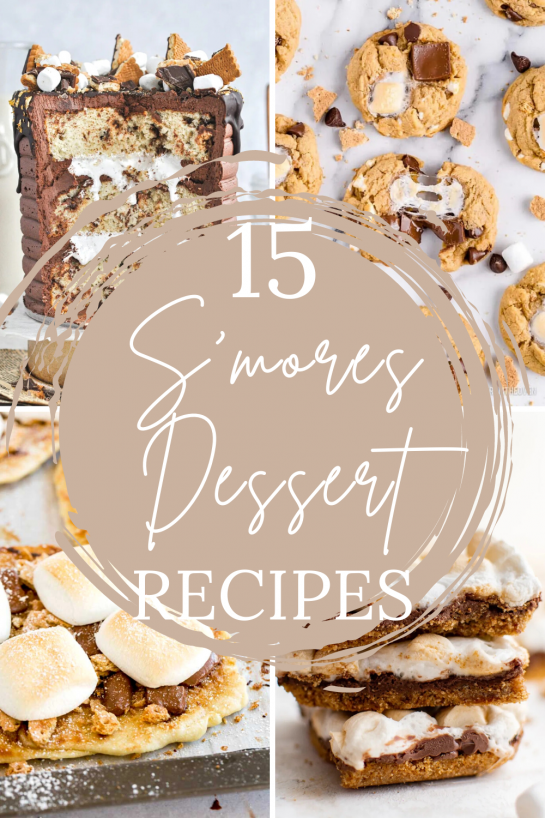 No campfire required for these soft, gooey, rich s'mores dessert recipes that are loaded with texture and flavor! The combination of chocolate, graham crackers, and marshmallows make for some of the best treats around.
With recipes like s'mores brownie skillet, s'mores flatbread dessert pizza, s'mores pie with graham cracker crust and so many more, the whole family will be asking for seconds of these delicious desserts! So try one or try a few and you will probably have a new favorite summer treat.
I always rely on my easy, go-to s'mores pie that has served me so well over the years. I love the batter because it's buttery and made with brown sugar, and it takes on caramel notes while baking. These recipes below are my other favorites.
Why s'mores dessert recipes are the best dessert recipes:
They're way better than just regular s'mores. Truly and honestly.
They're easy to make ahead, slice, and serve when you're craving s'mores.
Leftovers can be frozen (if you don't mind chewy marshmallows, which isn't the worst thing in the world)
You can make a huge pan of these for a big party or your kids' sports games and everyone will love you
You'll be known as the s'mores queen of the universe
You don't need a campfire to enjoy this rich S'mores Brownie Skillet–a treat that will have you wanting s'more! Gooey marshmallows, graham crackers baked right into the brownie and chocolate bars are all part of this fudgy brownie that is best eaten with a spoon! Simple to toss together but won't last long!
https://lemonsandzest.com/smores-brownie-skillet/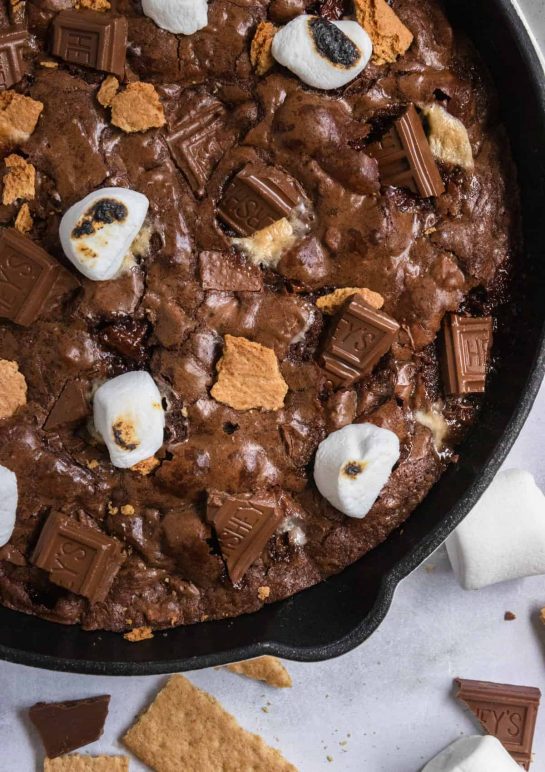 S'mores Cookie Cups
No campfire needed for these S'mores Cookie Cups! Graham cracker cookie cups filled with a Hershey's milk chocolate ganache, topped with toasted homemade marshmallow fluff.
https://livforcake.com/smores-cookie-cups/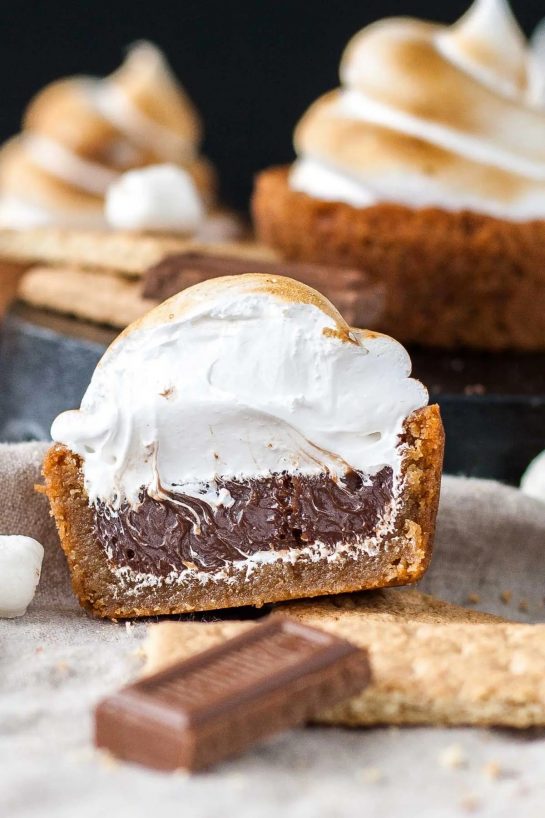 S'mores Bars
These S'mores Bars are the perfect way to get your s'mores fix without having to build a campfire. The graham cracker and biscoff cookie crust is crunchy and sweet, and the chocolate and marshmallow topping is decadent and delicious making a perfect pairing.
https://www.berlyskitchen.com/smores-bars/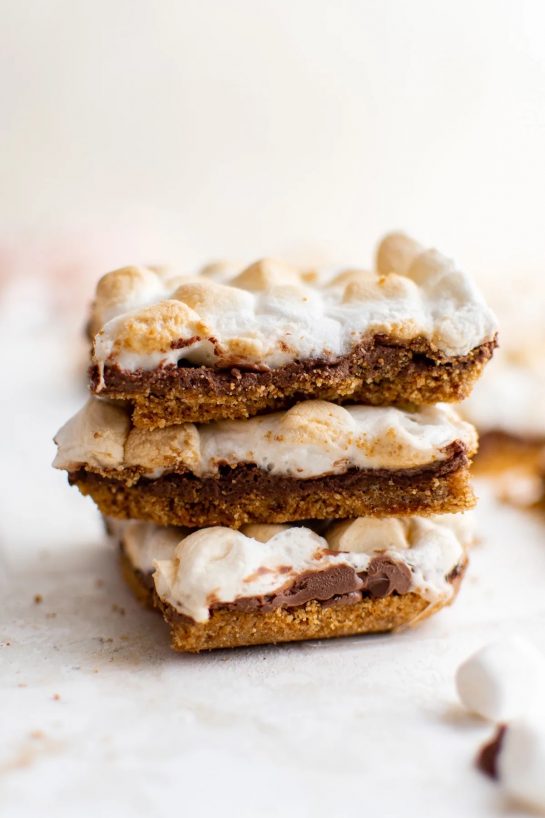 S'Mores Cake
Easy and delicious! This s'mores cake is everything s'mores in a slice. A doctored cake mix full of butter cookies, marshmallow fluff, and chocolate frosting!
https://cakedbykatie.com/2021/05/smores-cake/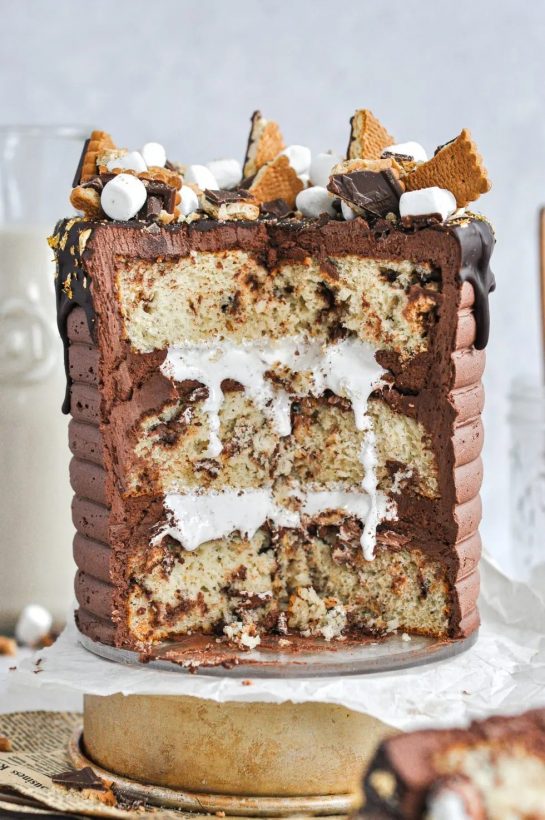 Easy S'more Brownies Recipe, the perfect combination of chocolatey brownies, gooey marshmallow, delicious graham cracker, and tasty chocolate.
https://www.atablefullofjoy.com/smore-brownies/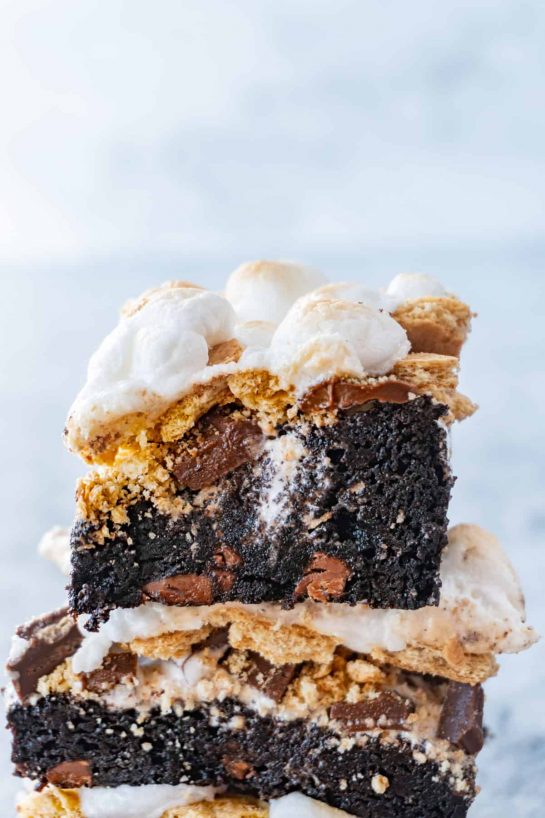 S'mores Cupcakes
These S'mores Cupcakes are a perfect dessert! Rich chocolate cupcakes with a graham cracker bottom and topped with the creamiest marshmallow frosting!
https://rosebakes.com/smores-cupcakes/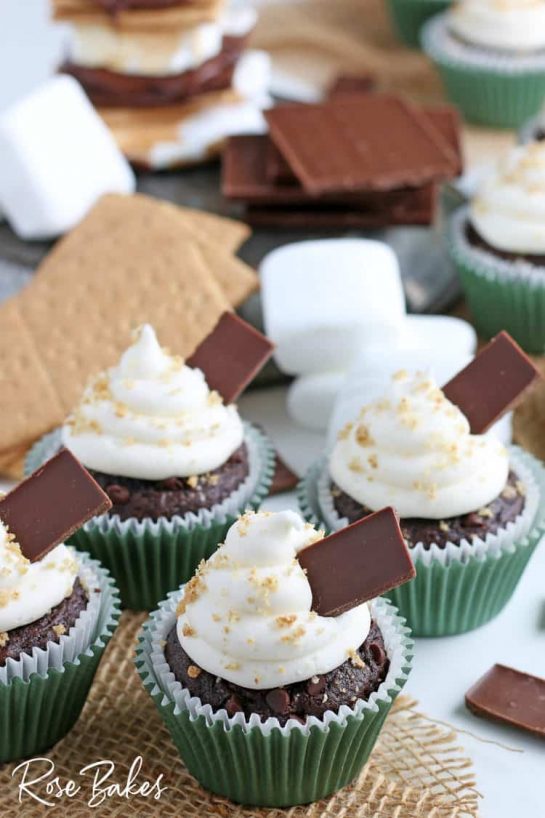 S'mores Flatbread Dessert Pizza
S'mores Flatbread slathered with cinnamon-sugar flavored butter and topped with crumbled graham crackers, ooey gooey chocolate and marshmallows.
https://www.lemonblossoms.com/blog/smores-flatbread-dessert-pizza-recipe/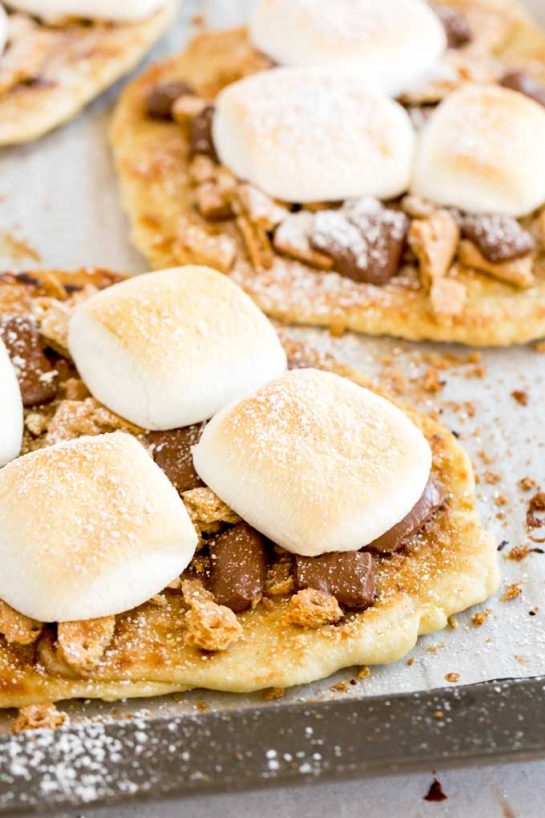 S'mores Puppy Chow
This S'mores Puppy Chow is perfect for snacking, potlucks, and so easy for on the go. There's something about the pairing of melted chocolate and marshmallows in addition to a hint of honey graham crackers that will really make your mouth water.
https://apaigeofpositivity.com/smores-puppy-chow/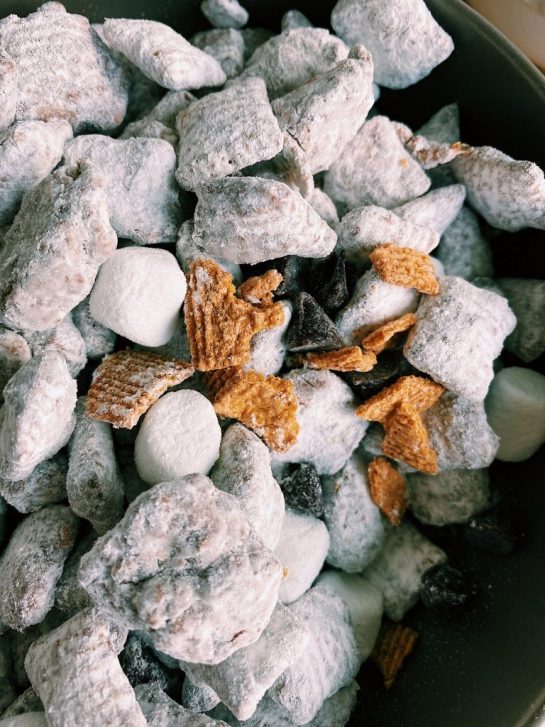 Toasty marshmallow, sweet, melty chocolate and crunchy graham crackers – S'mores are the flavor of summer. Now you can enjoy them anytime with this fun S'mores Nachos recipe that is perfect for cooking on the grill or in the oven.
https://budgetdelicious.com/smores-nachos/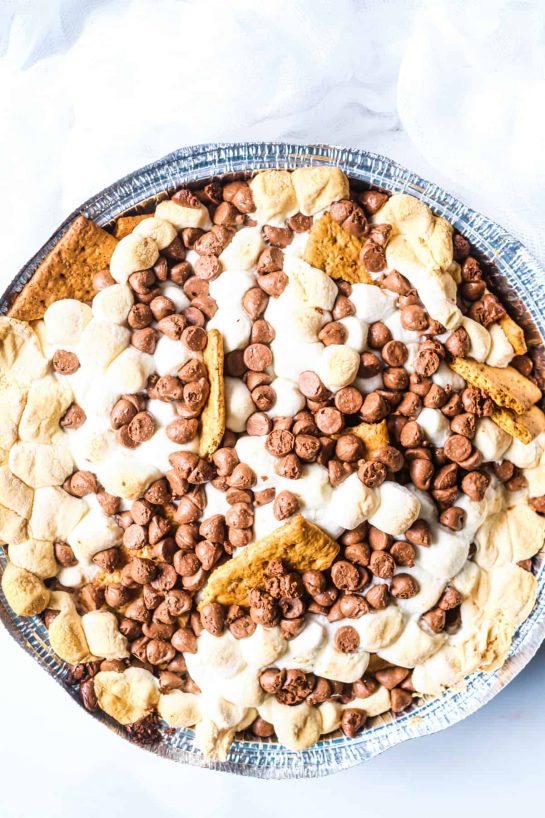 S'mores Cheesecake
This s'mores cheesecake is a no bake dessert that combines two favorite classics! This no-bake s'mores cheesecake recipe is an easy dessert that is made using ingredients of your favorite fireside treat!
https://fantabulosity.com/no-bake-smores-cheesecake-recipe/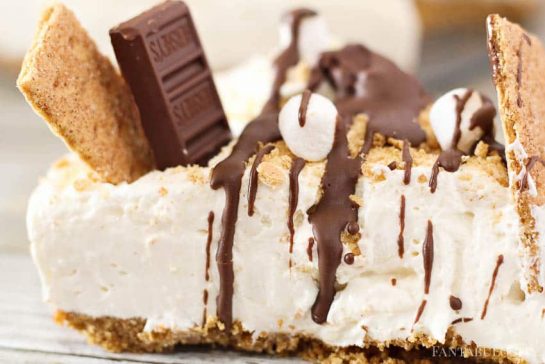 S'mores Ice Cream
Featuring a decadent chocolate base, this s'mores ice cream is studded with crushed graham cracker and toasted marshmallows for one crowd-pleasing summer dessert.
https://burrataandbubbles.com/smores-ice-cream/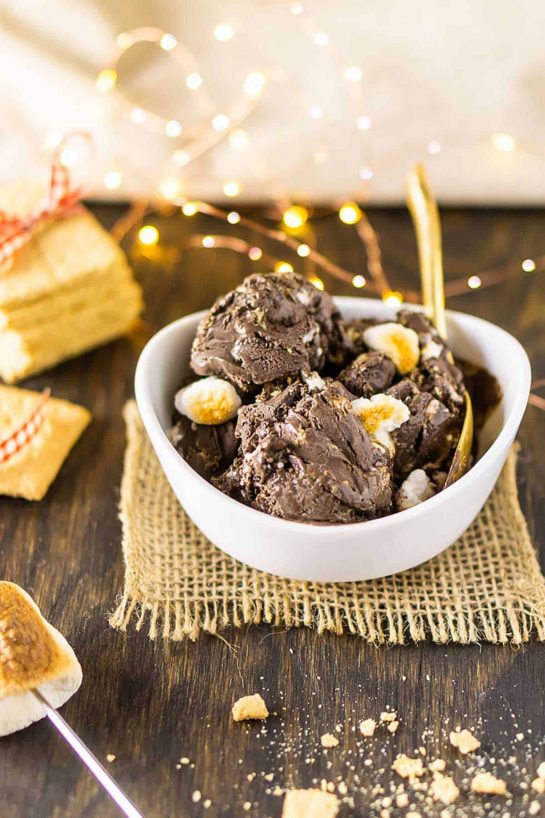 S'more Cookie Dough Truffles
S'more Cookie Dough Truffles are an easy no-bake dessert candy. These have cookie dough studded with chocolate chips and mini marshmallows. Then rolled in crushed graham crackers and a dip into melted chocolate. Each one has sprinkles of mini marshmallows and crushed graham crackers so they taste like campfire s'mores.
https://www.delicioustable.com/smore-cookie-dough…/
This easy Smores Cookie Recipe combines the classic flavors of chocolate, marshmallow and graham crackers into one delicious cookie. To take it to the next level, peanut butter joins the party to create a cookie that your friends and family will rave about!
https://www.lovefromtheoven.com/smores-cookie-recipe/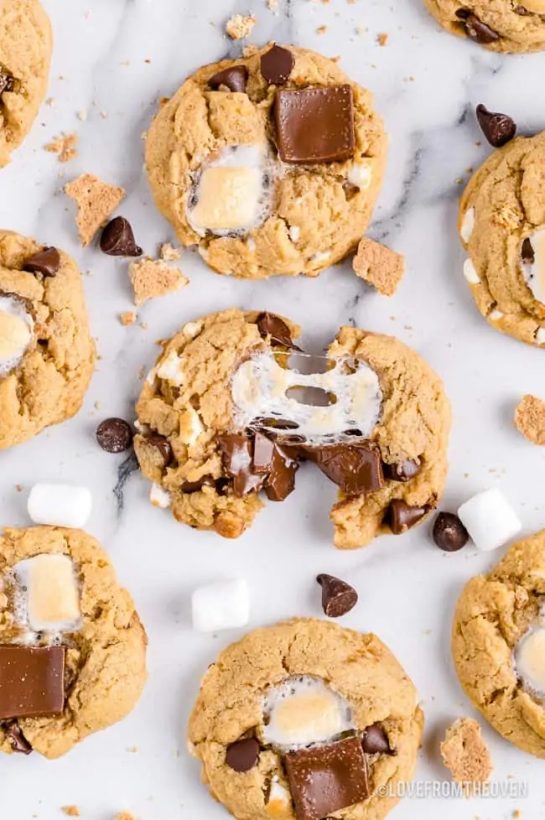 This s'mores crème brûlée consists of a chocolate custard topped with crushed graham crackers and toasted marshmallows, bringing back those wonderful campfire memories.
https://www.chiselandfork.com/smores-creme-brulee/