Slow Cooker Beef Tips and Gravy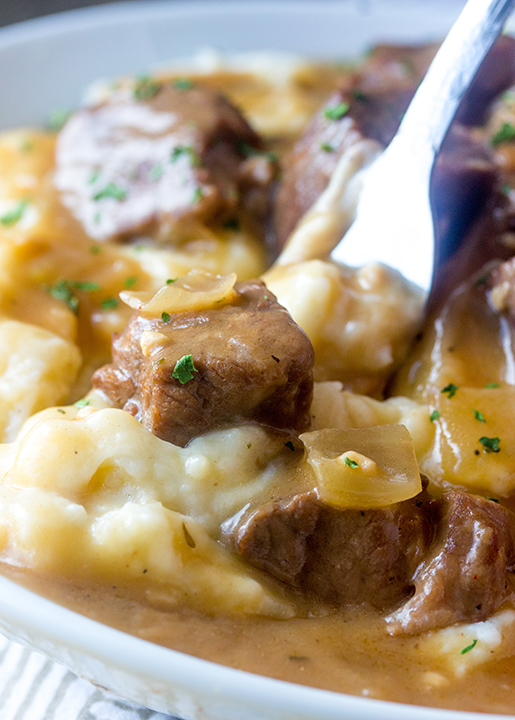 1 tablespoon olive oil
1 and ½ pounds beef chuck or sirloin, cut into large bite-size pieces
1 teaspoon salt
½ teaspoon pepper
1 medium onion, chopped
6 garlic cloves, minced
1 tablespoon unsalted butter
½ cup all-purpose flour
4 cups beef stock
1 tablespoon low sodium soy sauce
1 teaspoon Dijon mustard
1½ teaspoons beef bouillon
1½ teaspoons sugar
½ tsp dried parsley
½ tsp paprika
¼ tsp dried oregano
¼ tsp dried thyme
Fresh chopped parsley, for garnish
After cutting meat and while it is still on the cutting board, toss it with 1 teaspoon salt and ½ teaspoon pepper.
Heat 1 tablespoon olive oil in a large skillet over medium-high heat.
Add beef in single layer (work in 2 batches if needed) to the hot skillet and let cook for approximately 2 minutes, without stirring. Let it cook until it has a nice sear/crust on one side (this will give it a lot of flavor), then continue to cook while stirring until beef is browned all over but not cooked all the way through.
Transfer beef to 6-quart slow cooker and top with chopped onions and minced garlic.
To the remaining juices left in the skillet, melt 1 tablespoon butter. Whisk in the flour until dissolved. Add in remaining gravy ingredients.
Bring this to a boil then reduce to a simmer until thickened to the consistency of thick gravy. Make sure you let it get thick enough because it will thin out a bit in the slow cooker. Add to slow cooker and stir to combine all ingredients.
Cook on HIGH for 3-4 hours or on LOW for 5-7 hours. Beef is ready when it is melt-in-your-mouth tender. Add additional salt and pepper, if needed.
Garnish with fresh, chopped parsley for color. Serve over OR with mashed potatoes, egg noodles or rice. Enjoy!
Recipe by
Wishes and Dishes
at https://wishesndishes.com/slow-cooker-beef-tips-and-gravy/